Happy pre-NCAA Tournament Eve, everyone! Granted, the First Four action has already started, producing March-like results, and it will continue tonight when Lamar and Vermont face off, followed by California vs. South Florida.
But what we're all really waiting for is the Round of 64, which begins tomorrow afternoon at 12:15. By Sunday evening, you'll see basketball every time you close your eyes and then go through such serious withdrawal, that you might be tempted to watch the CBI the next day. That is, if you even get whatever channel that airs on.
Before we get to the news of the day, please allow me a little self-promotion. I filled in for Luke on this week's Dubcast, which will post at 1pm today. It was my first time in the podcasting game, and I haven't actually listened to it, so it's possible that Johnny dubbed over everything I said with sound clips from The Simpsons.
I can't promise that I said anything of much substance, since I chickened out about naming my Final Four picks. After all, I can't decided these matters until 4am hits tomorrow. What I can promise you is that, more than once, I tried to make a joke and then just trailed off and muttered something nonsensical.
One topic we did discuss, though I doubt we reached a definite conclusion1, is how the Big Ten will fare in the Big Dance. It was obviously the toughest conference this season, but how will that translate to the NCAA Tournament? 
PROVE IT ALL NIGHT. Writing about that very subject, Doug Lesmerises points out that the B1G leads all other conferences with five of the top 16 seeds. To prove their bona fides, the league needs to accomplish something none of its teams did last year: get past the Sweet Sixteen. 
There's no question that the style of play in the B1G is more of the knockdown-dragout variety, and as Evan Ravenel confirmed, "It was almost a culture shock when I came in. The Big Ten is a way more physical league from the ACC. It's a lot different."
In the Tourney, that usually means fouls that go uncalled during conference season suddenly receive a whistle, which can be good news for players like Jared Sullinger and potentially dangerous for ones like Aaron Craft. More up-tempo games are probably also on the horizon, and the teams with the best shot at advancing are those who can maintain their defensive efficiency while also keeping up with an opponent who likes to push the ball. 
It remains to be seen whether the rigors of the Big Ten season prepared the teams for what they will encounter this weekend. They're off to a good start in the NIT, anyway. 
YOU KNOW THE DEUCE IS STILL WILD. Even before yesterday's news that Syracuse center Fab Melo can't play in Tournament, Ohio State was Vegas' Final Four pick out of the East Region. In fact, they are just behind Kentucky as the favorites to win the championship.
Nate Silver, statistician extraordinaire, also gave Ohio State similar odds, which only increased after Melo was declared ineligible. Before he and British PM David Cameron two-bros'd their way around Dayton, the president joined in, filling out his bracket with Ohio State in the Final Four, along with Kentucky, Missouri, and UNC2.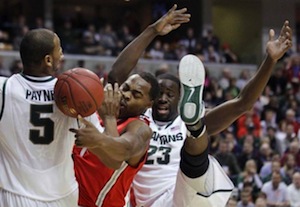 The computers showed the Buckeyes some love, too. A simulation based on Jeff Sagarin's ratings agreed with Vegas that UK and then OSU have the best chances to emerge as champs. Those are also the top two teams in Ken Pomeroy's ratings. 
For those who are comforted by math, let me throw some cold water on you and remind you that last season, Ohio State had pretty good odds to win the title. Hope you meet the same fate, Kentucky3.  
BUT THE FIGHTER STILL REMAINS. Two weeks from today, spring practice begins for the football team. Yesterday, Urban Meyer spoke to the media, and as relayed by BSB's Jeff Svoboda, Meyer called the offseason "excellent" and outlined what's in store:
"Every Wednesday and Saturday in spring (after the first week) there will be a winner and a loser when you leave the practice field," he said. "It's a competition. Once again, it's creating environments and situations where I want to see who the fighters are and who the guys are who are going to compete.

"There will be rewards at the end of the day. You can get off the field with Gatorade if you win and if not, you drink out of a water hose and do some running. That includes the coaching staff."

 
In addition, Meyer informed the press that after these practices are finished, the depth chart will be decided, rather than waiting until fall. By then, the new coach prefers to focus on games, not who will be starting. That makes it tougher for freshmen to crack the two-deep, although six members of the '12 class have been at Ohio State since January and three more—Taylor Decker (OL), Se'Von Pittman (DE), and linebacker Luke Roberts (LB)—will enroll this spring. 
So far, the group Meyer seemed most bullish on was the tight end corps. He was impressed with Jake Stoneburner's speed and hoped that he'll help answer the question mark about who will catch passes. As for other receivers, he's also happy with the work Philly Brown has put in during the offseason. 
HERMAN'S HEAD. In an interview with the Plain Dealer, offensive coordinator Tom Herman detailed his philosophy and what he expects from the '12 Ohio State offense. In short, "We're going to be a [shot]gun, spread, run-oriented football team that has tremendous balance through the play-action pass."
Even though establishing the run first is a basic tenet of the Scarlet and Gray system, changes will occur, such as a quicker tempo and no-huddle look. The players will have to adjust accordingly, but they must be ready for Braxton Miller to line up under center at times, too.
While a power running game is still imperative, Herman does not appear to have much faith in Dave, saying, "if you have the ability to go under center, there are a few things that open up to you, but I think you have to be creative in the way that you do it." Otherwise, it's too easy for defenses to stop.  
With an offense that may lack playmakers, Herman wants the ball in Miller's hands and doesn't seem too worried about possible injuries because of the prevalence of mobile quarterbacks these days. If he's not 100%, they'll make the necessary tweaks to the playcalling to avoid him getting hit too much. If he's healthy, they'll do what many of us clamored for all last season: turn him loose. 
LET THE GIRLS BE GIRLS. Slam Online recently profiled Buckeye point guard, and Big Ten Player of the Year, Samantha Prahalis. Dazzling onlookers with her basketball skills since childhood, the B1G's career leader in assists admits that her brazen style is somewhat polarizing. However, what matters most to her is making plays. Or, as she put it, "I ain't no circus—I'm a basketball player."
She backed that up with the numbers she posted this season, averaging 20.1 points, 6.4 assists and 2.2 steals. Unfortunately, the senior's Ohio State career probably won't last much longer. Although their opening round takes place at nearby BGSU, if the Lady Buckeyes can get past Florida on Sunday, they will then have to meet undefeated Baylor, the number one overall seed. 
Upset that his squad received an 8 seed, Jim Foster complained, "In 26 years of being involved in this tournament, this is the most egregious thing I have witnessed." Ohio State finished the season with a 25-6 record, and eight of those wins came against the RPI top 50. Dooming them, perhaps, was the Big Ten's weak reputation in women's hoops. 
YOU LOOK LIKE YOU NEED A LINK. Athlon Sports breaks down the Big Ten football schedule... Members of the OSU women's lacrosse team were evaluated for rhabdomyolysis... John Groce could be a candidate for the Nebraska job... Former UNC safety Deunta Williams would like the NCAA to go after the SEC... You can stream the new Shins album on iTunes... Troll penguin... Hey McFly... Community's Law & Order intro4.
1 I'm really selling this Dubcast, aren't I?
2 Acceptable: I agree/disagree with the president's Final Four picks. Unacceptable: I agree/disagree with the president's policy on [divisive political issue that no one can talk reasonably about on the internet]. 
3 According to Mike DeCourcy, "what happened to Ohio State last year was as much a product of really bad bracketing by the committee as it was anything else."
4 It returns tomorrow at 8, meaning it won't air opposite of OSU's first round game vs. Loyola. Let's reward a show that takes chances, often to successfully hilarious heights, by actually watching it. Network TV needs programs that don't always play it safe.