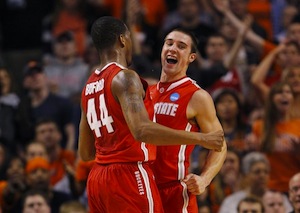 In Newark, New Jersey, on the evening of March 25th, 2011, top-ranked Ohio State was ousted in the Sweet Sixteen when William Buford's three-point attempt at the buzzer clanked off the rim. Buckeye faithful's hopes were crushed as their team, seemingly unstoppable, ended their season much earlier than expected. 
In Boston on March 24th, 2012, almost a year to the day of that devastating loss to Kentucky, Ohio State outlasted Syracuse for a trip to the Final Four. Fans of the Scarlet and Gray celebrated in jubilation1, the high point thus far of a season featuring many ebbs and flows.
In the desert of Tempe, Arizona, on January 3, 2003, linebacker Cie Grant blitzed quarterback Ken Dorsey, his throw falling incomplete, as the Ohio State football team survived double overtime against the Miami Hurricanes. Euphoria is too mild of a word to describe the feelings of Buckeye supporters who had been waiting 34 years for another national championship.
In nearby Glendale, Arizona, four years and five days after that triumphal event, Ohio State was thoroughly humiliated by the Florida Gators2. Heartbroken OSU enthusiasts watched in disbelief as their gridiron Bucks, #1 all season long, looked nothing like the squad they had cheered on the 12 previous games. 
So how were this year's basketball team and the 2002 football unit, both at times frustrating and heart attack-inducing, able to prevail when other versions, who dominated the competition and appeared more skillful, failed?
Often in the world of sports, the losses are analyzed more than the wins. It's simple to attribute victories to superior talent alone, but defeats are treated as more complicated, debated on for as long as those who witnessed them are still alive. 
Although the athletic prowess of a team is important, uncontrollable matters such as matchups, injuries, and even luck, all help determine the outcome of games. One factor in and of itself does not separate the successful from the disappointments.
Even so, there are traits that winners share. For Ohio State in particular, one common thread seems to be, to paraphrase Jared Sullinger, that they know how to push through adversity. 
2012
When the current season began, Ohio State was ranked third in the country and considered the favorites to take home the Big Ten title. A Final Four bid was practically inevitable. All-American Jared Sullinger would tyrannize every opponent. Senior William Buford would break school scoring records. The bench would develop and compel Matta to play a deeper rotation.
Early on, everything was going according to plan, symbolized most by a blowout win against Duke. 
Then December rolled around and Sullinger dealt with injuries that caused him to sit out a couple games. And then Big Ten action began and the Bucks started off 3-2, looking in control one game and unraveling the next. From the outside, their underachieving was, at best, baffling and at worst, infuriating.
When talking to the media, the players admitted to their struggles, pointing out their problems such as miscommunication, difficulties playing together, and a lack of effort at practice. After they reeled off six victories in a row, it appeared as if they had finally figured it out.
2011
A year ago, the basketball team had all the tools of a champion: experience, offensive explosion, defensive efficiency, and a "sharing is caring" motto that revealed their close-knit nature. Jack-of-all-trades David Lighty could instruct his teammates. Jon Diebler could connect on three-pointer after three-pointer. Dallas Lauderdale could block shots. Buford could nail a jumper from almost anywhere on the floor. Craft could lock down his counterpart. Sullinger could be relied on for a double-double.
They were a fun bunch to watch and an even easier one to love. 
Before the matchup with Kentucky, the Buckeyes boasted a commanding 34-2 record. Those two losses occurred in the inhospitable venues of the Kohl Center and Mackey Arena, where in each, an opposing player shot the ball unconsciously.
By the end of the regular season, they had earned the overall number 1 seed in the Tournament. 
2002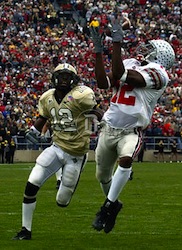 In his second year with the program, Jim Tressel headed up a ragtag, albeit capable, group of players. Among them were the veteran safety Mike Doss; the molecular genetics major at QB, Craig Krenzel; freshman RB Maurice Clarett, the prima donna with a knack for scoring touchdowns; and the playmaker Chris Gamble, who rarely left the field.  
Each game, it was always a surprise as to who would step up. Sometimes, Will Allen would grab a pick in the end zone to preserve a victory, or Michael Jenkins would haul in a tide-turning catch, or Krenzel would QB sneak the ball across the goal line. 
With half of their wins coming by seven points or less, the Buckeyes shaved years off the lives of their diehard fans. But even when their performance failed to fit the definition, their record remained flawless.
2006 
Starting the season atop the rankings, Ohio State was loaded with weapons. The eventual Heisman winner Troy Smith. The electric Ted Ginn Jr. The reliable Anthony Gonzalez. The running back power duo of Antonio Pittman and Beanie Wells. The solid sophomores, Malcolm Jenkins and James Laurinaitis, on defense. 
The Buckeyes looked the part of the nation's best team, as they had their way with the competition, often to a giddily entertaining degree.  It culminated in the much-hyped #1 vs. #2 matchup against Michigan, and in a game for the ages, OSU triumphed over their archrival. They seemed untouchable. 
2012
Despite the winning streak, Matta's erratic group lost three of their next five, including a home game against Wisconsin that they choked away. The following day, the head coach was so fed up with their laziness, that he kicked them out of practice. That was barely a month ago.
Gut-check time had come, and the Buckeyes responded with two wins: at Northwestern and at Michigan State, the latter of the comeback variety and one that clinched them a share of the Big Ten crown. 
With this bunch, though, the course could never run that smoothly.
2011
By the time March came along, Ohio State was annihilating their opponents. However, in January, they had won six of their eight games by five points or less. They had proven they could play in crunch time. 
Still, the Tourney is a different beast. The Bucks barely broke a sweat in the first two rounds, and the dismantling of George Mason was perhaps the most impressive performance of the entire weekend. How could they be stymied?
Thanks in part to a brutal bracket and a meeting with a Wildcats team that posed size problems for the Buckeyes, their dreams were left unfulfilled. No national championship3. No Final Four. Not even the Elite Eight was in the cards.
2002
Leading up to the Fiesta Bowl, the 13-point underdogs had to listen repeatedly to how they didn't stand a chance against Miami, the defending national champions. And yet, all season long, Ohio State had dug deep. They didn't just know how to win; they knew how to not lose, too.
So when it came down to one overtime and then another, they banded together one last time to complete their perfect 14-0 season. 
2006
Fifty-one days after the historic 103rd edition of The Game, 41-14 happened4. Some say it was that very layoff that led to their doom. Some say it was an out-of-shape OL and a QB who indulged too much in the buffet line on the award circuit. Others believe the play-calling was too pedestrian and the loss of Ginn after the first play was too much to overcome.
Or, maybe Ohio State was too confident and when the tough got going, they didn't know how to fight back because they hadn't come close to tasting defeat all season. 
2012
On paper, beating Loyola by 19 points in the first round sounds normal, perhaps even reassuring. However, the match caused enough consternation that Craft gathered the troops for a team meeting before their face off with Gonzaga.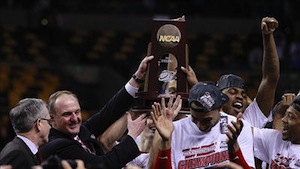 If not for that, Lenzelle Smith Jr. claimed, "we would've lost this game. I guarantee you those problems that we talked about would have hindered us." 
Following two years in a row of not getting past the Sweet Sixteen, Ohio State managed to hold off a Cincinnati second-half rally to head to the Elite Eight, where they took down Syracuse. Due to foul trouble, Sullinger only saw the court for seven minutes in the first half, and yet, the score was tied at halftime.
Unlike last season, the Buckeyes have been able to weather different storms down the stretch. They were forced to play a couple Sully-free games in December and were able to survive his temporary absence against the Orange. They pulled out close contests to end the regular season, which gave them the confidence to do so in the NCAA Tournament. When opponents have put together runs, they haven't withered like they would have just one month prior. 
It's possible that, in contrast to a year ago, Ohio State is peaking at the right time. With one weekend left in the tournament, that's to be determined. 
In any sport, the team with simply the most talent can still be the one who emerges victorious at the end. If Kentucky bulldozes their way through New Orleans next weekend, few will be shocked because they have been the best team for most of the season. 
That's not always the case, especially when it comes to Ohio State. For the Scarlet and Gray, it's never that easy.
But as Woody Hayes would remind us, "Anything easy ain't worth a damn!"
1 Like this, perhaps. 
2 How strange that five years later, their coach would become Ohio State's. Sports!
3 But hey, we got this barnburner instead. The bitterness remains. Sports!
4 It still makes me want to vomit, because soul-destroying losses like that never really leave you. Sports!