Rock Chalk, Rematch.
Ohio State will get another crack at the one team to beat them before Big Ten play began and this time, they'll have the services of East Region MVP Jared Sullinger.
The colors and fight songs remain the same, but aside from that, both teams are very different than the teams that met on December 10th in Lawrence.
In addition to having the team's heart and soul available for the rematch, Ohio State has emerged from a midseason funk as trendy pick for the one team that may be able to knockoff Kentucky. The first meeting did serve as somewhat of a coming out party for a still young Deshaun Thomas (15 first half points), but while he emerged as a pure scorer, his presence on the court now means scoring and a tenacious offensive rebounder.
Freshmen Amir Williams and Shannon Scott have both benefited from quality tournament minutes, which from a confidence standpoint, are worth about four regular season minutes each. Likewise, the Scarlet Mamba had not yet emerged for the Buckeyes, and emerge he did, earning a spot on the East Regional all-tournament team.
This being the Final Four and all, Kansas is also surging. At the time of the first meeting, I didn't think the Jayhawks were impressive at all and they validated my belief by losing their next game to Davidson, 80-74.
Since that loss, which dropped Bill Self's squad to 7-3, Kansas gone 24-3, including wins in 13 of their final 14 games. Their second half performance against North Carolina was nothing short of masterful, holding Harrison Barnes, Tyler Zeller and crew to just 20 second half points and zero in the final 3:55.
Like the Buckeyes, they're a much better team now and Jayhawk football coach Charlie Weis is feeling it enough to run his mouth a little:
Great job across the board. On to New Orleans! Congrats! And we get to beat the Buckeyes again!

— Coach Charlie Weis (@CoachWeisKansas) March 25, 2012
Jayhawk guard Tyshawn Taylor, with more class at age 22 than Weis at 55, thinks we're in for a treat, "I think it's going to be a good game. The last time we played them they had their best player on the bench and it was a home game, so it's definitely their chance to get back at us. But we feel like we didn't play our best game, either."
Meanwhile, Vegas has Ohio State as early 2.5 point favorites.
ALWAYS BETTER WHEN UNNOTICED. If you're anything like me, you're just now coming down from the high of beating Syracuse to advance to the Final Four.
But, imagine how much more we'd appreciate the win if the referees hadn't decided to take over the game. In all, the crew of John Higgins, Mike Nance and Tom O'Neil called 49 fouls in 40 minutes, leading to 67 free throw attempts.
Although the Syracuse blogosphere, to their credit, are not saying the referees cost them the game and guard Scoop Jardine went out of his way to credit Ohio State instead of the refs in his postgame comments, Jim Boeheim couldn't resist a minor swipe, saying, "The problem wasn't our offense. It was our defense. And I guess we fouled too much."
Just to be clear, future revisionist historians, before Syracuse was forced to fouls seven times in the game's last minute, the foul totals stood at 22 for the Orange and 20 for Ohio State. Pretty evenly terrible.
ENJOY EVERY LAST MINUTE OF HIM. Although we head heard, as recently as two months ago, that Jared Sullinger to the NBA after this season was not a foregone conclusion and that he was very much enjoying the college experience, he may have let the cat out of the bag in the postgame presser when he lavished Amir Williams with praise:
"With Amir, Amir always had talent.  It's just unfortunately he's playing behind me and Evan (Ravenel) at the time, so watch out for him next year."
C'mon, you knew this was coming. It's either that, or Sullinger knows Ravenel is leaving early. Guess we'll have to wait and see.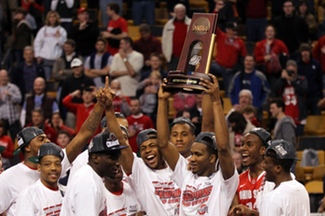 THIS FOURSOME IS FEARSOME. So, Saturday we have a game pitting the hands-down best team (too soon, Wildcat fan?) in the country, Kentucky, against what may be America's hottest team, the Big East tournament champion Louisville Cardinals (who also own the nation's longest winning streak at eight games).
The other national semifinal will feature a pair of two seeds, each of whom knocked off a one seed and share a staggering 25 Final Four appearances between them.
For you fans of mid-major-free Final Fours, this must be heaven.
Kentucky and Ohio State were also the darlings of Vegas sportsbooks prior to the start of the tournament with the two schools considered the most likely national championship matchup. In fact, if the two schools win Saturday, it will mark the first national championship since 2007 (Florida-OSU) featuring the two pre-tournament favorites.
Ken Pomeroy agrees, with his current chances at: UK 42%, OSU 34%, KU 17% and UL 7%.
As such, the 11W Tournament Challenge leaderboard is packed with nice-looking brackets. "Matt's Bracket" sits in first place with 102 points with "11w fav" just one off the lead. To illustrate just how competitive things are, my bracket is in 20th place, yet is in the 99th percentile overall.
POTENTIAL GROWTH SPURT FOR THE MATTA TREE. The Thad Matta coaching tree is already alive and well, especially for such a young coach. Brad Stevens is the head man at Butler, Sean Miller is running things at Arizona and John Groce is fresh off piloting the Ohio Bobcats to their second deep run into the NCAA tournament in three years.
Which may explain why Illinois is so interested in Groce. Illinois athletic director Mike Thomas had initially targeted Stevens, but Stevens and Butler put out a release saying, "We're cool," leading the Illini to continue discussions with Groce.
If I'm Thomas, this is a no-brainer after whiffing on Shaka Smart. Groce is an amazing talent and he's young, so wherever he lands will have a plan for relevance in the long run.
The position will be the second big hire Davis will make after jumping from Cincinnati to Champaign in August. His new football coach, Tim has extensive Ohio State connections, both to Jim Tressel and Urban Meyer, so why not double-down. It can't be worse than the refugee camp Bill Martin set up in Ann Arbor for wayward West Virginia coaches (though I'll concede Beilein is legit).
JERRY FRANCIS BRINGS IT HOME FOR PICKERINGTON. Pickerington Central captured the school's first-ever boy's basketball state championship over the weekend, defeating Toledo Whitmer 45-40 and the victory had a bonus Ohio State over Michigan University kicker to it.
Not only are the Tigers coached by former Buckeye great Jerry Francis, but the turning point in the game came when Jae'Sean Tate, son of former Buckeye hoopster Jermaine Tate, wrestled a loose ball away from Michigan commit Chris Wormley and scored with 1:13 remaining to put the Tigers up three.
Beautiful.
MINOR ANNOUNCEMENTS THAT WILL LEAD TO BIGGER ANNOUNCEMENTS. We are in the final days of our Respect the Basement fundraiser and once again, I'd like to thank everyone that has contributed. I can't say enough about how much we appreciate it.
As I mentioned a few weeks ago, it looks like we'll be going ahead and posting a position to hire a full-time beat writer even though it doesn't appear as if we'll meet our fundraising goal. What will end up happening is that we'll just cut back on travel a bit and see where things take us. Again, thank you all very much. If you would still like to contribute, every little bit will help.
In other purely meta news, we'll be hosting an event after the spring game and we're in the process of locking down the details. We've arranged for a bar in the Short North to take us all in, and to provide discount double-checking drink wristbands for attendees. We'll have a charity component to the event, like a food drive or something similar, so hopefully you can make it out to meet with us, give back a little and have a great time.
We'll have full details shortly.
ETC: Buckeye fencers earn the program's fourth national championship (and third for the school this year)... Heavily recruited power forward Tony Parker will announce on April 11... Malik Zaire verbals to Notre Dame. It's surprising, but early... How the Saints bounty punishment would play in the NCAA (spoiler: not quite SMU, but close)... Minor League Guy is poised for a breakout campaign... There are 18 Starcraft 2 players making over $50 grand... Nice job, KU bookstore... Boston College be pervy.