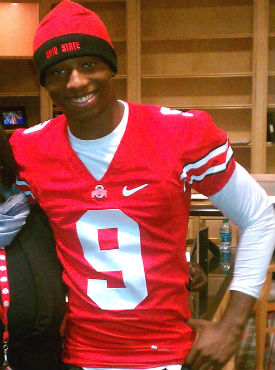 As we told you earlier, Eli Woodard became the fourth member of Ohio State's recruiting class of 2013, joining ATH Jalin Marshall, DB Cam Burrows, and DL Billy Price.
For those who are newer to this site, Woodard is no stranger. We at 11W have followed his recruitment closely and while it should be no surprise to anyone that he ended up a Buckeye, it's great to finally know for sure that one of the most talented defensive backs in the country will be donning the Scarlet and Gray.
The 6-1/185 cornerback had offers from schools like Alabama, Wisconsin, Nebraska, Notre Dame, Rutgers, Michigan, Cal, UNC, and others before picking the Buckeyes. He starred on both sides of the ball for Voorhees (NJ) Eastern this past season and performed good enough to already be named a participant in the US Army All-America Bowl in San Antonio next January. 
We caught up with Woodard for the first second third fourth fifth time since we began covering his recruitment and this time are pleased to announce we finally got to talk to him about this past weekend's visit and his commitment to Ohio State. Join us after the jump to hear from the latest member of Buckeye Nation, Eli Woodard.
You have just announced your commitment to Ohio State. What made you finally decide to pull the trigger?
It was just about the right time being now and the right place being The Ohio State University. It's a privilege to be able to be a part of Buckeye Nation and a blessing to be able to earn my spot as a part of the Silver Bullets. Keyword is earn because I have a lot of work ahead of me to fit in with the talent that is already in place.
How does it feel to be a Buckeye?
In one word, unreal! I'm just really living the dream right now. I will enjoy the next few days and then it's time to keep working because that's what open this door for me.
When did you exactly tell the coaches of your decision? How did they react?
My family and I went out last Thursday and stayed through till Sunday. It was during a one on one visit with Coach Meyer we all got to see and feel what the direction of Ohio State football is traveling in. The only thing I can say about what I was told is that Buckeye Nation better buckle up! After hearing what Coach Meyer had to say, I just knew that this was it for me. I also sat back and watched how they dominated the closing out of the 2012 class and put other programs on notice that Ohio State Football represents the best of the best and I knew something special was going on. I pulled the trigger and the coaches were excited, my family was excited and I was excited.
You were at OSU from Thursday-Saturday. What was the purpose of the visit? 
The purpose was to meet the coaches and my mother and sister had never seen the campus which was big. I also knew that the coaches wanted to meet me face to face just as much so they could be sure I was what they had been hearing about. Those things were that I am a true 6'1" corner as well as that my family's and my personality fit with the OSU Football family because that is exactly what it is – a family.
What did you do on your visit and how did you enjoy it? What did you like the most?
My family seeing everything was fun for me and I got time to interact with the players, which was just as important as anything because those are the guys I am going to be with most of the time. Ohio State has a lot of quality guys, the talent is great and I just feel blessed to be apart of it.
I know you said you wanted to sit down face to face with the coaches. Who did you meet with and how did that go? What did they tell you?
I met everyone and had quality time with every coach on the defensive side of the ball and strength wise. Needless to say I am proud to be calling every one of them my coaches. I feel comfortable with them and my family felt very comfortable as well. We all got to know each other as people, talked football and had a really good time.
What current players did you get to spend time with? What did you do and how did you feel you fit in with them?
I was around near the whole team at one point or another, particularly the defense. I felt I fit in really well with the guys on the team already.
There were some other prospects on campus this weekend. Did you get to meet or talk to any other players that would be in your class? If so, who? Will you now recruit other players to come to Ohio State?
I got to meet Billy Price and he looks like he can really get the job done! I'm really excited to get to know him and Jalin better, and Cam and I have been in solid contact for a while now. We're all really looking forward to getting that work in. I am not sure if any of us have to try and recruit anyone at this point. Ohio State is the number one place to be in the country, but I certainly will do whatever I am asked to do by my coaching staff.
Now that you are committed, what is your focus going to be on in terms of prepping your game for OSU? Anything specifically you are going to work on?
I'm really not going to take anything for granted and will continue to do the type of work that has gotten me this far. At the end of the day this is a great moment, but it's just that, a moment, and an opportunity. It's all what I do with it from here on out. I have a five to six day a week training schedule and will continue to do so. I have plans to travel and work out with a select group of guys in the spring and will know more about that in the next few weeks to come. But if you want to be the best you have to surround yourself with the best so you can push yourself to new limits.
Now that you can relax a bit from recruiting, what are your goals for your senior season?
My recruiting is done and now my preparation begins! I want to enjoy my senior season and help my team anyway I can to get to a state title. We have the talent to do it and the guys are already working hard. I believe in all of us to get the job done.
Finally, if you can say anything to Buckeye Nation, what would it be?
Buckeye Nation has been great throughout this entire process and I just want to say thank you to all of them and to Eleven Warriors and look forward to everything that comes next for all of us!