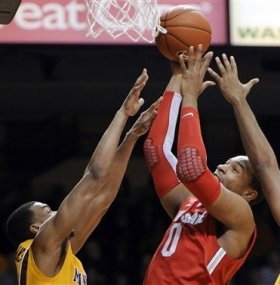 Looking to get back on track after Michigan State stopped their 39 game home winning streak last Saturday, the Buckeyes got a combined 47 points from William Buford and Jared Sullinger on the way to a 78-68 win over Minnesota tonight in The Barn. 
Buford led the Buckeyes with 24 points on 10/17 from the field with eight boards and five dimes while Sullinger added 23 points (6/11 FG, 10/12 FT) and eight boards. 
The duo came up big in the 2nd half scoring 20 straight Buckeye points following a Deshaun Thomas and-1 that put OSU in front 50-34 with 15:50 left in regulation. 
Buford was liquid shooting 5/6 on an array of difficult shots over the final 15 minutes including a pair of triples and tough, contested left elbow jumper, a smooth stroke from just inside the top of the circle and a pretty one handed floater driving to his left giving OSU an insurmountable 70-59 lead 2:30 to play.
Playing sidekick, Sully converted back to back buckets in the paint sandwiched by two pairs of free throws, ensuring the Gophers would creep to within no closer than eight points when just over a minute remained. 
Buford and Sullinger are both just three rebounds away from 600 in their respective careers. 
After Minnesota cut the lead to 70-62 with 1:21 left, the Buckeyes shot 7/8 from the stripe and used a Thomas breakaway jam to secure the 10 point win. 
Dinged with about seven minutes left and in marginal foul trouble, Aaron Craft scored only six points but went off for five assists and six steals in 27 minutes and stroked 4/4 from the line down the stretch while backcourt mate Lenzelle Smith Jr. scored seven points and pulled down another seven boards. 
Thomas struggled again scoring 13 points but shooting 5/13 in the process while often getting schooled by Rodney Williams (21 pts, 8/11 FG) at the other end of the flow. 
The Buckeyes shot 45% from the floor overall and went to the stripe 28 times, hitting 22, good for 79%. Matta's troops won the glass 37-32 but were outscored 36-22 in the paint though they did record 10 steals behind Craft's thievery. 
Tied at 12 at the 14:28 mark, the Buckeyes unleashed a 20-0 blitz to take a 32-12 lead with 7:18 left in the half. Ohio State shot 60% during the spurt and drained 7/8 from the line while holding the Gophers to 0/7 from the field with six turnovers. 
As with virtually all conference roadies, the home team responded closing the final 6:42 with a 12-3 run to trail 40-28 at the break. 
Tubby's decision to switch to zone was key to the Minnesota comeback with the Gophers holding OSU to 2/10 from the floor as the Buckeyes were content to launch from distance despite hitting just 1/6. 
Even with the late run surrendered, the first half provided many positives. 
Buford was a beast early hitting his initial four shots on the way to 12 first half points with Sully adding 12 on 3/4 FG and 5/6 FT. He looked much more fluid, facing up and splashing a few midrange jumpers to offset his power game. 
Smith was his swiss army self with six points and four rips, three of the offensive variety while Craft didn't take a shot but dropped five dimes and picked three pockets. 
The 20-0 run also saw many reserves contribute with Amir Williams showing some game with a quick bucket, rebound and blocked shot. Sam Thompson scored four points during the run with a breakaway dunk off a Shannon Scott steal before taking a Buford alley-oop for two more. 
The two main areas of concern tonight came in the form of another sluggish night from Thomas and the team's struggles against the Gopher zone. Even when the ball movement was crisp, the team was still readily accepting of taking threes especially during Minnesota's 12-3 run to close the half. 
Oh, and it doesn't appear LaQuinton Ross is too happy - I can only assume with his lack of playing time - based on his tweet, "Don't know how much longer I can take this BULLSHIT!!!!!". That's certainly no fun to read especially with the rumors/whispers of potential transfers from others not happy with their PT. I think that's just smoke from young kids upset with playing time but hopefully it'll go away quickly. 
The win improved Ohio State to 22-4 overall and 10-3 in conference, taking a half game lead over idle Michigan State. Sparty hosts #17 Wisconsin this Thursday night at 7pm. 
Next up for the Buckeyes, a Saturday trip to Ann Arbor for a 9pm tip against #19 Michigan. The rivalry has been extremely good to OSU of late with Matta's squads winning six straight and 15 of the last 17.