Praise be to the 29th President of the United States of America, Warren G. Harding. Our merciful overlord has allowed us another day, and he has spared us of an All-Michigan Man Super Bowl. In related news, I now have a fully-stocked bomb shelter for when the Nazi-Zombie Apocalypse comes. 
JOE PATERNO IS DEAD AT AGE 85. The former Penn State frontman died over the weekend, and it was another sad if not bizarre chapter in the Jerry Sandusky saga. First, online news organization Onward State prematurely reported Joe Paterno had died Saturday night. This sent media outlets scrambling to cover a death that hadn't yet occurred. CBS Sports just ripped the report off until the family directly disputed it. CBS then passed the shame back to Onward State. (One can deduce from there the effect this had on Twitter.)
Poynter put together a piece on how the false report got started and the subsequent shitstorm it created. To their credit, CBS and Onward State have both apologized. The proprietor of Onward State took his apology even further by resigning from his position, and Onward State has explained where it all went wrong. Hell, I've bungled some things in my day. Granted, I've never prematurely killed off somebody like Joe Paterno; but hey, a player in this game has to take an L from time to time. They always seem to present opportunities to learn, too.
The legendary coach, who had outlasted Fidel Castro, was already reportedly on his way out the door, finally succumbed to lung cancer Sunday morning. Gregg Doyel, CBS' cantankerous troll-writer who has made a living telling you what to think, tells you not to let other people tell you what to think about Joe Paterno. His co-worker and fellow luminary, Dennis Dodd, says you must read the book of Paterno from cover to cover, rather than judge solely judge the sad final chapter. Penn State fans, above all else, seem to think a dumb quote from The Dark Knight for some reason. (They also think the media killed him.) I don't know what sociopath Jerry Sandusky has to say because I'm too baffled by the gall required in his decision to release a statement on Paterno's death in the first place to actually read it. 
Joe Puh, as it was somehow JUST pointed out to me Joe Puhterno should have been called all these years, was responsible for winning a lot of football games. Because of that, people would be willing to defend him even if he had done something criminally wrong. (Penn State's president has said Penn State will honor the late coach.) And though he didn't do enough to see the inside of jail cell, he certainly didn't do enough to pass a rather simple moral test. In the end, Paterno chose to protect "the brand" over the plight of children who had been systematically and chronically raped, even allowing the perpetrator the use of Penn State facilities up until the week he was arrested. Then, in a last ditch effort to wash his conscience during a softball interview with a pre-chosen newspaper reporter, he based the crux of his defense on the idea of men raping boys being over his head. Deadspin's Drew Magary eviscerated this defense much better than I ever could. He'll always have a positive legacy in some realms of the world, but there will rightfully be a stigma attached to his name and "legacy." If for nothing else, than hopefully as a lesson to future generations as to the perils deifying sports figures and programs.
Is it sad? I guess, but Paterno -- who insisted for a long time on being the program's arbiter of justice -- has nobody to blame but himself for this. Sure, Paterno isn't the only adult who was negligent of duty nor the only person in the PSU circle with shame on their hands. But, like Joe Paterno once offered the "victims or whatever they want to say" of this tragedy, it's a "tough life when people do certain things to you."
CHIP KELLY IS TAKING HIS FOOTBALL SKILLS TO TAMPA BAY. Yes, you read that right. According to reports first confirmed by FootballScoop.com, Chip Kelly will be unveiled as the new head coach of the Tampa Bay Buccaneers this week. This comes on the heels of quarterback Darron Thomas' surprising decision to declare for the NFL draft. Giving the timing of the two announcements, it has folks comparing it to Pete Carroll fleeing and making the logical leap by wondering if Oregon has finally drawn the ire of NCAA investigators. Just how many fixed raffles Chip Kelly was involved still remains unclear, but I assume with the truth-hounds like Greg Dohrmann and Charles Robinson on our side, the facts will soon be laid on the table in a non-hyperbolic manner. (Oh, and BTW, Urban Meyer is probably on the phone talking some some Oregon commits this very instant.) THIS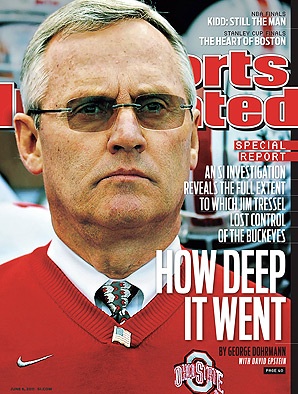 WILLIE BUFORD IS BACK ONLINE. One of the problems with taking Nebraska into the Big Ten is their basketball team had to come with them. Ohio State's men's team took Nebrasketball to the rack on Saturday. Most importantly, my man William Buford, who I think will be a hoss on the next level, went 3/5 from downtown and finished with 15 points and zero turnovers. Hopefully this means better times for the Toledo product.
TREE POISONER AIN'T COPPIN' TO NO PLEA. Harvey Updyke the Alabama Tree Poisoner -- not to be confused with the Dixie Dangler in what has been a banner year for Alabamananananas. -- has reportedly rejected a plea deal that would have sent him to prison for 13 years and banned him from Alabama athletic events for life. (A just punishment for the barbaric act, in my opinion.)
What is the status on those trees? Are they dead? Did Nick Saban lifting the crystal football over his tiny head like Gollum clutching his Precious finally polish them off? I can't find news on their current state anywhere. As for the Tree Poisoner, I assume the district attorney will attempt to prosecute Updyke to the fullest letter of the law in order to make any other idiot think twice before doing something like this again because Updyke has already won.
JIM TRESSEL MAY BE BE TURNING PRO. Colts owner Jim Irsay was in Florida on Friday to interview Jim Tressel for a second time about his team's head coaching vacancy. I think the move will happen. Irsay has drafted plenty of Tressel's players, so he obviously has respect for Tressel's way of doing things. Tressel isn't a Neapolitan taskmaster like Nick Saban and I think his style of coaching would translate better in the pros. He's also a heralded quarterbacks coach and would probably work well with probable first round pick Andrew Luck. The big question is, does Jim Bollman make the trip down I-70 as well?
THE TOLEDO WAR. Do fancy new concussion tests really work?... Star in your own bootleg Chinese film... The 10 most interesting facts about MegaUpload.com Founder Kim Dotcom... How big-time sports ate college life... The average American worker spends $1,100/year on coffee... Lol at Hanksy... A bunch of Giants fans bought in on the Giants winning the Super Bowl at 100/1 and now Vegas is scared...