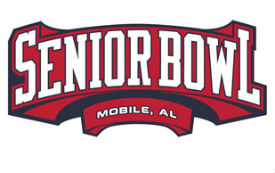 As Danny mentioned yesterday and Sarah touched on today, the 2012 Senior Bowl will take place this Saturday, January 28 at 4:00 PM EST in Mobile, Alabama on the NFL Network. The game features over 100 of the nation's best seniors from this past year and gives said players the opportunity to show NFL scouts that they have what it takes to make it at the next level.
The teams are broken out by collegiate region, with the North team being coached by the Minnesota Vikings' staff, including former Buckeye Fred Pagac Sr., and the South team being coached by the Washington Redskins' staff. There are four Buckeyes competing in the event, as OT Mike Adams, C Mike Brewster, RB Dan "Boom" Herron, and WR DeVier Posey have started to compete in practices throughout this week in preparation for the game on Saturday that could help boost their draft stock come April.
Today, we take a look at how the Buckeyes participating in Mobile have faired so far throughout practice, as well as what the forecast is looking like in terms of draft stock. Join us after the jump to hear the latest on the NFL futures for Mike Adams, Mike Brewster, Boom Herron, and DeVier Posey.
Mike Adams
Mike Adams was projected as an early second round pick headed into this week of practice, but the Dublin native is quickly moving up the draft boards of many with early returns down in Mobile.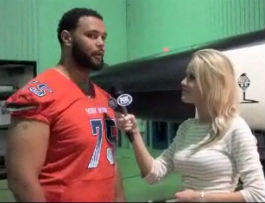 At the official measurements, Adams checked in at 6'7" and 323 lbs., one inch below and three pounds over what Ohio State had him listed as heading into his senior season. With that size, Adams is an already intriguing prospect, but it is what he is doing on the field that is really turning heads.
During the first day of practice sessions, Adams was the "wow" guy on the North squad and possibly in the entire group. He absolutely dominated the competition and many were saying he was the clear cut best offensive lineman in the game.
Standing out all day, many onlookers started to whisper that Adams definitely had top 20 talent, and it was no secret that just one day of practice had him shooting up draft boards already. At the end of the day, Adams was a popular guy, but stayed humble as he always has, just feeling blessed($) to have the opportunity to participate in the event.
Come day two, it was more of the same for "Big Mike". This time, it was his pass protection ability that was impressing both media and scouts, specifically his ability to move so well at such a big size.
He did struggle a bit later on in the day, but those results aside, the first two days of practice sessions couldn't have gone better for Adams and he left all extremely impressed with his strength and athleticism at the tackle position.
PREDICTION: As of today, I would have to say Adams is an early second round pick, but as he continues to impress scouts in these practices, look for him to be projected as a late first-rounder after Saturday. I think Adams will impress again at Ohio State's Senior Day and at the NFL Combine, making him a possible top 15 pick in April's draft.
Mike Brewster
Brewster was a fan favorite from the day he committed to the Buckeyes all the way throughout his Ohio State career, but his stock took a bit of a fall during OSU's erratic 2011 season.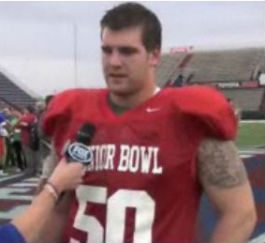 Measuring up at 6'4" and 310 lbs. (6-5/305 in OSU's guide), Brewster has great size to be a successful NFL center, but had to prove to scouts during practice he could consistently block the best defensive linemen in the NFL, and that started Monday when he was constantly matched up against Michigan's Mike Martin.
After battling for four years in "The Game" every November, it was only fitting that these two rivals went at it again during drills on Monday and Tuesday. Things didn't start out so good for Brewster in the early-going, but as he got more reps, he won some heated battles against the former Wolverine. When I say heated, I am not joking, as Martin and Brewster actually got into it a bit (forgive this link calling him "Tim" Brewster) on Tuesday after an early session, showing just how serious these two take the competition.
Overall, Brewster had an impressive showing over the first two days, and while he is standing out as an interior lineman right now, more time is likely needed to project where he will go in the draft. One test Brewster is sure to pass with NFL teams is the personality test, as he shows his charm in interviews here and here ($).
PREDICTION: I think if Brewster came out last year he would have been a late first round/early second round pick. Heading into this week I saw him projected as a third rounder, but I think if he continues the good work and has good showings at pro-day and the combine, that he will find his way into the first part of the second round. Wouldn't it be something if Jim Tressel gets the Colts job and takes Brewster with their pick in the second round? Jeff Saturday is retiring after all.
Dan "Boom" Herron
Dan "Boom" Herron had a lot to prove entering the practice field in Mobile, as he was limited to just six games during his senior season.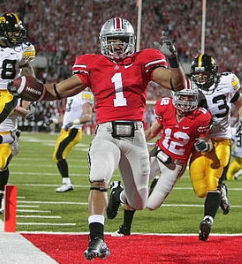 Herron was listed at 5'10" and 205 lbs. by Ohio State, but like Brewster and Adams measured in slightly below his listed height at 5'9 and 1/4" and slightly above his listed weight at 212 lbs.
There wasn't much buzz about Boom on Monday morning, other than the fact that the Detroit Lions had him in for an interview. Herron will likely interview with almost all 32 teams, but the Lions were one of the first he saw. There potentially could be a good fit in Detroit, as Herron could be a good value pick and the Lions may need help at running back with uncertainty around Jahvid Best (concussion) and Mikel Leshoure (knee).
On Tuesday, word was quiet on Boom yet again, other than this little note about him struggling in pass protection. He supposedly didn't fair well in position drills or one-on-one match-ups, something I find odd, considering how good of a blocker he was regarded to be during his time in Columbus. There is plenty of time to shine in Mobile, but right now things aren't looking great for Boom.
Prediction: Right now Herron isn't helping himself too much. Boom was always a player that didn't "wow" you in workouts, but always got it done on the field. If he can do the same in the actual game on Saturday, he can help himself a lot. I think either way, Herron is a mid-round selection with the earliest he would go being round three and the latest he'd go being round six. I will put him in the middle as a fourth to fifth rounder at this point, depending on how workouts go. 
DeVier Posey
If Boom Herron had a lot to prove by missing six games, DeVier Posey needs to bring the house this week after missing all but three games in the 2011 season.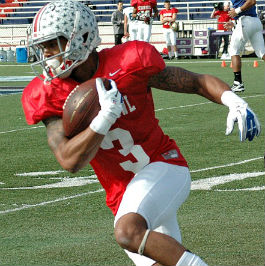 Posey, measuring at 6'1 and 5/8" and 209 lbs. (compared to 6-2/210 by OSU),  is one of the more intriguing prospects in this year's draft, as some had him as a possible first rounder before Tatgate went down, but now he isn't projected until mid-rounds at best due to "character issues". Those of us who know DeVier know that his poor judgment in the form of NCAA violations have nothing to do with bad character, but he will have to prove that to NFL management more so than that he has skills to play on the field.
Posey definitely impressed onlookers during Monday's session, but did have a case of the drops early on, which is unlike him. He was noted as the single receiver who gave defensive backs the most trouble during day one, and people were already moving him up their draft boards after being impressed with his speed and athleticism.
On day two, Posey again had some trouble hanging onto the ball, but redeemed himself later on by winning his one-one-one drills and showing the media that he is capable of doing some damage against high level competition. I'm not sure if Posey is just nervous or anxious to show his stuff in terms of his "dropsies", but he is sure making people forget about it when push comes to shove in the big boy drills.
Prediction: I think Posey is going to be a "workout freak" at his pro-day and combine showings. I expect him to jump into at least the third round and it really wouldn't surprise me to see him go late in the second. This is a first round talent we are talking about here and eventually talent wins out over all other reservations when it comes to general managers trying to win football games.