Today is Monday December 12th in the two thousand and eleventh year of our Lord and Savior and 29th President of the United States of America: Warren Gamaliel Harding. 
 A PLAY-OFF COMETH. Apparently enough teams have been screwed by the BCS to finally get some wheels turning on a play-off system. Although it looks it will start with a field of four teams, I guess that's light years ahead of the current system. Eventually, the NCAA (or whoever controls the money bags once the super conferences give the NCAA the boot) will start smelling more cash and allow more teams into the field. I wish we could just cut to the chase, but I guess this is progress.
 JIM MORA JR WAS UCLA'S 106TH CHOICE BUT ALSO THEIR NEXT HEAD COACH. They started with Urban Meyer and ended up with Jim Mora Jr. You know, a man who hasn't coached college football in over a quarter century probably isn't the type of guy I'd want to pay 12 million dollars to coach my college football team, but then again, I'm not sure if I even have $12, let alone $12,000,000.  I was born in Pasadena and my uncle went to UCLA -- so I've always held a soft-spot for the Bruins -- but until they replace their 1970's facilities, I don't ever see UCLA competing. But hey, they just hired a guy who used to coach in the NFL! (He was a disaster who may have never gotten the chance if his last name were "James", but whatever! It's a splash!)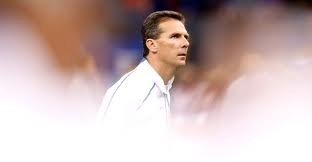 WHEN A PISTOL LOSES ITS ONLY BULLET. "Mike" Dyer, Auburn's only semblance of offensive production this season, won't be playing in the Tigers' bowl game. Whatever ridiculously-named bowl Auburn is playing in, I won't be watching. If Auburn is the 25th best team in the country -- and that's what the oracles behind the BCS tell us -- then I move to strike this entire college football season from the records. Regardless, I think the times are changing in college football. Depending on whomever Penn State hires -- Pat Fitzgerald or Kyle Whittingham, anyone? -- I like the coaching changes going on in the Big Ten. Now, if only Kirk Ferentz could be toppled, the Big Ten could be getting its act together on the football front.
 OHIO IS PLAYING FOR KEEPS. While Ohio State is idle until January 2nd 2012, Mt. Union will be taking on Wisconsin-Whitewater (winner of their last 44 games) for the DIII championship on Saturday. I usually roll with any team from Ohio when facing out-of-state competition, but I have respect for the Wisconsin-Whitewater program. In the Spring of 2009, while on spring break in Daytona, a lineman for the Wisconsin-Whitewater was locked out of his hotel room while in a drunken stupor. Enraged his friends weren't answering his phone calls -- and instead of getting a new key at the front desk -- he scaled his 2nd story balcony, went through his unlocked balcony door and drove his grandma's minivan to the airport and bought a one way ticket home. He woke up in Atlanta. These are the kind of hoggz which Mt. Union will be banging with on Saturday. (Also, I'm rather salty Mt. Union fans get a play-off and yet I'm stuck watching BCS games.)
 JOE PATERNO FRACTURED HIS PELVIS. The exiled former coach of Penn State fell at his home but won't need surgery according to "a source close to the family."
BRADY HOKE'S REVOLUTIONARY FAR EASTERN DIET PLAN. A Sad Jerry Jones & family GIF... Alan Sepinwall interviews "Boardwalk Empire" creator Terence Winter in the wake of last night's banger... A scathing Twitterer's triumphant return... Two thieves in University Heights, Ohio, distracted Macy's employees and made off with a $10,000 necklace... Man took out a fake obituary for his mom in order to get paid leave from work... Mexico busts drug cartels' private phone network... Urban Meyer's Florida recruiting by the numbers... US blogger jailed for insulting Thai king... Five common strategy mistakes