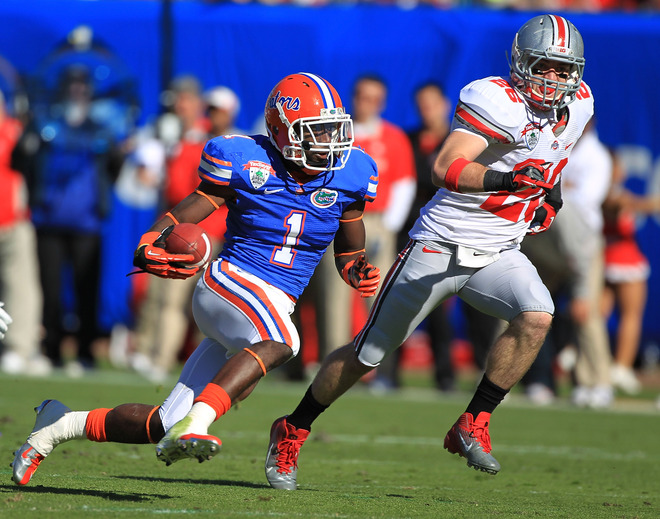 | | | | | | |
| --- | --- | --- | --- | --- | --- |
| | 0 | 10 | 0 | 7 | 17 |
| | 7 | 7 | 7 | 3 | 24 |
Anytime you give up a kickoff return for a score, you aren't likely to win. The same goes for allowing a punt to be blocked for a touchdown.
Ohio State allowed both of those to happen today, dropping the TaxSlayer.com Gator Bowl to its university namesake 24-17 and concluding the 2011 season with its fourth consecutive loss. 
The Buckeyes applied an appropriate capstone to this underwhelming season, deploying the same curiously ineffective play calling on offense and inconsistent execution on all three sides of the ball that contributed to a seven-loss season on what had been thought to be a title contender prior to the series of scandals that defined its 2011 season.
Prior to the 2011 season, Ohio State had two four-game losing streaks in its history: In 1943 after much of its roster left school to go fight in World War II, and in Ohio Stadium's inaugural season of 1922.
The only other time Ohio State has lost four straight was in 1922, the year Ohio Stadium opened.
Passing
|   | Cmp/Att | Pct | Yds | TD | Int | Rat |
| --- | --- | --- | --- | --- | --- | --- |
| Miller | 18/23 | 78.3 | 165 | 2 | 0 | 167.2 |
| Brantley (UF) | 12/16 | 75 | 129 | 1 | 1 | 150.9 |
Rushing
|   | Att | Yds | Avg | Lng | TD | Fum |
| --- | --- | --- | --- | --- | --- | --- |
| Herron | 12 | 77 | 6.4 | 13 | 0 | 1 |
| Hall | 4 | 24 | 6 | 7 | 0 | 0 |
| Miller | 15 | 19 | 1.3 | 18 | 0 | 0 |
| Hyde | 5 | 17 | 3.4 | 5 | 0 | 0 |
| Posey | 1 | -6 | -6 | -6 | 0 | 0 |
Receiving
|   | Rec | Yds | Avg | Lng | TD | Fum |
| --- | --- | --- | --- | --- | --- | --- |
| Smith | 2 | 49 | 24.5 | 38 | 0 | 0 |
| Posey | 5 | 40 | 8.0 | 12 | 1 | 1 |
| Heuerman | 1 | 25 | 25.0 | 0 | 0 | 0 |
| Fields | 1 | 13 | 13.0 | 0 | 0 | 0 |
| Hall | 3 | 12 | 4.0 | 11 | 1 | 0 |
| Herron | 4 | 10 | 2.5 | 12 | 0 | 0 |
| Boren | 1 | 8 | 8.0 | 0 | 0 | 0 |
| Hyde | 1 | 8 | 8.0 | 0 | 0 | 0 |
The Buckeyes were aware of those statistics, and of its 1-9* record in bowl games against SEC teams, but even from the opening kickoff a win did not seem to be in the cards for Ohio State.
That kickoff appeared to hit the goal line and bounced out of bounds inside the one-yard line, giving Florida its first scrimmage at the 40. That drive fizzled when on third down Florida QB Jeff Brantley was hit in the act of passing for what appeared to be an incompletion.
A booth review curiously determined that incompletion was a recovered fumble, even though it didn't appear that Ohio State recovered the ball as several whistles blew the play dead. Regardless, the Buckeyes took over where the Gators might have attempted a 42-yard field goal.
A late hit at the end of a nice Braxton Miller option run combined with two productive Boom Herron rushes flipped the field and put the Buckeyes on the Florida 37. Offensive coordinator Jim Bollman then abruptly decided to abandon the effective rushing game in favor for some pocket passing - Miller's very well-known weakness - resulting in a couple of sacks.
A third down QB draw that the Florida defense correctly diagnosed prior to the snap turned a scoring drive into a punt that sailed into the end zone.
This first drive was emblematic of the Ohio State offense all afternoon: It was obvious they could move the ball on Florida; they just continued to find ways to not advance drives.
On Florida's second drive the Gators converted a third down after Brantley escaped John Simon for what looked like a sack. A few plays later following a long Chris Rainey run, Simon absolutely crushed Brantley along with his left tackle, sending both of them off the field briefly to recover.
However, Florida ended up scoring on its third 3rd down conversion of the drive, a 17-yard touchdown pass to Deonte Thompson. It looked like Thompson might have dropped the pass and OSU safety Christian Bryant was begging for a replay, but it wasn't definitive enough and PAT came prior to Luke Fickell's request for a replay challenge.
Ohio State got the ball and Herron fumbled on the first play from scrimmage. Florida took over at the Buckeye 27-yard line, but two plays later Simon continued his monster quarter and recovered a Brantley fumble at the 28.
Ohio State then completed one of two sustained drives on the day; an eight-play 73-yard touchdown drive that included a throwback screen to TE Jeff Heuerman and culminated with a five-yard slant TD pass to DeVier Posey. It was Posey's third straight bowl game with a TD reception, counting his score in last year's vacated Sugar Bowl.
Florida's Andre Dubose then ran back the subsequent kickoff untouched for a TD down the left sideline in what appeared to be a jog. It almost seemed as though Ohio State had set up kickoff coverage to the opposite side of the field that Drew Basil kicked the ball to.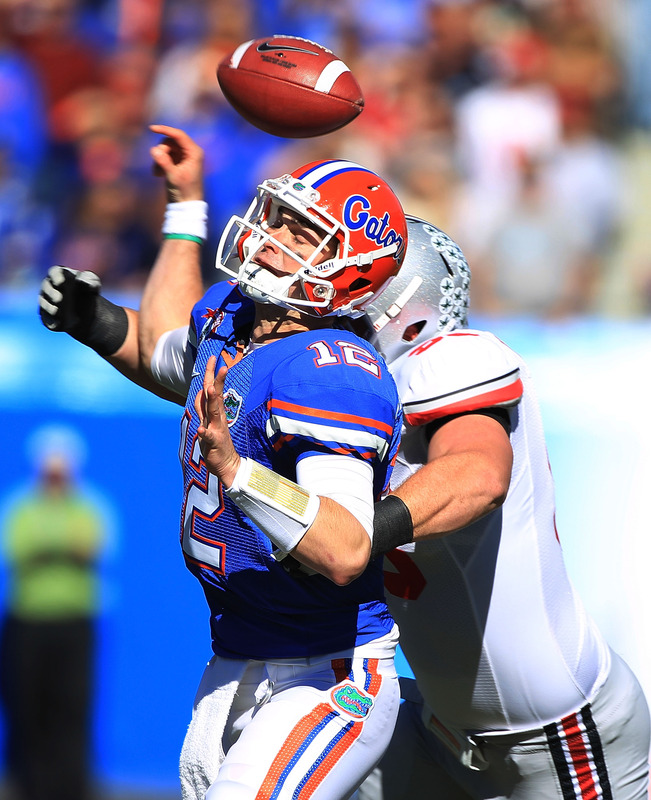 Down 14-7, Ohio State started its next drive with a delay-of-game penalty. Carlos Hyde erased that penalty yardage, but the Buckeyes moved backwards on the following two plays.
On 3rd and 12 Bollman dialed up a slowly-developing play-action pass that ended with Miller "escaping" back into a collapsing pocket and taking the sack, forcing the punt on 4th and long.
Florida did nothing with its next possession, and punctuated it with a 22-yard shank punt that gave the Buckeyes the ball back at midfield.
There had been talk of wrinkles and gadget plays during the bowl preparations, and after the Heuerman screen on the touchdown drive the second sign of this was an end-around to Posey which lost six yards. A nice screen pass to Herron gave the Buckeyes a third a short that Jordan Hall converted.
Miller then missed a wide-open Posey in the corner of the end zone, and then took another bad sack on third down. Drew Basil nailed the field goal and cut the Florida lead to 14-10.
Ohio State's third kickoff was a dribbler that was returned by Dubose again, this time to the 44 (making the opening kickoff that went out of bounds and was placed at the 40 the Buckeyes' best one of the half).
Florida took a delay of game and eventually took a knee to take the ball into the locker room up 14-10 at the half.
The second half began with Dave up the middle for a loss that was bailed out by a 15-yard facemask penalty on Omar Hunter.
After a screen pass to Zach Boren, a holding penalty on Mike Brewster put the Buckeyes in 2nd and long. Short passes to Hall and Posey gave the Buckeyes a 3rd and ten. Bollman again went back to the slowly-developing play-action pass that once again resulted in a Miller sack.
In what seemed like deja vu from the end of last year's Sugar Bowl*, Ben Buchanan took his time getting the punt off on fourth down and the result was a block deep in Ohio State territory. While Arkansas only fell on that blocked punt, this time Florida picked it up and ran it in for a TD giving the Gators their second special teams score of the game.
Ohio State got the ball back and continued with its grab-bag approach to offense, leading to another dangerously slow Buchanan punt that was nearly blocked again. The Gators took the ball and surprised the Buckeyes with some change-of-pace, bringing in the more-athletic Trey Burton at QB to run a couple of option plays out to the 36.
Brantley came back in and threw an errant pass that was tipped and intercepted by Tyler Moeller. Three plays later, Posey fumbled away the ball after gaining what would have been a first down. The Gators took the ball right back and quickly drove down the field, eventually settling for a field goal from inside the Ohio State one-yard line on the second play of the 4th quarter.
The Buckeyes were unable to convert again, and Florida's following possession was a clock-killing ten-play, six-minute drive that accomplished what it was intended to - keep the ball away from Ohio State. Florida then punted to the Buckeye 13.
Ohio State would score another touchdown two drives later, compliments of Hall on a very impressive run after the catch following a screen pass from Miller from 11 yards out. With under a minute left to play, the Buckeyes attempted an on-side kick but it was recovered by the Gators who ran out the clock for the victory.
Unlike Ohio State's last meeting with Florida - that 41-14 slaughter in the 2006 BCS Title Game - this wasn't a contest where there was an obvious disparity in speed, talent and execution. Florida did not play well, as was the case for most of its own disappointing 6-6 season.
But the Gators did not allow two very easy special teams touchdowns, and Ohio State did. The Buckeyes even outrushed, outpassed and had fewer penalties than the Gators, but were undone by special teams and third downs, where they were only 2/10 on the day with several of those attempts ending in sacks.
It marks Ohio State's final bowl appearance until, at the earliest, the conclusion of the 2013 season. The Gator Bowl loss also closes the door on one of the most forgettable and disappointing chapters in Buckeye football history.
On the bright side, Ohio State now enters the Urban Meyer era, which should bring wholesale changes into how personnel and playcalling are used. It is that bright future, and not the still-fresh past that Buckeye fans can finally focus on with the conclusion of the 2011 season.