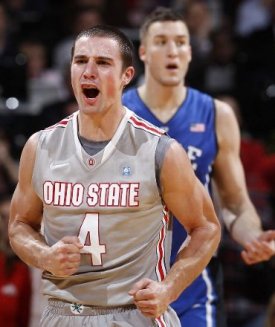 Playing in front of a raucous sellout crowd featuring the likes of Greg Oden, Evan Turner, Mike Conley, LeBron James and Dwyane Wade tonight in the Schott, Thad Matta's Buckeyes heel-stomped the Duke Blue Devils 85-63 in the most impressive display of colllege hoops seen so far in this young season. 
Coach K summed it up succinctly afterward when he offered, "Sometimes you get your butt kicked. I've had my butt kicked and we've kicked butt. Tonight, my butt is sore."
The Buckeyes placed four in double figures led by 21 from Jared Sullinger and 20 from William Buford. 
DeShaun Thomas had arguably his best game as a Buckeye scoring 18 on 8/12 from the floor, featuring a solo 9-0 run to end the first half and 14 of 17 Buckeye points overall as Ohio State extended a 38-26 lead to 47-28 at the half and 55-32 at the 16:28 mark of the 2nd. 
Aaron Craft was also in beast mode with 17 points (7/11) and eight assists in 38 minutes of action. 
The game was defined by runs in a hectic first half. 
Fueled by the electric atmosphere in VCA, Ohio State jumped out to a quick 13-2 start behind a triple from Craft, two layups from Buford sandwiched between a patented hesitation slash from Craft and finally two buckets from Sully in the paint as Duke played him straight up. 
The Buckeyes then allowed a 15-5 blitz by the Blue Devils cutting the lead to 18-17 at 9:49 until intermission. Austin Rivers (6) and Mason Plumlee (7) paced the Dookie comeback but poor shot selection by OSU was largely to blame. In six trips, the Buckeyes committed a turnover (Sully), took four triples with only one in rhythm (1/4) and an 18 foot jumper from Ravenel. 
Keeping in theme, the Buckeyes then went on another spurt to end the half, this one game-deciding 29-11 blitz, to take a commanding 47-28 lead into the locker room. 
Thomas was absolutely outstanding during the run scoring 13 points in about every way possible including a bunny in the lane, a leaner featuring some nice body control as he slashed through the left side of the lane, a triple from the right corner, a floater in the lane off a good look from Sully as he exploited a soft spot in the Dookie zone, a putback of a Craft miss in traffic and finally a 16 footer on the right baseline to end the half. 
The dominating first half performance saw the Buckeyes shoot a scorching 61% from the floor while holding Duke to 44% overall and just 1/7 from downtown. Ohio State also controlled the glass 18-11 and turned five offensive rebounds into 10 points. 
The Buckeyes committed just four turnovers in the opening 20 minutes while turning eight Blue Devil miscues into 10 points. 
After a Plumlee bucket to start the 2nd half, Thomas was back at it hitting a trey before putting back a Sully miss a few possessions later making it 55-32 Buckeyes with 16:28 left in the massacre. 
A mini-run from Duke cut the lead to 17 at 58-41 with 13:06 left but OSU responded with a modest 8-2 run to put the game on ice at 66-43. Craft started it off with a pretty bank shot in the lane, Buford then exploited a mismatch by taking Plumlee to the rack for two and Sully closed it out with a pair of free throws and a bucket off the glass from the right block. 
The Buckeyes were content to hold serve from there and Matta finally turned to his bench with OSU up 20 around the 2:16 mark.
Lenzelle Smith Jr. had another decent outing with three points (1/1) and five boards in 25 minutes before taking a nasty spill underneath the hoops as he snatched a defensive rebound in traffic. He stayed on the ground for close to five minutes before eventually walking off favoring his left side. Thad said Smith got the wind knocked out of him and dinged his tailbone but he's fine. Though Austin Rivers had his moments, Smith battled the dude pretty well on defense.  
Sibert (15 min) and Ravenel (13) were the only two subs to see the court when the game was competitive. Sibert chipped in four points and three boards while Rav tallied a board and an assist. It seems clear Matta will go no more than eight deep once LaQuinton Ross gets acclimated by the end of December as I'm guessing he becomes a double-digit minutes factor.
For the game, Ohio State shot an impressive 59% from the floor including 8/14 from distance (57%) while holding Duke to just 3/15 from downtown (20%). They also won the glass 33-27 and held a 15-1 advantage in 2nd chance points midway through the 2nd half. 
Rivers was impressive in defeat with 22 points on 8/18 shooting. Plumlee added 16 as the only other Dookie in double figures. 
The blowout was certainly a convincing statement that will rightfully earn some 1st place votes but with favorable factors such as playing at home while Duke was coming off the Maui trip, I'm much more interested in seeing how this team looks when they take their show on the road at Kansas on 12/10.  
Before the showdown in Lawrence, the Buckeyes play host to Texas Pan-American this Saturday at noon in the Schott.