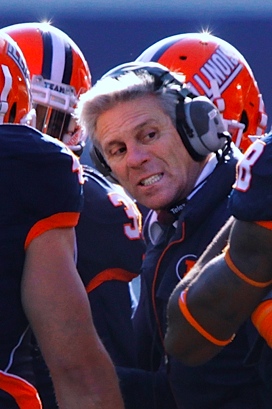 50 years into the future, America will be run by a cadre of half-man half-elk hybrids who lord over the land, as the surviving band of humans struggles to eke out an existence in a barren radioactive wasteland, a wasteland we once called home. Cars will be made from human bones, it will rain blood, gas will be like 7 bucks a gallon.
And Ron Zook will still be the coach of the Illinois Fighting Illini.
The guy is a survivor. Alternately a running joke and a legitimate Big Ten Coach of the Year threat, perpetual hot seat sitter Ron Zook has seemingly managed to finally cobble together an Illini team that is built to last. Sure, Illinois' 6-0 start has come at the expense of a handful of tiny white porcelain mice masquerading as college football teams, but pretty much no one expected this team to be undefeated at the halfway mark of the season.
A deadly QB/WR tandem of Nathan Scheelhaase and A.J. Jenkins helps, but more than that, Ron Zook's very prescient hires of offensive coordinator Paul Petrino and defensive coordinator Vic Koenning are paying off in a big way for his team. If the pattern of losing big time stars like Mikel Leshoure and Martez Wilson had held true, Illinois could've expected to see another 7-6 season at best this year. Instead, they find themselves undefeated and inching their way up the Top 25, looking for a high profile win that might put them in the BCS picture.
Point is, this seems like a different Illinois team. The Illini have always played Ohio State close, even stealing a couple of games, but that always felt more like chance than any real proficiency on their part. And sure, consistency, turnovers, and defensive lapses are still hurt them on a semi regular basis. But for once, the Zooker has finally figured out the Anti-Life Equation and is inserting it into as many aspects of his team that he can.
Opponent
It's kind of hard to believe that Nathan "Built Like A Brick" Scheelhaase is only a sophomore, but he is rapidly rising up the ranks of B1G quarterbacks. As Petrino has (wisely) shifted away from zone reads and read options and zone read option read zones to a more pro-style attack, Scheelhaase has developed into a legitimate passing threat. So far in 2011, Nathan is hitting on 2/3rds of his passes, with a TD/INT ratio of 10:3. He's still a significant threat to run the ball, but now it's more on scrambles and busted plays than designed runs.
Saying Scheelhaase's primary target is A.J. Jenkins is a little bit like saying pizza's primary target is my mouth. This year Scheelhaase has completed 80 passes. 46 of them have gone to Jenkins, and probably another twenty were intended for Jenkins but instead another TE or WR jumped in the way at the last second, the big dumb idiots. Jenkins is as legit of a WR as you will find in the Big Ten, and maybe even the country. The guy is blistering fast, runs terrific routes, and frankly scares the crap out of me. More on that later.
The thing is, as prolific as Illinois' passing game has the potential to be, this is still a run first team. Losing Leshoure hurt, and in his place senior Jason Ford was expected to step in and take over, but Ford has been inconsistent at best. Enter Troy Pollard. Pollard is also a senior who is finally able to strut his stuff, and in limited action this year he has been brilliant. The guy is averaging over 10 yards per carry, and one stat in particular that is telling is that Pollard is the team's leading rusher despite having 48 fewer carries than Jason Ford. Ford is still the nominal starter, but don't be surprised if Pollard supplants him this week.
Defensively, the obvious strength of Illinois is their d-line. Whitney Mercilus makes up for having the given name of a horrible, horrible sitcom by having a completely amazing 1500s mass murderer family name. Mercilus leads the country in sacks, with 8.5, and also in big fat opportunities for lazy sportscasters to make puns, with a bajillion. The rest of the defense is solid, if not spectacular. Despite a deep d-line, they are vulnerable to the short passing game, and have given up a decent amount of points to some not so decent teams. Still, the LB corps is still very good, and the 17.8 points per game that they've surrendered is exactly equal to the number of points per game OSU is giving up.
Finally, I would be remiss if I didn't mention the sometimes horrible special teams play that Illinios has shown this season. Both coverage and returns have been weak, and could  lead to some short fields for the Buckeyes. Still, placekicker Derek Dimke is a perfect 7/7 on the year in field goals, and could end up being a big factor in the game.
Buckeye Breakdown
I honestly have no idea what to expect out of the Ohio State offense tomorrow. The first half of the Nebraska game featured, bar none, some of the best playcalling I have ever seen in an Ohio State game. But in retrospect, that first 30 minutes or so now seem like some kind of cruel prank given the offensive production that came about in the second half. Situations change.
And really, that's the theme for the Buckeye offense on Saturday afternoon. Lots of factors are at play here; the health of Braxton Miller, the return of Boom Herron, the emergence of Philly Brown, where Jordan Hall will play (especially given his poor rushing in the games since Miami), etc. The pessimist in me wants to call that first half playcalling an aberration, especially since the return of Boom will no doubt encourage Bollman to pound it on the ground early and often. What kind of sucks is that I think the failure of the Dave play this year is what finally led to a more diverse approach, and now with Boom returning Ol Fuss and Feathers might be inclined to go back to the well.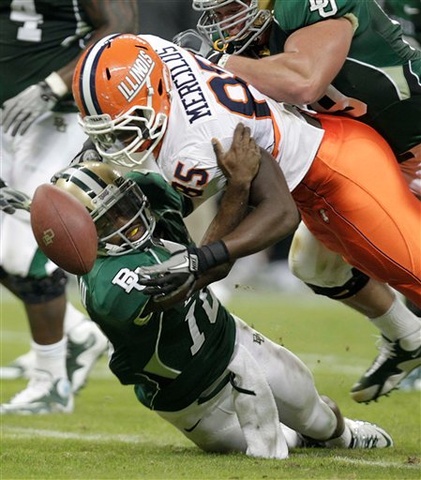 Still, positives. Philly Brown looked great against Nebraska, maybe even better than he had before the injury. Carlos Hyde has gotten better with each game, and is now averaging over 5 yards per carry, giving the Buckeyes a solid, known quantity at RB. Mike Adams also didn't seem to miss a beat and the offensive line looked vastly improved from their performance against Michigan State.
Essentially, Braxton is going to have to keep the LBs and the defensive line honest by completing some passes, but truthfully this game will likely be decided upon whether or not the OSU offensive line has the capability to neutralize possibly the best defensive lineman in the country and get consistent rushing yards.
Right now I'm actually more worried about the defense. The loss of Nate Williams for the year is huge, because it takes away OSU's best pass rusher and eliminates a lot of blitz packages. Hankins, Simon, and Bennett have been terrific, but they're primarily interior players and a lack of a pass rush has hurt the team at times. Another area of worry is the LBs, who have underwhelmed at times this year. Sabino in particular seems lost, and he's a poster child for a unit that's often out of position or taking poor angles of attack. Another huge loss is that of Dominic Clarke; since Howard Island has become more of a Howard Johnson's, Clarke had been pushing for more and more playing time and was becoming a force. Let me put it this way: one less talented guy available to double A.J. Jenkins increases the likelihood of Travis Howard having to cover an opposing team's #1 WR one on one, and I don't think that's something my brain can abide anymore.
Prediction
Sharks are winners, and they don't look back because they have no necks. Necks are for sheep.
Ron Zook is a shark, and he smells blood in the water. I don't know what it is about Illinois, but they always seem to play Ohio State incredibly tough, especially at home. Add to that Zook's obvious glee in beating the Buckeyes and you can imagine how hyped up his players will be for this game. Expect the Illinois coaching braintrust to try and throw everything in the book at both Fickell and Miller to confuse the hell out of them, while also doing their best to pound the ball down some OSU throats. The key here is whether or not OSU will be able to stop the Illinois rushing attack without committing 8 or 9 guys to do so. If A.J. Jenkins finds himself lost in zone coverage for most of the day, good. If he's going one on one with a safety (or anybody, really), it could end up being a very long afternoon.
Last week Alex and Luke tied for King Sad Guys; Luke is now fast approaching some kind of ennui singularity, so hopefully for both his sake and ours, the 11W Computronomatic is accurate when it calls for the upset with a score of...
Ohio State 24, Illinois 20