I'm pretty sure Bollman set back offensive coaching a couple decades but after the collapse at Nebraska, I'll gladly take yesterday's 17-7 victory that was apparently a tribute to this morning's Columbus Marathon. 
I would also like to take this opportunity to personally thank Ron Zook for his colossal derpness. Without his help, the Buckeyes might not beat what I already knew was a severely overrated team. So, while I am definitely excited to see the Fighting Fickell's pick up a much needed October win, I didn't see much yesterday to sway my opinion on what will happen the rest of the way. 
This is a middling football team that definitely benefitted from the return of Boom, some decent run blocking and a more fundamentally sound defensive effort boosted by the play of The Two John's and the budding star Bradley Roby but unfortunately, the real measuring stick for success in 2011 rests in how much development takes place at QB, WR and within the 13 or so frosh/sophs in the defensive two-deep. 
With reality level-setted, let's jump into this week's edition of Five Things...
boom's back
Though their numbers have diminished, I am still baffled by those out there in Buckeyeland that don't give Boom (on-field version) the credit he deserves. 
Sure, he'll never be mentioned in a conversation of greats at Ohio State but the dude is very consistent runner that has greatly improved his vision, thus effectiveness over the years, he always runs with a purpose and it can't be argued he has a knack for doing what's most important in the game of football - scoring touchdowns. 
After missing six games thanks to various idiotic decisions, Boom was back at it yesterday taking a handoff from Braxton and racing to the left pylon putting OSU in front 10-0 early in the 3rd quarter following Roby's INT and swerving runback. 
The sprint to paydirt gave Boom a touchdown in 13 straight games. In fact, Boom has now scored at least one TD in 23 of his last 28 games dating back to the midpoint of the 2008 season. So, say what you want about Boom the RB but he puts points on the board in about as consistent a fashion as you'll see. 
He also proved he's without question the most dominant back on the 2011 squad - not that many were arguing. Despite the entire northern hemisphere expecting the run, Boom powered and weaved his way to 114 yards on 23 carries (5.0) showing little rust except for a few missed cutback holes at the line of scrimmage. I'm also pretty sure I remember him being a solid pass blocker though it doesn't appear that skill will be a factor as Bollman is far too terrified to call a pass play - especially on a (GASP!) non-passing down. 
Boom's return takes pressure off Braxton and if Bollman ever decides to properly utilize his players, Hall's versatility in the slot can be more effectively exploited. 
Defensively speaking
Again, Illinois was a ridiculously overrated football team but I liked the way the defense responded after taking it up the tailpipe in Lincoln. 
The missed tackles were much fewer and further in between, The Two John's wrecked havoc up front, the safeties brought some wood and the unit forced three big turnovers creating short fields for the one dimensional offense.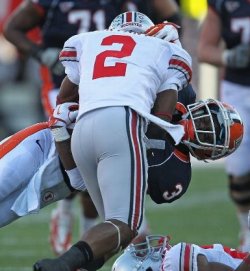 Christian Bryant bounced back from his missed tackle exhibition last week with five hellacious stops and a couple nice pass breakups. He also made a sick individual play on 2nd and 16 of the Illini's lone scoring drive when he blew up a screen as he slipped an attempted block from an o-liner. One thing is for sure, he plays like his hair is on fire and is always looking to make the big hit. The more reps he gets, the more he can perfect playing with a controlled aggression so he can bring wood but in a disciplined fashion. 
Bryant's play on the back line was complemented by CJ Barnett who had his best game of the season with eight stops. Roby was also solid in backing up his talk about Jenkins as he posted a breakup and the aforementioned INT that helped OSU take a 10-0 lead. 
The real stars on the day however were John Simon and Johnathan Hankins. 
Those two straight owned the line of scrimmage to the tune of a combined 17 tackles, six TFL and two sacks. Seventeen tackles from two defensive line spots? That is sick production. 
The duo was large early in the 2nd half. After Illy took possession following Boom's TD run, Hank blew up two different 1st down plays for no gain and Simon showed crazy pursuit on a 2nd and 10 play for -4 yards setting up a 3rd and 14 incompletion to force a punt.
After the OSU offense stalled, Simon and Hank were back it at. Simon sacked Schelhaase on 1st down for a loss of eight and Hank busted through the line for a two yard loss on 2nd and 18 before Jenkins eventually fumbled on a 2nd and 4 play setting up the mythical Braxton to Stoney TD pass giving the Buckeyes a 17-0 lead. 
Overall, nice work from the defense to get the Buckeyes back over the .500 mark. 
il-lol-inois
How in the world was this team ranked #16 or whatever it was? 
Scheelhaase is a decent runner/athlete and Jenkins is a solid player but if they are #16 then that is a pretty solid commentary on the state of college football. 
I give them some props for beating ASU in Champaign but their other wins came against Arkansas State, South Dakota State, Western Michigan, Northwestern and Indiana. Not much of a gauntlet. And not much of a surprise that the Buckeyes were able to beat them, at home, in a game so big the fans were dressed up to stripe the stadium. Man do I love it when programs do that hokey dress up stuff and fall on their face. 
Leading the charge of overratedness was Zook. I'm trying to figure out how he could possibly think it made any sense to go for it on 4th and 3 at the Buckeye 17 yard line, down by 10 with about 1:20 to play. Conventional wisdom says you don't go for it until you absolutely have to and while I get that it was windy, we're talking about a chance to cut the lead to one possession. Instead, he bought into what his OC Paul Petrino was selling, that he saw an easy play for a 1st down. Uh, not so much.
The decision proved even more curious as the Illini kicker, Derek Dimke has yet to miss a kick this season. He's 24/24 on XP's and 7/7 on FG's including 4/4 from 30+ yards. 
So, while we're shackled with the one and done Fickell experiment, just remember it could always be worse. Illini fans are on their 7th year of the Zook Experiment. I can't even imagine the horror. 
arrested development
It was great to see Braxton show no ill effects from the high ankle sprain that doomed the Nebraska upset but man is it tough watching his development stunted by walrusball. 
I get that it was windy but that didn't stop Illy from throwing 34 times and I don't think either of the INT's were greatly impacted by the breeze. Now, I'm not saying the Buckeyes should've aired it out - I get trying to win the surest way - but at this point in the season it makes no sense to not also attempt to develop your QB of the future along the way. 
Even in a 33 mph wind, safe, short passes could've been dialed up to not only keep Braxton's right arm from rusting out but also to keep the Illini defense from putting 8+ in the box every play. 
It's a double edged sword in that Miller definitely has some spiral consistency issues but I don't know how that gets fixed unless he gets to throw passes - in games. No doubt he launched a couple ducks but after 21 straight plays of handing it off or running, what should we expect? 
His 2nd attempt of the day was a laser that needed touch more than it needed heat. His 3rd attempt was his worst of the day, a drunken wobbler in the direction of Stoney. Then, his lone attempt of the 2nd half was a perfectly thrown strike as Stoney used a double move to burn the safety on a post route for a 17 yard score. 
Braxton has it in him. He just needs the game reps. You don't perfect your mechanics and ability to read defenses just by throwing in practice and watching film. He needs to throw in games. Not only that, I have to believe his psyche is at least minimally impacted by the staff being seemingly scared sh!tless of letting him throw the ball in games. 
I know the staff can't take this route completely but I personally could care less if letting Braxton throw more means he blows a game with a couple ill timed picks. This year is about preparing for next year as much as it is reaching some wack ass bowl, assuming the NCAA doesn't remove that opportunity anyway. 
special teams continue to do work
In a game of dueling offensive suck, the special units figured to loom large in the outcome. Once again, the OSU special units showed they are much better than we've seen in years past. 
Ben Buchanan continued his stellar season with seven more highly effective punts. Early on, he booted a couple bombs to flip the field as the offense posted three straight 3-and-outs following the opening FG drive. On successive punts, Buchanan ripped a 54 yarder moving the ball from the OSU 27 to the Illini 19, a 46 yarder to the Illini 26 and a 48 yarder booted from the OSU nine yard line. 
He continues to get excellent hang time as evidenced by four of seven balls being fair caught and two being returned for a net of -2 yards. He also put two more inside the 20 after three straight games of three inside the 20. Somewhere, Tress was chubbing out. 
Drew Basil also had a solid showing. He played the wind perfectly as he curved in a 43 yard FG to open the game playing a nice little hook from right to left. On kickoffs, he found the endzone just once in four tries but he did a nice job of executing squibs when the wind was in his grill. 
The coverage teams did their jobs led by another strong showing from Domicone. In general, the guys seem to be keeping their lane discipline and after charging down the field, breaking down so they are ready to react to a ball carrier juke instead of flying down the field acting as if the ball carrier has no intention of trying to make them miss. 
Good stuff across the board from the special teams.