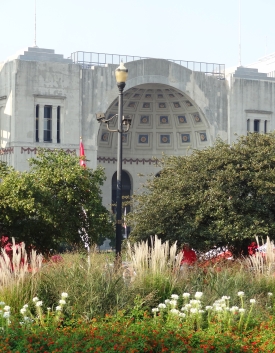 With the bye week, we're seven games down, six games to go assuming the Bucks will be bowl eligible. As such, I figured we'd take a pulse check with a roundtable focused on the state of the program and season instead of an upcoming opponent.
While I've got your eyeballs, I'll also take the opportunity to remind you to attend Drink Too, Brutus next Friday night ahead of the historic Saturday tailgate, Eat Too, Brutus. Not only will you get to feel good about yourself for supporting such a worthy cause, you'll also enjoy great company, oustanding food, a chance to win some heady swag and I hear Johnny might even juggle fire. 
With your imagination now fully stimulated, let's jump into this week's summit...
I know this is a tough one but who is your Offensive MVP thus far and why? 
Luke: This is going to sound sort of crazy but bear with me here for a second. Ben Buchanan's punting has been so superb that he's put the defense in position to hold opposing offenses to minimal gains and thus generate net field position gains (either via a reciprocal punt or a turnover). That's putting the offense in position to have what little success they've managed.
Johnny: Zach Boren has been consistently brilliant his entire career at Ohio State, and up until the return of Boom Herron was pretty much the only reason any of the Jim Bollman called plays worked at all. Sure, El Guapo and Hall were putting in work, but the only real functional part of the offense this season starts and ends with Boren taking out two dudes and looking for a third.
Danny: Realistically, this team is struggling to find offensive players who can be defined as playmakers. However, if I have a gun to my head and I need to pick one person, it's going to be Carlos Hyde. Despite his Twitter theatrics from last weekend, Hyde has been the most consistent, reliable player on offense this year. His numbers won't blow anyone away, but he's averaging 5.2 yards a carry, has five touchdowns, and is continuously getting better as the season has progressed. Continuing on, he will be eclipsed by senior Dan Herron, but hopefully Fickell finds ways to get him more consistent carries in order to compliment Herron. 
How about on defense? There's more to choose from so who is the Defensive MVP so far and why? 
Sarah: John Simon. He's the most disruptive force on the defense and leads the team in sacks and TFLs. With Nathan Williams out for the season, Simon has had to take over at the LEO spot at times. It's not his natural position, but he's still, as the Illinois game proved, a playmaker. I think he probably scares his teammates into working harder, too. Simon and Big Hank are developing into a pretty fearsome duo, and with Williams planning on a medical redshirt, the DL should be even more monstrous next season. 
Johnny: Simon, and it's not even close. The OSU defense is completely different when he's not out on the field. The dude plays like some unholy combination of every hoary cliche about midwestern steel towns and grit and meanness and whatever the opposite of rainbows are.
Luke: Because I'm selectively stubborn to the point of high comedy, I'll stick with my preseason choice of Nathan Williams. His absence completely handcuffed the defensive line for almost half of the season. It wasn't until last week that we finally saw John Simon and Big Hank look like what we thought they could be going into the season and that's a testament to the personal evolution they had to undertake without a viable edge rush option.

Which player has been the biggest surprise, good or bad, on offense?
Danny: Rod Smith. Smith was supposed to step in and be the back of the future. He drew comparisons to Chris Beanie Wells and had a physical style which many thought would make him impossible to tackle. But his physical talent and tremendous upside has been diminished by his inability to hang on to the football. His fumbling was so detrimental to the offense that he has officially switched to linebacker, officially erasing his name from a crowded OSU backfield.
Sarah: My biggest disappointments on the offense are less about the players and more about the playcalling. I expected to see more of Jordan Hall in the slot, for example, but it's not his fault that play doesn't have the word "Dave" in it. I will say that I assumed Mike Brewster would be more dominant than he has been so far. It seems like he's had more bad snaps this season than he had his first three. The Michigan State game was, maybe, his worst game as a Buckeye. But, other than against Sparty, the OL has been solid, especially now that Adams is back, and I know Brewster remains a leader on and off the field. 
Johnny: I honestly thought that Jaamal Berry was going to be the number 1 or 2 guy at running back coming into this year. Injuries and possible grue attacks aside, he had looked every bit the explosive playmaker that this team needed. It's unfortunate that hasn't panned out.
What about your biggest surprise player, good or bad, on defense?
Luke: Hard to say anyone other than Travis Howard but for the spice of life's sake, I'll go with Tyler Moeller. He's come on nicely in the last game and a half or so but his slow start was a definite cause for pause and not something I expected even given his time away from football after his quick start last season. 
Danny: Bradley Roby. Admittedly, I originally wanted to see Travis Howard and paintball enthusiast Dominic Clarke start at the corner positions. But Fickell made the wise move in starting freshman corner Roby and his decision has been rewarded with stellar play. Three interceptions so far this season and he's also playing well against all matchups he's been thrown up against. The future looks bright for the young freshman.   

We're now just five game weeks away from The Game. Based on what you've seen so far, what's your gut telling you about how it will play out?
Sarah: I wouldn't be surprised by either outcome, but I can't bring myself to forecast an Ohio State loss right now. Just thinking about it sends me into violent convulsions.
Faint praise alert: Michigan is better this season than they ever were in the Rich Rod era. Still, their offense can be neutralized by a good defense. Denard, if healthy, will probably gain 100+ on the ground, but I'm also optimistic about Roby and the rest of the secondary's ability to catch a jump ball. Michigan's defense has also improved, though not enough that I worry about Ohio State having problems running the ball against them. If any of Tressel's leftover magic remains, the ground game should be a well-oiled machine by November. I wouldn't expect a high-scoring affair or a blowout, and if it comes down to special teams, the good guys have the edge.
Johnny: My gut is telling me that to avoid a peptic ulcer, avoid watching either team attempt to pass and hope that the OSU defense can contain Denard better than they did Taylor Martinez in the second half. A lot hinges on OSUs ability to develop a consistently okay offense. If that can happen, they've got a shot. If not, I'm probably going to try and figure out if it's cheaper to just start making bismuth subsalicylate at home rather than buying it in the store.

What's been the most disappointing aspect of the whole season for you thus far? This is a big one as it could range from on-field performance, the staff, the AD, and even the continued knuckleheadedness of some players leading to a delay in announcement of sanctions.
Johnny: The complete lack of identity, both on and off the field. Fickell's decision not to have captains was a bad one, and the playcalling doesn't really help matters either. If you're going to field a mediocre team, fine. But at least field a mediocre team that knows what it's trying to accomplish.
Luke: I don't think the on the field performance has been totally surprising and it's not like this staff was ever all that grand in the first place (or more of them would've been getting overtures/job offers to go elsewhere), but that Gene Smith, an athletic director who by all accords was considered a close runner up for the NCAA's presidency and is often regarded (or was) amongst the elites in his field, seems so positively befuddled at how to play the PR game is absolutely mind boggling. Even if Ohio State escapes major sanctions, he and President Gee's handling of the entire ordeal leaves a far differing vantage point of the two than the one I possessed when all of this went down in the first place.
Danny: The administration's failure to monitor its players, as well as the players' lack of respect for the rules. People assumed all the problems of last season would vanish once this season came around. However, every week now, I find myself wondering who will be suspended for the upcoming week. It's embarrassing that after all that has happened a few players still chose to put the team at risk. It's just selfish, and I am sick of having this team suffer more for a few players' poor judgement.
Sarah: The last one. It's hard to completely move on when the threat of unknown sanctions still looms large. I just want to get it over with, and once the Geronimo (or whatever his name is) stuff came out, it just extended our long Buckeye nightmare. Now, when a player like Dominic Clarke does something stupid and juvenile, but not ultimately a big deal, it's treated as hyperbolic evidence that no one on the team can stay out of trouble, and then everyone twitches when another gray box pops up.
Fill in the blanks. Boom Herron is a better running back than ______ but not a better running back than ______.
Johnny: Boom Herron is a better running back than Beanie Wells, but not a better running back than Beanie Wells. Let me explain. Beanie was a brilliant RB, when healthy. He had an unbelievable combination of size and speed that allowed him to do a lot of things. When healthy. When healthy, he was maybe the best RB in the country. Boom Herron is not the best RB in the country, nor will anyone ever think he is. But he is consistently very good. And right now, consistency at that position (hell, ANY position), is what this team needs.
Luke: Everyone else on the roster. Chris Wells. He's not going to be a first round NFL draft pick, but honestly, so what? He's going to get a workman's load for the remainder of the season and give Ohio State a chance to win almost every game they play.
Sarah: Smash Williams; Billy Dee Williams (as Gale Sayers).
That was fun. Let's try this again. Jim Bollman is better coach than _______ but not better coach than _______.
Johnny: Jim Bollman is a better coach than I would be, but not a better coach than basically anybody that would interview for his job, so that's why I don't really feel bad about making fun of him.
Luke: Nick Sicilliano. The "Ask The Offensive Coordinator" button in video games. Seriously, random, situational specific play selection would make more sense than some of the series the Bollrus has called. 
Sarah: The corpse of Nicholas Colasanto; Rodney Dangerfield in Ladybugs.
What would the team's record be this year if Jim Tressel were head coach? Why do you say that?
Danny: 5-2. I think regardless if Tressel was still here, the team just lacks experience and talent this year. But I believe Tressel's offensive approach would've still allowed us to pull out a win against Michigan State at home.
Sarah: 6-1. They still lose to Miami because the team was all out of sorts that night. They'd get the win over Sparty because how many times did Dantonio beat Tressel head-to-head? Zero. How many times did Tressel lose to Michigan State? Zero. The second half of the Nebraska game would have been pure Tresselball. He would not have allowed the offense to inexplicably abandon the run game, especially with Bauserman flinging the ball to Bollman in the press box. That isn't so much of a critique of Fickell as it is praise for Tressel. The man knew how to win.
Luke: Just one game better at 5-2. I feel like the Nebraska game is a W as the melt down is mitigated and there's even a real chance the Michigan State debacle could've been avoided too. The Miami game felt like a bizarro Tressel failure-in-preparation classic, so I'll say that one sticks. Tressel seemingly made everyone on the staff team better so who knows, 6-1 isn't *totally* out of the question. (/blindlyloyalsweatervestdisciple)

If you were forced to watch a game with one of our frequent commenters, who would it be and why?
Sarah: Anyone who complains about footnotes or the articles I link to. It's that kind of constructive criticism that to me, demonstrates the kind of person who will provide valuable insight during a game.
Johnny: This guy isn't a super frequent commenter, but I gotta go with my bro "awwwwwwop" because I'm pretty sure he went with the commenting name creation strategy of "making a weird sound with your mouth and then writing down the onomatopoeia and using that as your handle forever," a move I heartily endorse. 
Luke: I have and will watch games again with Denny as we're both fellow denizens of Capitol Hill and real life bros (he's just as delightful/whimsically dry in real life). BLeez17 and I lived under the same decrepit roof on Indiana Avenue for a full calendar year so that wouldn't be anything new either. I hate to single out individual commenters (as I enjoy them all for uniquely different reasons), but I'll go with legendary commenter 'bup bup bup'. I hear he's an absolute joy in person.

Let's end with a prediction. On what date will Urban Meyer be named the next coach of Ohio State? Or, if you don't think it'll be Urban, who will it be?
Danny: I don't think it's appropriate to answer this question right now. Fickell still needs to be judged on the rest of season. Only after the season will I feel ready to make a truly informed decision on who should be coach of OSU next year.
Luke: The neverth of 2000-and-never. Urbz is a huge tease who'll enjoy the 3 month public ego massage he's going to get but I'll be genuinely surprised if he actually decides to coach next year. I don't know precisely who it'll be, but I'd wager it's going to disappoint a lot of people. I've kinda talked myself into being okay with Tim Beckman lately. Really. It's come to that.