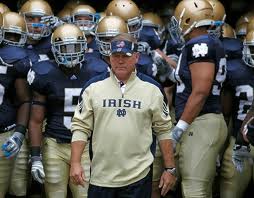 So, that Russell Wilson appears to be quite the addition to the Badgers doesn't he? And how about Les Miles swaggin' out here? And, I don''t know about you, but I didn't hear any "S-E-C" chants after Boise ran roughshod over the Georgia Bulldogs... did you?
Also, what the hell was I doing picking Indiana last week? Ball State is in Muncie, Indiana. Muncie, Indiana, also has Slammin' Sammy Hawkins as a resident. Still shaking my head over that pick. And thanks to Wisconsin, who let a 51-3 lead slip away to the point they didn't cover their -33.5 point spread. (Good golly, I can't wait to get that lesbian Bret Bielema into the Horseshoe).
LAST WEEK: 5-2-0
SEASON: 5-2-0
National Games
Arizona at #9 Oklahoma State (-14), 8:00 EST Thursday - ESPN (HD)
Just what the country has been patiently waiting for: a rematch of last year's ALAMO BOWL! Who could forget that classic, in which Oklahoma State dumped Arizona 36-10. And when I say "the entire country has been patiently waiting for" I mean, "the Arizona football team has been patiently waiting for." You see, they're apparently still salty over Justin Blackmon's showboating when he took a non-linear line to the endzone on a 71 yard touchdown reception. All this factors in well for a +14 spread until you realize Mike Stoops is still Arizona's coach. I mean, if this guy's last name was just "Stoop" ... would he have a job still? Also, star Arizona receiver Juron Criner apparently didn't make the trip to Stillwater. I think this game is an easy win for Oklahoma's little sister.
 #21 Missouri vs. Arizona State (-7.5), 10:30 EST Friday - ESPN (HD)
Missouri is coming off a 17-6 "win" against the University of Miami. However, the injuries are starting to mount for Dennis Erickson's team. Staring cornerback Omar Bolden is out with an ACL tear, linebacker Brandon Magee ruptured his Achilles tendon, wide receiver T.J. Simpson has a knee problem, and safety Ezekiel Bishop is probably done for the year as well. On top of that, their second leading rusher from last year, Deantre Lewis, still hasn't returned from being shot last February(?). And Missouri is getting +7.5 because their offense (which was breaking in a sophomore QB) looked bad last week? Sorry, Vegas, but I think you're wrong on this one. 
#11 Virginia Tech at Eastern Carolina University (+18.5) ,  3:30 EST - FSN (HD)
By the Beard of Abe Lincoln, all the good games this week involve Big Ten teams! Let me just tell you this, though: wager against Skip Holtz and the Pirates at your own peril. Even if this spread was Virginia Tech -3, bad things tend to happen when you bet against ECU. I don't know what it is, but maybe, when we get the technology, we'll figure what this all means. Until that day though, GIVE ME DEM PIRATES, 'cuz Virginia Tech sucks on the road.
... Anyway, before we get to the B1G games, I'll let y'all get your ears bent about the action this weekend by a true oracle: Warren G. Harding.
Warren g. harding's $10,000 Presidential parlay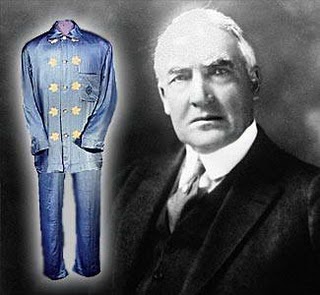 Warren G. Harding's $10,000 Presidential Power Parlay. The 29th (and greatest) U.S. President, Warren G. Harding, was a renowned gambler, golfer, and lover of life. As such, his words are brought to you here through the medieval art of necromancy. Seeing as President Harding ushered us into economic success unheard of in human history (before being tragically assassinated by his jealous wife--which tanked the economy), his words here might as well come to your doorstep in the form of etched stone tablets. (All views and opinions presented here should be considered only those of Warren G. Harding himself, obvii).
THE SEASON'S HONEY POT: +61,157.02
Greetings and salutations, my mortal friends! How was your week? Hopefully, you invested in last week's $10,000 Presidential Power Parlay like I did! I took my $61,157.02 to Morocco, where I spent the week riding Arabian steeds up and down the coastline with ethnic women, while I whispered sweet nothings into their ear in Portuguese.

This week's $10,000 Presidential Power Parlay is another straight forward little banger. Investment in this week's parlay yields an even $60,000, according to A.W. Titsworth, my Secretary of Collegiate Football Wagering. Alabama -10, TCU -1, and Michigan +3. 

Apologies to my brother Joe Paterno, or as we used to call him: Joey Blaze. You see, Socrates, Joey Blaze, and myself... well... let's just say we used to make it rain in ancient Greek "bath houses". (I see "rappers" these days talking about "making it rain" by throwing dollar bills on women... ha! Let me know you've thrown burlap sacks of gold coins at those dancing trollops and rendered them unconscious!) So why go against my brother-in-arms Joey Blaze? Quite simple: because PSU has been moribound the last decade, save that lucky run to the Orange Bowl a few years back, and Alabama is going to go into Happy Valley and beat the snot out of Penn State... that's why.

Why am I taking TCU -1 at Air Force? Because they just got their clocks cleaned by Baylor! I'd imagine losing to Baylor in anything is about as low as an athletics program in Texas can stoop. Much respect to our nation's finest in the Air Force, but unless they're actually dropping air raids on TCU's bus, I just don't see why this spread is like it is.

So, using that logic, shouldn't I be buying in at Notre Dame -3 at Michigan? Ha! I'm a man-God, I have no use for your silly logic. Besides, you think I'm going to put my hard earned money on a bunch of Papists? Notre Dame is who we thought they were. Nobody wants to go to Notre Dame anymore. Have you ever been to Indiana? Criminey! It's like Ohio whacked off the worst part of its state and said "Here" to somebody, and thus, Indiana was born. But yea, I'm sure elite college athletes want to go to some small school in the middle of nowhere which is filled with girls who claim to have useless things like "morals." Also, good to see Michigan start shilling to their corporate overlords by having a night game! "Who needs tradition when you can have stacks of money?" is what I always say!

Newayz, I gotta jet. Literally. My jet (these things are so cool, which I had them during my Presidency) is currently waiting for me, as is its gang of prostitutes. Hope to see you all in Buenos Aires! I'll be the naked white guy by the swim-up bar drinking out of coconuts while brown-skinned women run their hands through my white mane! Chao!
big ten games
Toledo at #15 Ohio State (-19), 12:00 EST - BTN (HD)
I hate this spread. I really do. I think Ohio State wins this game comfortably, but by 19 points? I just don't know. Especially considering the Rockets will be fielding my man Eric Page. People that I've asked about this game, people who know a lot more about football than me, have all said that Toledo is no slouch. Tim Beckman, I've been told, will have his troops ready to play. With the defense being young--and actually facing a team which is adept at moving the ball--I think it will take a little bit for the Buckeyes to figure out the Rockets offense, but eventually the Buckeyes will grind their bones to dust. (Still, I don't think it'll be by more than 19 points).
Iowa at Iowa State (+6), 12:00 EST - FSN (HD)
I thought Ricky Stanzi alone was enough to gain the #23 rank in this country--but apparently that's not true. I've always liked how Iowa and Iowa State just get their rivalry game out of the way first game of the year. And while I've always had a soft spot for the Cyclones--you'd have to think I'm crazy to bet against a true patriot like Ricky Stanzi this close to the 10 year anniversary of 9-11.
Oregon State at #8 Wisconsin (-20.5), 12:00 EST - ESPN (HD
Man, Wisconsin sure knows how to schedule some tough out-of-conference foes don't they? I mean, when was the last time Wisconsin wasn't favored by two touchdowns against an out-of-conference foe in the regular season? It was probably back in 1927. Anyway: Russell Wilson, Russell Wilson, Russell Wilson! They want to get him as much experience as possible. This = Wisconsin points. Wisconsin wins by 24+.
Alabama at Penn State (+10), 3:30 EST - ABC (HD)
I think Warren G. Harding summed it up pretty nicely. Penn State is going to get hammered. Hopefully my man Duron Carter gets himself a couple of touchdowns and hopefully the fourth quarter will be nothing but pan-shots of sad Pennsylvanians. I respect Alabama for coming to the Big 10 (something which half of the SEC hasn't done), but I will not be looking forward to all the "S-E-C!" chants which will be coming after the game. Also, when PSU gets humiliated on Saturday--and they will--expect even the most loyal Joe Paterno fans to rescind their allegiance.
Notre Dame at Michigan (+3), 8:00 EST - ESPN (HD)
Man, another coach at Notre Dame, another wave of calls for him to be fired due to his cussing. Personally, I've never understood why people let themselves get worked up over words, but that's just me. How the hell is Michigan getting +3 at home? Because ND got shellacked on national TV by directional Florida? I know Michigan still plays Jordan Kovacs (and really, there isn't ANYBODY at Michigan better than Jordan Kovacs?), but still. I think Michigan stitches a clown suit on Notre Dame, which will be bitter-sweet. On one hand, it will be comical to watch the reaction from Notre Dame fans. On the other, though, it will lead to "THE PRIDE IS BACK AT MICHIGAN" columns, which will cause some media members to fondle the pockets of fat hanging from Brady Hoke's torso even more than they already are. Still, bring on the Notre Dame meltdown! We'll see those Michigan bums down the road!