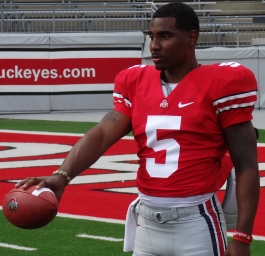 With yesterday's news that Braxton Miller will make his first collegiate start this weekend against Colorado, there's a new wave of tempered optimism sweeping the fanbase. 
That's pretty significant considering what unfolded in Sun Life Stadium last Saturday night. Now, the question is whether or not that optimism will have been extinguished by a poor showing from Miller or if it will ratchet up to early-TP levels thanks to Miller blowing up against a very beatable Colorado team.
Miller going off is obviously the perfect storm as the Buckeyes would enter conference play on a high against an also beatable Spartan squad, just one game away from the return of Boom, Posey and Adams. Basically, this season could still be very interesting. 
Anyhoo, since I can't think of a smooth transition into this week's roundtable, let's just get to it...
Along with Ben Buchanan, Jordan Hall was the most impressive Buckeye last week despite the fact he did most of his damage on runs up the gut. That goes against what most of us thought would be the manner in which he was primarily utilized so how do you think he'll be used most often this week?
Corey: I have to believe Hall continues to run up the gut. For me, overall the O-Line has done a good job of blocking this year and the holes have been there to run though. I've been impressed with Hall since the jersey scrimmage his freshman year and he has done nothing but make plays when he gets the opportunity. Hall's yards up the middle is the progression of a hard working kid, who has made the most of his chances and is becoming a well rounded RB in front of our eyes. When Boom gets back and the weather turns colder, OSU is going to be able to run for over 200 yards each week and Miller will just need to make a handful of plays to help win the game.
Joe: Since he's starting, I expect him to be in all of the various packages OSU runs. With Miller starting, we will see more of the spread look and so there won't be as much "up the gut" as we saw with Joe B. starting. But he'll still be running Dave every now and then.
Danny: He'll be used in a similar fashion, but you could see him line up as a receiver more often as well. Miller will need a dump-off target and Hall proved throughout fall camp he can make plays in that position.
Will Jaamal Berry see any more time at RB? Why or why not?
Sarah: This week and next week, sure. After Boom returns, I'm less certain. It might depend on his hamstring. Ohio State's a run-first team, so it's nice to have plenty of options, but Berry will probably be the fourth guy come the Nebraska game. Returning kicks and punts and maybe catching screen passes might be his best chance at playing time. 
Johnny: Probably not. I feel like there's more to his injury than is being let on, and if Hall is productive then Bollman will be content to stick with the known quantity. 
Joe: That depends on his health. If he's 100%, then I think he gets some time here and there to give Hall a rest. He has more explosion than Hyde and his upside is greater. Nothing against Carlos, but I really want to see what Berry can do. 
Switching to the defense, which player has been the biggest disappointment so far? Why?
Danny: Orhian Johnson. I heard so many positive reviews about this guy coming out of fall camp but he's looked lost at times in the secondary. I'm not ready to give up on him and jump on the Bryant band wagon yet, but he's got to show improvement.
Corey: Tyler Moeller. I don't know if it's been the schemes or teams are doing a better job of blocking him, but I can't recall a single play he has made in the first 3 games. He has whiffed on some tackles and seems to be getting eaten up by blocks. With the loss of Williams, this defense needs an emotional leader like Moeller to step up and get the intensity back up to where it needs to be. 
Sarah: Considering Moeller was my preseason pick for defensive MVP, I should probably go with him, but I don't like saying anything bad about the guy. So instead, step on up, Storm Klein. He was getting rave reviews during the offseason, and it seemed like he had about 70% of Ohio State's gabillion missed tackles against Miami. Ryan Shazier is listed as Andrew Sweat's backup at weakside linebacker, and I don't understand enough about the intricacies of each LB type to know if he could play the other spots, but I want to see more of this guy on the field. 
Coming off suspension, Travis Howard was immediately inserted as the starting wide corner despite the strong play of both Roby and Clarke. If you are running the show, who are your starting corners and why?
Sarah: I've mostly buried the Miami game deep inside, where it will one day combine with the 2007 title game, the 1998 Michigan State game, and the 199(fill in the blank) Michigan game. Then, I will suddenly snap and take on a few different personalties: Mary, a colonial woman with a love of quilting; Sheila, a sassy black lady who prefers not to be called sassy because it's a bit of a stereotype; and Viktor, a Hungarian champion tennis player. What I'm trying to say is that other than the interceptions and Roby not turning his head on a TD, I don't remember a whole lot about how the corners played. If anyone has separated himself, I haven't noticed, so I don't care too much about who starts, just as long as all three play, which I'm assuming happens. I guess whoever can cover DeVier Posey in practice should start.
Johnny: This is tough. Roby had been playing well against some sub-par competition, and Clarke is athletic as they come. But neither of them have shown they can handle guys that are "at their level," so to speak. With that said, I think Howard will get better than we saw him play against Miami with more reps, and Clarke or Roby is a tossup at the other corner. Both are prone to massive brain farts, but since Roby's against Miami sticks out most in my mind right now, let's go with Clarke.
Danny: Howard and Clarke. Roby has done a phenomenal job in the secondary, but Howard won the job coming out of fall camp. This team needs its best players now more than ever and Howard is the most talented. Clarke made big play after big play in the Toledo game and has done everything to deserve to keep his starting job.
Orhian Johnson has been just meh, at least in my eyes, thus far while Christian Bryant has seen his PT stay fairly steady. In addition, Moeller hasn't exactly set the world on fire. Taking all this into account, who are your starters at safety and star? Why?
Joe: I wouldn't change anything yet but maybe Bryant should play more as a way of sending a message to Johnson that he does not own the position.
Corey: I would keep it the same right now, starting Johnson, Moeller and Barnett. I know Johnson and Moeller have not done much this season, but I've always felt you need some experience on the back end and at some point Moeller is going to make plays. Bryant still plays a ton, but as we saw last year, they'll need all of these guys as the year progresses.  
If you could use just one particular form of torture on Jim Bollman, what would it be?
Sarah: He awakens one day alone in the woods with nothing but the clothes on his back. He has no idea where he is or how he got there. As he walks around, trying to figure out how to get out of this place, he hears whispers. At first, he doesn't recognize them but soon they surround him, and he realizes that he's hearing the voices of the '06 Florida defensive line. They are hunting him, the Most Dangerous Game-style. He tries to run, but it isn't long until they have captured him. Rather than kill him, though, they bring him to their cabin, blast that Pitbull Dr. Pepper song on repeat, and pluck his mustache, one hair at a time. He passes out from the pain (of the Pitbull song, mostly), only to start the day as the previous one began: alone in the woods. 
Johnny: Force him to memorize and recite perfectly Mike Martz's entire St. Louis Rams playbook in front of an audience consisting of Gus Malzhan, Mike Leach, and the ghost of Ghengis Khan.
Describe Joe Bauserman's throwing motion somehow using the word 'spiral' in your response.
Danny:  Anti-Spiral.
Johnny: Joe Bauserman throws a football in exactly the same way a fart wafts through a crowded room. Spiral. 
Corey: If Bauserman sees the field again this season, his throwing motion will cause the Ohio State program to go into a downward spiral for the next couple of years. 
Make one bold prediction about the game on Saturday.
Corey: Miller doesn't turn the ball over. 
Joe: OSU will complete more than 10 passes, and 2 will go for TD's.
Sarah: Devin Smith will be the leading receiver. This probably won't happen. I'm awful at predictions. I'm now going to say a prayer for the safety of Devin Smith.
Johnny: Colorado not bringing Ralphie on the trip will make me more angry than anything else that happens on the field. 
Looking at the current roster of non-seniors, which player has the best chance to be an All-American at some point in their career and why?
Sarah: Big Hank, and not just because I love saying "Big Hank!" like he's Norm from Cheers. He's been playing three times as many plays in a game this season as he did last season, and even on Miami's last TD, I noticed he was still motoring (I then sang to him, "what's your price for flight?" because that game made me a little [more] loopy.) I liked him a lot last year, and he seems to be progressing quite a bit. He's learning to deal with double teams now, and he's only a sophomore. Big Hank!
Joe: Jonathan Hankins, because he's a beast in the middle.
Danny: Devin Smith. I can't say enough about this guy because I think he's the real deal. It's a shame he isn't getting more opportunities, and he'll most likely receive even less when Posey comes back. However, Smith is lightning quick and has the ability to be one of the best receivers in the NCAA.
Johnny: Michael Bennett. He's possibly our third or fourth best d-lineman on a team with Nate Williams and John Simon. He's also a true freshman. This is also his first year of playing football exclusively at a defensive position. He also has honey badger and hippo DNA. Bet you didn't know that. Now you do.