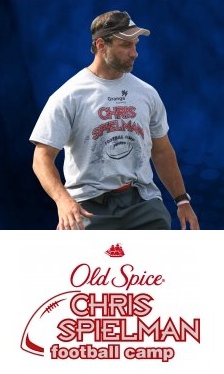 So, I've never been to a football camp as a participant before.
In my youth, football camps obviously existed but with playing on baseball traveling teams every summer there was just never time.
And though I played football up until high school, I stopped at that point to focus on baseball and basketball for fear my then 6'2", 160 lb. frame would be forever bent if ran a few routes at WR and that just wasn't worth risking the opportunity to play the other two sports.
That's why yesterday evening was so cool for me.
As you'll recall, 11W partnered with Chris Spielman's football camp, offering $20 off registration, leading up to the three day camp that culminates tonight at Dublin Coffman. You might also recall that during that same post, we mentioned a partnership with the Stefanie Spielman Fund for Breast Cancer Research as we look to pull off a legendary tailgate leading up to Ohio State's showdown with Wisconsin on October 29th.
We'll have more ridiculously awesome details on that soon but suffice to say, that partnership is why I found myself at Spielman's camp last night and after a long day at my real job, I was admittedly not all that excited about the drive around 270 and the impending wait in the oppressive heat. Then I arrived at the field.
Chris Spielman is the real deal. I know it's already undisputed fact but to my all time favorite Buckeye out there with these kids trying to teach them far more than football was something to see. The guy's intensity is just so genuine and I've never met anyone so passionate about their values. To kids looking of range in age from 7-13, Spielman commanded attention as he talked on their level about the value of giving time and of competing to the fullest, no matter the task, test or sport.
These kids were far too young to have seen Spielman play and despite growing up during an impatient, me first, results now environment, they were on one knee staring and listening intently to Spielman's words of wisdom - very few of which were about football. 
Anyhoo, I need to get onto your hump day Skully but I just wanted to remind everyone how lucky we are to have Spielman in the Buckeye family and suggest you make a note on your calendar if you have kids so they can be a part of something special when Spielman's camp comes back to Columbus in 2012.
Where you at, Vandy? With the NCAA accepting LSU's self-imposed penalties including one year of probation, two scholarship reductions this year and next, and a 10% reduction in recruiting vists over the next two academic years in response to five self-reported major violations committed by a former assistant coach, Vanderbilt is now the only SEC school not to have been slapped with a major violation since 1990.
If you are looking to draw positive conclusions to Ohio State's impending hearing, I guess you can take away that the NCAA practically dry humped LSU for their self-reporting prowess and ongoing cooperation. Conversely, the negative spin is LSU's situation was void of media fabrication creating a firestorm of backlash and trials in the court of public opinion ahead of any NCAA hearing based on fact, potentially pushing the COI to over-penalize in hopes of calming rhetoric and asserting control.
Hide yo kids - the fundamentals are coming! During a radio interview with Detroit's WDFN radio yesterday, new Michigan DC Greg Mattison made it pretty clear he's working from the ground up as he efforts to bring the Wolverine defense back from sieve status to respectability.
Somewhat comical was the notion that a proud defensive school like Michigan will be spending the bulk of practice time working on the fundamentals. I know all coaches give that line but when you're talking about the 110th rated defense of a season ago, I almost took Mattison's comments as a swipe at the previous regime and their inability to properly implement basic defensive fundamentals:
All defenses start with the exact same things, and that's being great on the fundamentals. And that's tackling, that's delivering a blow, that's running to the football and communicating. Those things, it doesn't matter who you have – if you have a great team or if you don't have a great team – you start out that way and then the next thing you do is you take your philosophy on defense and then you tweak it or make it so that your players can execute it at the highest level.
I'm pretty sure Gerg didn't do so good in that regard. All swipes aside, Mattison is a obviously a coup of a hire for Hoke and it's hard not to expect they'll be a nationally ranked defense once they can recruit the kind of talent he needs to carry out a legit defensive scheme.
Another day, another scheme. Following his suicide on Sunday, the NCAA is asking questions out AAU basketball organizer and financial planner David Salinas upon learning he bilked numerous college basketball and football coaches out of thousands of dollars via a fraudulent investment scheme.
With the SEC breathing down his neck, Salinas took his own life leaving a slew of unanswered questions. The four letter reports the NCAA isn't currently planning to launch a deeper investigation however Fox26 in Houston says NCAA investigators have contacted Moses Malone Jr. to inquire on his knowledge of relationships between Salinas and a number of former basketball players and coaches, and whether or not any of the investments by coaches were made in exchange for steering players to their respective programs.
Malone Jr. said coaches such as Alvin Brooks (U of Houston assistant, former head coach), Mark Turgeon (Maryland) and Doc Sadler (Nebraska) were specificallly brought up by the investigator.
As for which coaches were taken to the financial cleaners, ESPN notes Billy Gillespie, Lute Olson, Sadler and Mark Few are just a handful of many. Expect more names to surface in the very near future.
This story comes on the heels of Jim Donnan's reported heavy involvement in a ponzi scheme that netted the former UGA footbal coach millions of dollars.
Why isn't being loud when your team is on D good enough anymore? Rittenberg tells us Iowa has announced their three "color games" for the 2011 season, complete with nifty nicknames.
For the September showdown against Pitt, Hawkeye fans have been told, "Be Bold. Wear Gold." Catchy, that is. It gets more complex in October as fans are instructed to wear either black or gold depending on their even/odd section assignment as Iowa takes on Northwestern. To cap the awesome display of coordinated fandom, Iowa's annual Blackout will occur on Senior Day against Michigan State.
In related news, Tim Dwight is circulating a petition that would properly rename Kinnick Stadium to Gimmick Stadium.
Ready. Set. Collage. Indiana football is going retro...If the horns fit...Generic names for soft drinks map...Sticking with maps, how New Yorkers see the USA.