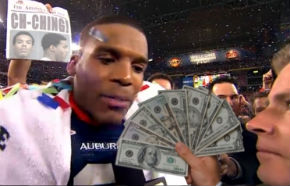 Good morning 11W fans and a happy Thursday to you all. This is indeed your Thursday Skull Session and we begin with none other than the hottest topic on earth: scandal in college football.
Ohio State has been the subject of a witch hunt by sports journalists this summer, while programs such as Boise State, UNC, Georgia Tech, Oregon, and LSU, among others, have ultimately had their issues swept under the rug. That may not last too long though, as it appears the wind might be starting to blow in a different direction now that paper trails are a-blazin with evidence of bad things college programs are doing across the nation that will make selling memorabilia for cash and tattoos (and the coach covering it up) look like a walk in the park.
Naturally we find ourselves looking at the SEC, ironically enough in the midst of commissioner Mike Silve preaching his plan for change to the NCAA at the conference media days. If you actually want to read about what the commissioner and coaches of ESPN's favorite group of football programs had to say, our own Luke and Spencer Hall over at EDSBS are doing a great job in wrapping things up. If you're like me and only want to see some of those teams rot and burn, the news flying around the internet will be your cup of coffee this young morning.
Today, the buzz surrounds LSU and Auburn, two of the conference's five straight national champions. LSU has already been in the deep this week, as they were slapped with a year of probation, as well as self-imposed scholarship and official visit reductions for the upcoming academic school year for committing "major" violations while recruiting a junior college player. That may just be the start though, as things are starting to build up around the Willie Lyles train as videos provided to the school by the Texas "scouting guru" appear to be old and of old quality. We saw how Oregon operated in terms of taking in Lyles services and I won't be too surprised to see that the Tigers acted in a similar manner, a.k.a. paying for Lyles' influence on recruits.
Finally, to cap things off this Thursday, we look to our friends to the south in Auburn. ESPN has tried its hardest to keep Cam Newton and Gene Chizik's program safe, but you know how pesky those journalists can be and it appears they are about to strike gold. As we mentioned in Buckshots yesterday, the NCAA thinks they have found the bag man that helped Auburn pay last year's (for now) Heisman Trophy winner to come there. This can only lead to bigger and better things, and all we can do is sit back, enjoy the ride, and laugh at all those that thought what happened in Columbus was worthy of the Death Penalty.
 Oklahoma profit may boom(er) soon (er). While the SEC dominated headlines last night, the Big 12 wasn't quiet either at their media days. Amongst many things talked about was the buzz that Oklahoma may follow Texas's lead in creating their own television network, which probably wouldn't draw the same national audience as UT, but would do quite well consiidering the lack of a big time conference television contract. 
I think with big time football programs and the possibility of super conferences in the foreseeable future, more and more teams could trend to go this route to add some extra (and non-shared) cash in their pockets. Could you imagine a Buckeye Network? That would surely be out of hound in terms of awesomeness, profit for the university, and success, as OSU fans across the world would pay prime dollar to be able to subscribe on. 
BBQ at the Out House shaping up. If you haven't already heard, Michigan is putting together a very nice recruiting haul for the class of 2012. That class could get even better soon, as the school is throwing a bbq on campus July 31 for all interested prospects who want to take an official visit. While many of the players are names Buckeye fans don't care too much about, it appears Brionte Dunn will be in attendance.
I still think Dunn is a Buckeye as long as the sanctions brought down by the NCAA have no effect on him, but you can bet Ann Arbor's new favorite couple duo [Ed: The use of the word "couple" rankled our friends from up north. Evidently, they thought it was a homophobic slur. We apologize if you did as well as it was simply nothing more than a bad choice in phrase. Hopefully our five year track record speaking out against slurs left little doubt in your mind as to to our intent with the word.] in Tom Stroebel and Kyle Kalis will be making their play to have Dunn join them on the dark side. Dunn will be one of those prospects that you don't have faith in to sign until the signature is on his LOI, but unless he's as impressionable as Kalis and lacks the ability to make his own decisions, I wouldn't worry too much just yet.
 Life as the favorite in the B1G. Adam Rittenberg over at ESPN's Big Ten blog has done an outstanding job at breaking down some data on B1G pre-season favorites and how they fared in the conference championship race. Interestingly enough in the last 15 years, the pre-season pick for conference champ has either won the title outright or shared it only 7 of those times. Ohio State has done OK in their own right, being picked as the favorite in six years and winning at least a share of the title in five (now officially four) of them. Oh yeah, also in those 15 years, the Buckeyes have claimed 8 titles (once again, 7 officially), which speaks pretty well on what Jim Tressel has done in Columbus during the last decade.
Lighty will have his pasta and will eat it. Back in June David Lighty turned down the opportunity to be selected later in the second round of the NBA Draft because some teams wanted him to play in Europe for a year to hone his offensive game. Funny enough, Lighty will end up playing over seas anyway, as the NBA lockout doesn't appear to be ending anytime soon and the former Buckeye star can't negotiate with any of the league's team who showed interest in him before the CBA expired.
Lighty has agreed to sign with Italian team Cantu, where he expects to play until the NBA is back in session. Lighty said once the lockout is lifted that he expects to sign with either Atlanta or Phoenix, the two teams that have expressed the most interest in bringing him on board. We wish the best of luck to David as we are sure he will represent the Buckeye Nation proud in his journey to make it as a professional basketball player.