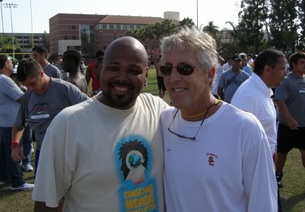 It's a holiday weekend, so that can only mean one thing: a scandal is blowing up on a college campus.
This time, Oregon is the school grabbing its ankles, with new and embarrassing details of the program's $25,000 scouting relationship with Will Lyles coming to light.  After breaking the story on March 3rd with a report of the lump sum payment from Oregon to Lyles, Yahoo's tenacious duo of Dan Wetzel and Charles Robinson1 took things up a notch when they released further details from the case on Friday.
During the pair's "wide-ranging, multi-day" interview with Lyles, the scout alleged the following:
Oregon head coach Chip Kelly personally approved the controversial $25,000 payment to Lyles.
Kelly "scrambled" in late February and asked Lyles to submit retroactive player reports to justify the payment.
Oregon did not pay him for his work as a "traditional scout", but rather for his influence with top recruits and their families.
Oregon's Assistant Director of Football Operations Josh Gibson worked with Lyles to arrange for prized recruit Lache Seastrunk's grandmother to be his signing guardian for his NLOI (Seastrunk's mother wanted him to go to school closer to his Houston area home).
Lyles helped current Oregon running back LaMichael James find a loophole around Texas' standardized test requirements, securing his eligibility as a freshman.
On the surface, the last two bullet points aren't NCAA violations per se, but the NCAA, already investigating in Eugene, will be looking closely at the dual role Lyles served as mentor to preps and paid contractor for the Ducks, and that's where things get interesting.
The Ducks have maintained all along that they were paying Lyles for scouting services, but he tells a different story. One in which the school waited a full 11 months -- from late March of 2010 when he received the $25,000 payment from Oregon to late February of this year -- before requesting a single written recruiting profile. The exorbitant amount charged is one thing, but the documentation Oregon provided after public records requests is a whole other level of comedy2.
The NCAA spoke to Lyles for six hours in early May, but a bulk of the information in the Yahoo interview was not disclosed to the organization because, as Lyles himself put it, "it didn't come up".
Lyles has a stack of evidence, including phone records and signed cards and emails from the Oregon staff, which, if you're reading, Mr. Dohrmann, is the best way to back up assertions. If the allegations of Kelly trying to cover the deal up are proven true and he mislead the NCAA when he spoke to them in last month, we could very well be looking at another summer coaching change at a high profile school3.
The fallout may not end in Eugene, however. Lyles received a $6,000 payment from LSU in December shortly before linebacker Trevon Randle of League City, Texas, signed with the Tigers, and the situation had enough DEFCON to spook Longhorn insiders spur up Longhorn involvement rumors earlier last week. And let's not forget former Texas A&M cornerbacks coach Van Malone alleging Lyles told the Aggies they had to "beat" $80,000 for the services of Patrick Peterson back in 2007. Peterson would go on to star at LSU before being selected with the 5th pick in this spring's draft.
Of course, with an assistant coach moonlighting as an agent, an army of sugar-daddies passing out money to players, hundreds of unpaid parking tickets and allegations of academic fraud, North Carolina looks at what's going on in Oregon and scoffs. And then there are cryptic tweets from plugged-in recruiting analysts that spend a lot of time in the sunshine state about one of the "big three" in Florida entering the NCAA cross hairs. Finally, there's also whatever is still heading Auburn's way (you can almost hear Duck fans: "It's just $25,000! Auburn shelled out SIX FIGURES, BRO."), and USC, the current poster child for angering the NCAA.
It's been a scandalous 12 months on the college football front and that is a trend that will continue until enough schools get punished -- and harshly enough -- so that other schools get the message. When you hear about reporters sniffing around the campus of your favorite school you can't help but feel a little despair. If you look closely enough at any program, you're going to find something (except you, Penn State fans, so I should rephrase that to read "at any elite program"), you're going to be able to dig something up, whether it's a free meal, or a free round of golf from a clown that thinks it's the pinnacle of status to hang out with a teenager.
I hate to see this happening anywhere in the sport I love so much, but I understand it happens and as long as piles of cash are being tossed around, it will continue to exist. As we're just days away from submitting our response to the Notice of Allegations, you do have to wonder how bad Ohio State's transgressions really were, especially in light of the allegations leveled at the Tar Heels and Ducks.
1 Is there anything more terrifying these days than Wetzel and Robinson showing up on your campus?
2See also.
3 The Oregon situation won't draw anywhere near the level of heat that Ohio State faced earlier this summer, but it's nice to see the Worldwide Leader has finally taken notice.