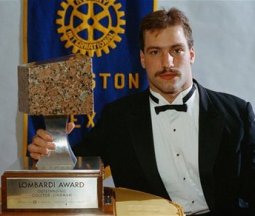 Good Wednesday morning and welcome to what should be a rain-free, beautiful day for all you C-Bus residents stopping by for your daily dose of session de skull. To celebrate one of the rare dry days of spring, feel free to join me at my favorite outdoor bar aka Huntington Park tonight to watch the Clippers at 6:35pm. I'll be the dude swigging an overpriced Labatt down the 3rd base line thinking Don Mattingly was the baddest mamma-jamma baseball could handle back in the mid-80's before Bob Shirley jacked the Hitman's back.
While Mattingly is my all-time favorite baseballer, my all-time favorite footballer is also back in the news...
Spielman Took The Words Out Of My Mouth. Continuing to illustrate for Herbie how to execute having an opinion without coming off like a spoiled child, Chris Spielman made a pretty bold prediction Monday night at OSU-Lima's Spring For Scholarships event:
"I'd be surprised if he's coaching next year (2011). Why I say that is I think there is more stuff coming out."
Spiels didn't elaborate on why he thinks this or what type of stuff might still emerge but even if nothing more does come to light, I do agree with him that there's a very strong chance Tressel will not coach a game this season. That punishment could come from the NCAA, the school, or Tressel himself. None of the three would surprise me in the least.
Amidst his comments, Spielman once again reiterated his deep feelings about Tressel while effectively reminding us all that the Vest's actions must be met with accountability:
"He's a friend of mine. I respect him. I would be honored if my son were ever good enough to have him play for a guy like Jim Tressel. That being said, Ohio State is bigger than one individual. It's bigger than the James Cancer Hospital. It's bigger than the band and football and basketball and the Fisher College of Business. So what has to happen, in my opinion, is that the people in charge have to take an honest look and say, 'What is best for the university moving forward?' Then they have to make a hard decision. And I do believe Coach Tressel owes it to our university, he has to look in the mirror and say, 'What is best for the university looking forward.?'
Spielman also noted that he's received a few threatening emails as a result of his comments but that they aren't about judgment, simply a belief that certain actions come with certain accountability.
I say, props once again to Chris for calling it like he sees it without trying to neither soften his point or preach from the mountain tops. Also, if you weren't aware (I wasn't) Hooley is writing a book in partnership with #36 about the family's journey (That's Why I'm Here — The Chris and Stefanie Spielman Story) to be published later this year. I swear, I just want the honor of having Spielman tackle me someday even though I'll likely spend six months in traction afterward.
Worthington Adds More Commentary. Castel shared more thoughts from Doug Worthington on Monday and clearly he's not naive when it comes to the volume of players that might sell awards/memorabilia:
"You have to understand who those five guys are. You have Terrelle Pryor, you have Boom Herron, Posey, Mike Adams and Solomon Thomas—all those guys that you saw at the Sugar Bowl with big contributions to the team. They're not just average guys on the football team. When some things go down like that, you have guys who never played a down at Ohio State who sold things and did things."
On one hand, it seems obvious that the star players would earn top dollar for their stuff but with Buckeye fandom at such an insane level, gold pants, championship rings and such from lesser players would still command what a broke student-athlete would consider legit coin.
Likely in response to some recent insinuations that his gold pants were sold, Worthington says not so fast, my friend:
"I never sold any of my items and I never gave anything away. I paid a pretty penny for my tattoos and all my stuff is accounted for and I'm proud to say that. No shame on anyone who had to, by my stuff is going to stay with the Worthington family and I'd be happy to show anyone who wants to see."
Props for hanging on to your wares, D-dub.
Glad To Hear The Purple Team Locked Up Fitzgerald. It's pretty much un-American to not like like Pat Fitzgerald so I know I'm not going out on a limb here but I was happy to see Northwestern lock up the guy with a 10 year extension running through the 2020 season. As the stellar Wildcat blog Lake The Posts notes, it's a no-brainer for the school especially with Joe Pa not likely to coach past his upcoming 235th birthday.
In addition to being paid just under $2mil per season, Fitzgerald also made sure his assistants were taken care of after NU lost Kevin Johns to (gasp) Indiana. The financial moves coincide with the school's "Master Facility Plan" that should also help the Wildcats compete for athletes.
An awesome aside to this whole story is the bitter Twitter-feud that took place between the Trib's Teddy Greenstein and Chris DeLuca of the Sun-Times. They come off like Jersey hoes fighting over some hair-slicked gorilla in an adult x-small Affliction shirt laden with dragons.
Stupid Is As Stupid Does. I might as well admit I'm already aware that you think I'm a moron for linking this. I agree with you. Not only do I despise preseason football polls, I probably despise Dodd even more. Maybe I'm just dying to talk about OSU football instead of OSU drama.
In any event, OSU checks in at #9 in Dodd's Top 25, the best of the B1G, with Nebraska (10), Michigan State (11) and Wisconsin (12) right on our heels. Oklahoma is in the cat bird's seat followed by Bama, LSU, Oregon and Stanford.
Mixtape. Kirk Ferentz offered a HS freshman lineman...Some fluff on OSU's badass national championship volleyballers...Stop by Larry Flynt's Huster Hollywood on your next gameday trip to Columbus/Clintonville..."The Hangover" defense...The 13 worst horse names in Derby history...The deal of a lifetime.
You can follow Chris on Twitter