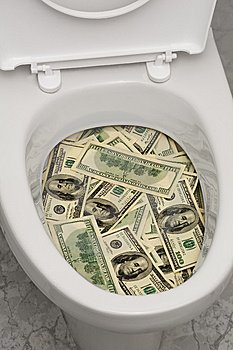 What's that you say? More rain in the forecast? That must explain the buds sprouting from my extremities as spring is nearly in full swing in C-Bus. The one missing ingredient, of course, is the annual Spring Game which is now just three days away.
Naturally, rain is also in the forecast for Saturday (50%) though high temps nearing 70 should be enough to drag your crickity bones out to the 'Shoe so you can draw your own conclusions on the state of the passing game and which players might be primed to breakout come fall, amongst other things.
As a programming note, especially if you won't be able to attend or view on TV, we've got you covered. In between gags like giving Hunter the hotfoot, Jason and I will be doing our best Woodward and Bernstein from the press box.
In the meantime, on to today's skull session...
Mean Gene (Okerlund was awesome). OSU AD Gene Smith met with the AP yesterday and for the first time I can recall, he seemed to almost intentionally come off a little peeved at the Tressel saga. Calling the whole situation "a nightmare", Smith said he expects the cost of the investigation to exceed that of Tressel's $250k fine thanks in part of the need to hire two "expensive" companies to assist.
Smith also revealed that Tressel was supposed to apologize at the train-wreck presser on March 7th but that never materialized. In response, Smith said, "then we got with him and he got better at it. It's an emotional thing."
It was also announced that OSU released a copy of the Vest's NCAA compliance form dated 9/13/10, in which Tressel signed and dated indicating he had reported any violations to school officials. The form itself states:
By signing and dating this form, you certify that you have reported through the appropriate individuals on your campus (OSU President, Gordon Gee; OSU Athletic Director, Gene Smith; Faculty Athletics Representative, John Bruno; or the Athletic Compliance Office) any knowledge of violations of NCAA legislation involving The Ohio State University that occurred during the 2009-2010 academic year through the time you sign this form.
Finally, Smith indicated, like everyone else, he has no idea when the situation will be put to bed saying, "we're in the investigation. Who knows when it will be resolved."
At Least The Investigation Piggy Bank Ain't Empty. The Stanford Daily brings us data outlining the financial implications of playing in a BCS bowl last season and thankfully, only Ohio State came away with a nice haul. The Buckeyes pocketed nearly $289k from their Sugar Bowl trip which should be enough to reinforce Tressel with fresh coatings of a kevlar/teflon hybrid.
Interestingly, Wisconsin was the only other BCS participant to make meaningful bread, netting about $79k from their Rose Bowl embarrasment while Oklahoma and Arkansas made less than $10k each. UConn's $1.8mil loss has been well chronicled and even Auburn lost over $600k with Oregon dropping $312k. As private schools, TCU and Stanford weren't required to release any financial data.
Potentially Perfect Timing? With so many question marks at the skill positions on offense while the defense attempts a reloading of their own, 87% of you still see OSU going at least 4-1 to start the season. Clearly, those projecting an L see that coming at home against Michigan State just prior (see what I did there) to the Tat5's return.
I wholeheartedly agree that Sparty provides the most likely chance at a hiccup but the thought of going on the road in week three with issues at QB and WR specifically is still a cause of personal consternation. Having said that, it's good to see Miami's depth chart also laden with question marks, so much so that Al Golden released a final spring depth chart on Monday only to send out a final-final-no-tackbacksies version a few hours later.
Here's to hoping their lack of a clear starting QB will help offset our own question marks under center.
What About Mark May's Lifetime Contract With Massengill? With ESPN's announcement Monday that all network anchors and reporters can no longer accept endorsement deals from companies tied to sports  ESPN may be 'involved with', an accompanying list of said deals was made public. Interestingly, analysts such as Herbstreit, Corso and Cris Carter (all Nike) are not required to kill their deals while Fowler had to nix his (Nike).
Probably showing my age, I was stunned to see some dude named Chris Burandt (pro sled rider - as opposed to your 10 year old son, who retains his amateur status) has no less than 20 endorsement deals.
Mixtape. Two high school recruits on a visit to UGA stole some iPods and smartly advertised them on Twitter...The General apologized to Kentucky and Calipari after Saturday's blast about 2010 hoopsters not going to class plus some awesome comments about Calipari's shady ways...Here's a vid of all 214 Blake Griffin dunks this season...Stan Drayton's stop at OSU is his 12th job in 19 years...Zombie Food Pyramid...Congratulations to...Finally, Happy 420 to those of you who celebrate it.