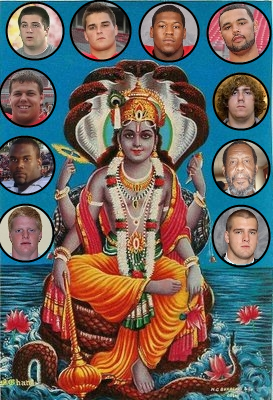 Well thank God we have something to complain about on the offensive line. After what most would categorize as a fairly sucessful 2010 campaign, albeit one that began with a noticable lack of run blocking, two trusted starting seniors departed for parts unknown, five of their backups followed them into the mists of graduation, and Sam Longo decided to take a long, intense journey of self discovery among the ruins of Aam Khas Bagh. No wait, he transferred to Cincinnati. Same thing.
As of now, April 14th, 2011, that leaves the Ohio State Buckeyes with ten offensive linemen on the entire team. Ten plucky young men who have two monumental tasks in front of them: first, to somehow keep an incredibly inexperienced quarterback upright for 5 games while also trying to develop some kind of rhythm among themselves, and two, somehow avoid injuries despite playing a sport that accepts injuries from offensive linemen as a foregone conclusion.
If all of this pressure seems pretty unfair to drop on a group of ten guys, which includes a true freshman and a couple of walk-ons, well... it is. That Jim Tressel and company allowed the OL situation to regress to this point in terms of numbers is pretty ridiculous (although not unexpected, given that since the recruitment of Shugarts, Adams, and Brewster OL recruitment hasn't been given quite the same priority).
Still, as unfortunate as the situation is, it must be dealt with and conquered. For these ten warriors to emerge as victors, they must find within themselves their own Shakti, one of the auspicious qualities of Vishnu that allows him to make the impossible possible.
The Ten
Mike Adams, Mike Brewster, and J.B. Shugarts are pretty well known by most casual Ohio State football fans. Brewster has been an excellent center for three seasons now, and when healthy, Shugarts has done an admirable job at right tackle. Adams quietly had a very good 2010 season, emerging from the apparently very comfortable and spacious Jim Tressel doghouse to hold down the most important job on the line at left tackle. But with Adams suspended and vacancies at guard, some of the non-starters are going to have their work cut out for them matching the play of their predecessors.
Marcus Hall (who enjoyed his own stint in the doghouse at one point) is your most likely candidate to take over at left tackle while Adams is out. Tommy Brown, a massive 6 foot 5, 300 pound freshman who enrolled early, could help add depth at the tackle position. Jack Mewhort, Corey Linsley, and Andrew Norwell all played last year at a variety of positions and acquitted themselves fairly well, particularly Andrew Norwell. Norwell was a true freshman last year, and filled in admirably for Shugarts when he was out with a foot injury. There's a better than decent chance he'll anchor the line at tackle full time in the near future, while Mewhort and Linsley become guards.
The last two players are walk ons Ben St. John and Ivan Blackman. Ivan Blackman is a transfer from Robert Morris (yes, really), and Ben St. John spent his December as a member of the scout team, helping OSU prep for the Sugar Bowl. Imagine Rudy. Now imagine a dude who could kill him by sitting on him. That's St. John and Blackman.
The Cavalry
Of course, talent really isn't the main worry right now, it's depth. Given how much Bollman likes to rotate players in and out during games, even one injury has the potential to be incredibly disruptive, especially if it's to either Brewster or Shugarts. Luckily, help will arrive in August in the form of freshman Brian Bobek, Tony Underwood, and Chris Carter Jr. Bobek is a future center who is undersized at 6 foot 2 and 275 pounds. He's talented, but a project. Underwood has perhaps the opposite problem, with some questioning whether someone of his size is yet ready for the kind of speed and athleticism he would face at the college level. Both guys will likely be a part of the overall o-line rotation, but don't expect for them to contribute much more than in garbage time.
Chris Carter Jr. had to wait until the legal storm surrounding him subsided to finally become a member of the 2011 recruiting class, but now that he is in it to win it, he makes for a gigantic possible option at guard who has the potential to contribute right away. He is a holy terror of a pulling guard, which means that the coaching staff is one step closer to figuring out a way to run Dave on every single down and still win games.
Overall, though the drama of who will take the quarterback position is probably generating the most interest right now, I think that probably the most important position battles to be played out are going to be on the offensive line. Even if Rod Smith and Braxton Miller are able to run and throw, it isn't going to matter a whole bunch if Norwell and Linsley can't pull and block.