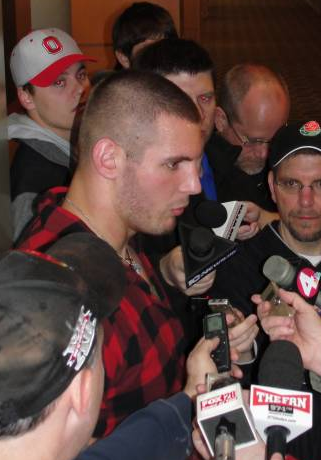 "When that lightning started, I was gone whether they stopped practice or not."
And no one would blame Mike Brewster if he had. What started out as a cool, damp practice eventually ended up as a mass sprint to the friendlier confines of B deck  as the skies opened up and dropped a ridiculous amount of rain in a very short time frame, ending practice prematurely and giving the offense a chance to wring out both their jerseys and their egos.
Defense ruled on a day that saw the offense commit turnover after turnover in practice, including a slew of interceptions and one spectacular strip of Kenny Guiton by John Simon, who then pounced on the loose ball. Kenny G in particular had a bad day, completing far fewer passes than he attempted and accounting for a couple of those INTs. Still, his day was about par for the course for the QBs and WRs as a whole; the wide receivers dropped way more passes than anyone would find acceptable, couldn't find separation from any of the defensive backs, and guys like T.Y. Williams and Philly Brown did little to reassure the small crowd of press and guests that the team will be able to make do without the talents of DeVier Posey for the first five games of the year. I hate to sound like a broken record, but the TEs and the RBs are going to be critical components of the passing game, even if it's more out of necessity than any innate desire to get the ball to them through the air.
Still, it would be unfair to attribute the poor day that the passing game suffered entirely to offensive miscues. The defense played extremely well across the board, and the competition between Bradley Roby, Dominic Clarke, and Dionte Allen for the second corner spot opposite Travis Howard is going to be something to keep tabs on as the season gets closer. Roby in particular had an excellent practice, coming up with several great plays, including an INT and some massive hits leading to pass breakups. All of which was even funnier when later on most of the players giving interviews found themselves in the position of answering questions about who the hell this Bradley Roby kid is for probably the first time in their careers. Overall the defensive backs are an aggressive, tough, and very young unit that should get people excited about the future. There will likely be some dropoff from that unit's play last year, but it may not be by much.
It was much more difficult to get a bead on how the quarterback situation was playing out. Taylor Graham looked poised and had some decent passes, and Bauserman was consistent (or at least as consistent as you can look when you only attempt roughly 5 passes). Miller and Guiton were both victims of some very poor pass catching by the WRs; in Miller's case, an easily catchable thrown ball was tipped and landed in the arms of Dorian Bell. Going off today, the hierarchy looked to be Bauserman-Graham-Miller-Guiton, but frankly this means nothing other than as a reflection of their performance for a few hours on a Saturday morning. None of these guys are getting particularly consistent reps, and even when they did throw today, which wasn't often, they didn't look that great. My feeling is that overall Bauserman still has a slight edge on everyone else, but this could change following a great week by any of the other three guys.
As many of you probably know by now, the Spring Game next week will follow a different format than in past years. Rather than having the customary draft and playing what equates more or less to an actual game between Scarlet and Gray teams, it will instead be more of a scrimmage between the ones on offense and defense. The reason for the switch is mainly due to depth issues, like the one I wrote about on Thursday with the offensive line. When asked about it, players seemed to be mostly ambivalent about the switch. For his part Travis Howard did seem somewhat disappointed that it was going to be different, saying that he enjoyed how the Spring Game was able to bring the team together in past years.
One thing that I'm not really sure how I feel about is Jaamal Berry's kickoff return for a touchdown during practice. He is clearly going to be a huge weapon in both the running game and in the return game, and given that, his TD return isn't a total shock. Unfortunately, neither is the potential for the coverage team to have many of the same problems that they did last year. Everyone who returned kickoffs, be it Berry, Hall, Posey, etc., had a ton of success. Obviously an area of concern, although keeping in mind that Ohio State ranked 4th in the nation in kickoff return average last year might acquit the coverage unit somewhat.
Finally, there were some notable scary moments and injuries. there were a number of bone crunching tackles, Melvin Fellows might have gotten somewhat dinged up, and Jamie Wood hurt his left arm during live drills and had to leave the field. Maybe this scrimmage deal isn't such a bad idea after all.