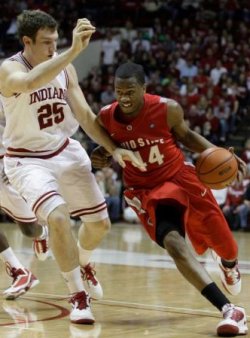 These are tough times for true Buckeye fans. While what seems like the rest of the college sports world relishes our early tournament exit and the metamorphisis of TatGate into Tresselgeddon, we're left trying to circle the wagons, an effort made more difficult by dissension in the ranks with varying opinions on both topics.
It seems as if Tressel is finding some salvation in a nervous fanbase dying to give him benefit of the doubt in thanks to his track record outweighing what increasingly seems like some either very brash or very, ahem, curious decisions beyond the sidelines. Thad Matta is also widely receiving a pass (as he should) after back to back seasons failing to escape the Sweet 16, both times as the higher seed.
Meanwhile, it doesn't seem Wililam Buford is receiving quite the same love after his 2/16 stinker equipped with a few ill-advised shots played a major role in Ohio State's season ending loss to Kentucky. It's not as if he's being burned in effigy but the interwebs have seen opinions actually hoping Buford turns pro to implying he's selfishly just out to get his. Then, after Buford said he's coming back for his senior season, that was met with a majority meh.
Inarguably, Buford was awful against Kentucky. It's easy to say if he hits a few more jumpers Ohio State wins because it's true. In a game that saw many Buckeyes play below their standard, Buford was the faceplate for the loss. And rightfully so. He knows it. And it has to be gnawing at him. My opinion is this performance will serve as a catalyst for another offseason of seasoning that will see the WB come back as an improved all around player motivated to erase the sting of missing 14 shots in Newark. This kid is already a proven scorer thanks to a combined ability to shoot from deep and create looks via a sturdy midrange game, complete with an NBA body. 
How can a rational fan not be ecstatic to get one more year from this kid? If you aren't, is it because you don't think he'll end up staying or do you not believe his game is worthy of being worried about losing? Me, I believe in William Buford's game. You should too.
The epic fail to Kentucky was a terrible ending to a very productive season for a kid that was the 2nd leading scorer (14.4 ppg) on the best team in the country entering the Madness. He led the team in FT% (84.3), trailed only Diebler from distance (44.2%) and shot a very respectable 46.2% from the flloor overall, pretty damn good for a guy that took 138 three point shots (32% of total FGA) and found himself matched up against the opponents best wing defender every night.
It's also easy to forget Buford generally played well in big games. Unsure of exactly just how good this team was in November if only because the freshmen were truly freshman, Buford rose the occasion in game number two at Florida with 16 points and a season high eight assists to go along with three steals as the Buckeyes broke open a close game in the 2nd half before cruising to a 93-75 victory.
No doubt, he didn't fare as well two weeks later at Florida State hitting just 4/12 in 19 foul plagued minutes, playing probably his 2nd worst game of the year. Putting that behind him, WB did his thing during the rest of a soft non-conference slate that was seemingly built to let Sullinger and Craft evolve into their roles. Finally kicking of the B1G slate, Buford responded with 24 points propped by 5/7 from distance in an 85-67 spanking of the Cryin' Creans. Coming off some 3/11 masonry at home to Minnesota, Buford backed up that effort with a heady 19 point, nine rebound, one turnover, 40 minute effort on the road in Crisler Arena helping OSU escape with a 68-64 win.
Averaging 14 ppg with steady play over the next two tilts against lesser foes PSU and Iowa, Buford suffered from a gimpy ankle and never got it going in Champaign (2/8, 7 pts) in what was at the time the 2nd toughest conference game to date. It's hard not to give him a pass on this one as he played his 2nd fewest minutes of the B1G season thanks to the injury.
Proving the injury was healed and that he indeed can be a big game performer in a much-hyped matchup against a 12th ranked Purdue squad sitting at 6-1 in the B1G, Buford keyed an early 16-5 start for the Buckeyes with two triples before finishing with 19 points on 5/6 from beyond the arc as OSU skated to a 87-64 statement victory.
Averaging 13 points over the next three outings, the Buckeyes headed to Kohl for a grudge match against #14 Wisconsin. Though the game is rightly remembered as the day the Buckeyes saw their 24 game winning streak snapped, this is game the Buckeyes led by 15 in the 2nd half. Buford had a huge hand in Ohio State's ability to build a huge lead on the road in the most hostile environment in the B1G. Trailing 24-19 late in the 1st half, Buford blew up scoring 15 points during a 21-6 run that put the Buckeyes in front 40-30 shortly before the wheels came off and Wisky went bonkers from the field. He finished with 21 on 10/18 from the floor with only one turnover in 40 minutes.
Three days later against a trying to be resurgent Michigan State team, Buford poured in 23 on 9/15 shooting, again with only one turnover in another 40 minutes of action. WB scored five straight points after Sparty cut the Buckeye lead to 53-51 with 9:37 to play, hitting two of the three FG's Ohio State would muster over the final 9:11 as the team turned to the free throw line to secure a 71-61 win.
With those back to back battles taking some wind out of the entire team, Buford was one of four Buckeyes who didn't show up at Purdue (1/5, 7 pts) in a 76-63 loss. His response to Purdue Harbor Lite over the next four games was to average 17.8 pts against Illy, Indiana, @PSU and Wisconsin. Buford was deadly in the revenge match aginst Bucky hitting 6/8 from the floor including 3/3 from distance in an 18 point performance to wrap up the regular season.
The conference tourney started with a blame it on no shootaround 3/14 effort in a six point win over Northwestern but a determined Buford played extremely well in both the 68-61 win over Michigan and the 71-60 defeat of PSU to sweep the regular and post season conference titles. After playing 43 minutes against the Wildcats, Buford logged another 80 minutes in the final two games and shot an impressive 14/29 from the field. He also showed the kind of teammate he is by sticking his nose in Jordan Morgan's grill after Sullinger and Morgan came together under the hoop and Morgan took exception. Buford backed up his jawing with six straight points during a 16-0 run that put Michigan in their place.
Entering the Big Dance, Buford stayed hot scoring 18 against UTSA and George Mason, on a combined 14/26 from the floor 7/12 from three point land whiole averaging 5.5 boards and 3.5 assists. He was playing absolutely fantastic basketball over a four game stretch of tournament games averaging 17.5 points on a combined 28/55 FG (51%) preceeding the off night versus Kentucky.
Looking at his overall performance as a junior in conjunction with what OSU has coming back, there's a laundry list of reasons why Buford is the key to hopes of Ohio State again running the title table in the B1G and making any kind of run in the tourney.
As it stands, Buford is the lone perimeter returner that has proven he can consistently put up points and stretch defenses with the ability to knock down the three. With talk of Craft and Scott playing at the same time already coming out of Thad's mouth, who do you think is going to be the guy expected to pump in 17 a night from the perimeter?
In tight games down the stretch, who else do you trust to take big shots in situations where Sully is taken away? Thomas? I truly believe Thomas will be a force next year but I see that in a more complimentary, slashing, offensive glass working fashion. Craft? Surely, he will have improved his outside shot heading into next year but he needs to be no better than the 4th leading scorer if this team is going to be good enough to compete for a championship. That's not a knock, that's just his role yet. One of the incoming blue-chippers? Not likely.
Bottom line, if Buford isn't around to provide leadership and help Sullinger carry the offensive load, it's a longshot for OSU to win either of the conference crowns and any chance of a deep tournament is slim to none and slim's out of town. So, while you are looking for something to believe in as you wake up each day nearly afraid to see what's happened next to the your favorite college program, believe in William Buford. We need him more than too many fans have yet to realize.