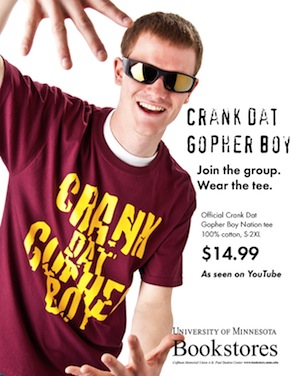 Thanks to one horrified whistleblower and his heroic collaborators at SB Nation the rest of the world learned last week that Minnesota's athletic department captured lightning in a bottle by releasing a Gopher-flavored t-shirt based on the not-yet classic Soulja Boy anthem from 2007. 
Timeliness was obviously not the intent here.  Minnesota clearly felt that there was simply no better way to breathe life into a four-year old song than by officially sanctioning a t-shirt in its honor to remind you that it existed; never mind that Crank Dat is a song that celebrates using semen as an adhesive to apply a makeshift bedsheet cape to your slumbering lover's back.  Yes, this shirt is available at University of Minnesota bookstores right now.
Sticky lyrics aside, Crank Dat is a relic from an otherwise glorious era, back when we were blissfully unaware of the impending economic crisis which had not yet fully begun to unload its bowels on everyone.  At Ohio State, Greg Oden was merely a 42-year old freshman, a shade older than 12th-year senior Todd Boeckman.  It was also back in 2007 that Minnesota hired Tim Brewster to improve upon the recently-terminated Glen Mason's run that had seen Minnesota in a bowl game nearly every year for the better part of a decade.  Minnesota certainly has good reason to wish it was still 2007.
The U is certainly not the only B1G or any school to commit fashion misdemeanors of the short-sleeved variety.  Anyone who lived in a dorm room has certainly had a random sketch suddenly show up with $15 shirts that hastily merged your school's name into a Budweiser logo. However, Ski-U-Mah gets bonus points for having this shirt officially sanctioned by the athletic department, and for that it gets top billing in this exercise.  For the sake of fair balance, here are some fashion highlights from other Legends and Leaders:
Ohio state: "Woody" is penis slang lolololol
Woody Hayes, rest his soul, would be 98 years young if he were still stomping the streets of Upper Arlington. Since my parents clothed me strictly in Garanimals or Osh Kosh B'Gosh throughout the 70s and 80s (as well as the 90s, but that was more a personal choice) I have no memories of if Woody as an obvious penis joke on t-shirts was as in vogue as it is currently.  This I do know: Crusty, 98-year old Woody Hayes would categorically kick the ass of any Ohio State fan big or small that would sully his name with a cheap, easy and unimaginative dick joke.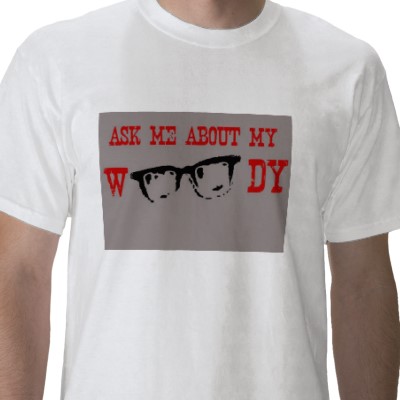 Beyond how the old man would react to this assault on his good middle name is what the shirt says about the wearer: Everyone loves a good dick joke.  Note the word good.  A good dick joke was the show Growing Pains having a kid named Boner befriending Kirk Cameron's character, which if you think about it was actually two dick jokes.  Every fake name Bart Simpson used whenever he called Moe's prior to 2005 was a good dick joke.  Calling Woody's old pal Richard Nixon "Tricky Dick" was a good dick joke.  Turning Wayne Woodrow Hayes into a dick joke about your miserable penis on a t-shirt is not a good dick joke.  It is the dank basement of the building in which creative potty humor is constructed.  It tells people who see you wearing it that while you might in fact have a penis, your discomfort with it has manifested a coping mechanism by which you make fun of it.  Ask Me About My Woody.  Oh, and Go Bucks.
MIchigan State: couches are people too
If you took the time to come up with an acronym for SPARTY chances are you probably wouldn't land on Students Pissed About Rioting This Year.  You wouldn't, but someone did.  A student by the name of Sissy McBuzzkill (not her real name) channeled her angst to create a t-shirt aimed directly at those who act recklessly in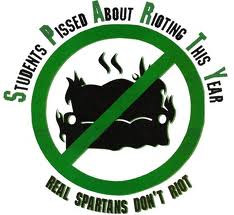 times of triumph.  Or devastation.  It's hard to tell with Michigan State, a school that endures plenty of both depending on what time of year it is.  At issue are three items: The ridiculous acronym, the burning couch and the tagline "Real Spartans Don't Riot."  As 93% of all students admitted into Michigan State can correctly explain, you cannot spell SPARTY without PARTY.  It's the absolute best thing about East Lansing.  There's way too much negative energy as well; "PISSED" is not a branch from the fun-loving tree of SPARTY (Note: "Pabst" is, however). 
Second, let's operate under the assumption that a couch that is deliberately set ablaze is not stolen property.  Couch burners tend to ignite their own disgusting eighth-generation furniture before tossing it off of their own urine-soaked balconies.  Not to delve into a Roe vs. Wade debate, but MY COUCH, MY CHOICE.  Please keep your t-shirt out of my uterus (Note: I've never personally burned a couch, and if you think I even have a uterus then you clearly don't know about my awesome Woody shirt). 
Finally, "Real Spartans Don't Riot."  Actually, they do and they did.  Not to get overly technical, but real Spartans don't even live in Michigan.
purdue: why me school not more popular?
"TO CHEER FOR THE ROCK YOU GOT TO BE (sic) AS DUMB AS A ROCK."  It's a shot at Bloomington, the state of Indiana's obliviously pretty Marcia Brady to West Lafayette's perpetually disgruntled Jan.  Read it again in your most convincing caveman voice for full effect.  It is a shirt that would even make Pat Forde's transitive property-citing, Boise State's bus-loving head spin.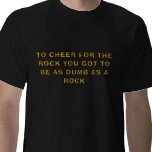 Crapping on anyone's perspective or affiliation by simply labeling it as dumb is one of the cheapest ways out of a debate or negotiation.  The late Terry Hoeppner installed a giant piece of Indiana limestone in the stadium (the Rock) in a move to give a school with zero football traditions outside of being everyone's Homecoming opponent a tradition all of its own.  The Rock, from that point on, was to be defended.  Someone associated with Purdue obviously noticed that the Rock and the classic expression "dumb as a rock" had strong, synergistic potential.  A t-shirt was born.
This is one of those cases where it does not take a trained forensic scientist to diagnose the genesis of this t-shirt.  My pedestrian investigational skills have determined the artiste behind this clever garment to be a part-time employee at a West Lafayette gas station.  He's 28 years old with a slight mustache (it's the law in those parts) and he's spent the better part of his adolescence and adulthood cheering for his home state's third-favorite team behind IU and Notre Dame.  CORRECTION - Butler has since bumped Purdue off of the medal stand.  Clearly it is a shirt designed by a man whose life has been defined by bitter angst and failed equivalence exams.
And then there's the transitive fail: To Cheer for The Rock You Got to be as Dumb as a Rock.  To Cheer for Badger You Got to be Dumb as a Badger.  To Cheer for Hawkeye You Got to be Dumb as a Hawkeye.  And yes, To Cheer for a Train...it works seamlessly for all nouns, including Purdue.  A fleeting, shallow insult during what was probably a bar room squabble suddenly landed on a t-shirt representing a school known for producing astronauts.  It reminds me of the old expression, "profanity is a convenient verbal crutch for lazy, inarticulate motherfuckers."  That would be a good shirt.
northwestern: that's alright, that's okay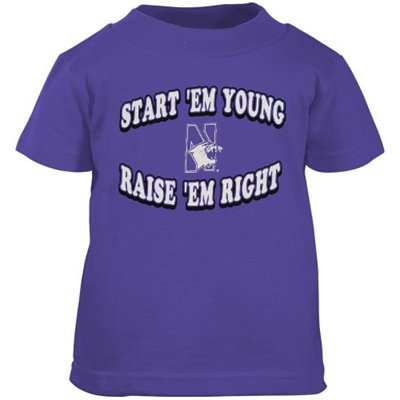 If there's one thing Northwestern doesn't - and frankly - shouldn't give a shit about, it's clever t-shirts.  In a conference with Hoosiers, Buckeyes, Wolverines, Illini, Nittany Lions and now Huskers, the Northwestern Wildcats have shouldered the burden of the forgettable mascot everyone's high school either had or played four league games against each year. 
Northwestern men's basketball team has never been to an NCAA tournament, yet this year's student section t-shirt proclaimed ALL WE DO IS WIN.  It was a galling display of lacking self-awareness considering the school's protracted mediocrity that spans THE ENTIRE HISTORY OF COLLEGE BASKETBALL, but since Minnesota plunged the hip-hop as your college t-shirt theme to a new low, Northwestern's DJ Khaled-inspired shirt was struck from this list out of begrudging fraternal respect for the league's flagship academic powerhouse.
When you're situated on the lakefront in Evanston and your poorer townies live in $600k houses, clever garments don't really matter.  Every third team in the SEC is called the Tigers or Bulldogs.  A degree from Northwestern puts you in position to singlehandedly wreck the world economy or be Brent Musberger.  There are no bad choices.  The t-shirt can be generic because nothing else about Northwestern is.
nebraska: Kawasaki wants its font back
At some point late in the last century Nebraska strayed from its classic simplicity and installed a state fair-inspired splash script for much of its marketing.  It is pervasive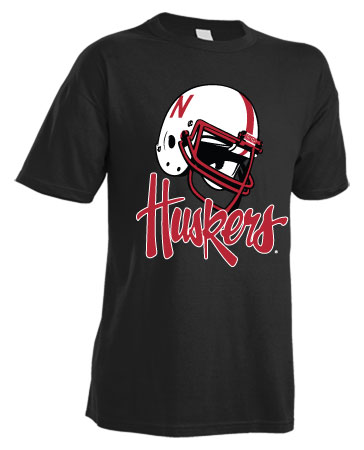 on gameday apparel despite carrying a look that became dated roughly 20 minutes after the first t-shirt was printed early in the Tommie Frazier era.  This particular shirt also leverages the Husker defense's nickname "blackshirts" which results in t-shirt that could say METALLICA where HUSKERS is printed and still work.  Something you learn within six months of working in the corporate world is that if you begin a document with Helvetica (look at the N on the Nebraska helmet) you should stay consistent throughout the document.  In that vein, this Huskers logo that has inexplicably lasted as long as it has is pure eye rape, clashing violently against the awesome Nebraska helmet.
Fortunately for Nebraska, the Big Red comes in a multitude of flavors, and they do the traditional look better than most. When your mascot looks like the majority of your fans, you've got the whole Voice of the Customer thing absolutely nailed down.
indiana: seeking bob knight's successor since four coaches ago
It's nearly impossible to smoothly transition out from under a legend's lengthy rein.  After Knight was removed, there was Mike Davis, who has somehow collected a head coaching salary for almost a decade.  Once Davis was removed, Indiana hired known cheater Kelvin Sampson, whom Oklahoma was only too happy to let go.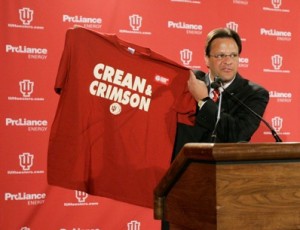 Sampson's brief tenure resulted in Indiana's athletic department effectively hitting the reset button on its basketball program and keeping Dan Dakich on until IU remembered the last time they took the interim tag off of a substitute coach (Davis) at which time it hired Tom Crean.  With Crean's hiring came the rebirth of Indiana basketball.  The problem - and it's been awhile, so you may need a reminder - after you're born it often takes as long as four years for you to stop shitting yourself.  Crean just finished year three, and while there's plenty of help on the way the next few years via recruiting, Bloomington is neck-deep in crappy basketball.  Yes, it's nearly impossible to smoothly transition out from under a legend's lengthy rein, but Indiana has taken unsmooth to a whole new level. 
Long ago Lou Holtz publicly wished to someday coach Ohio State, but he had no interest in following Woody.  He said he wanted to be the guy who followed the guy who followed Woody.  That guy ended up being John Cooper, who won as many games against Michigan in 13 seasons as Jim Tressel has done more than once inside of a single 365-day period, so clearly being that guy isn't as peachy as Holtz thought it would be.  "Crean & Crimson" is unique in that it is somehow clever despite also being obvious and convenient, but three years into the reconstruction of Indiana basketball it's a reminder that the little championship baby everyone is still waiting for hasn't been born yet.  Imagine being 40 months pregnant.  Hope that shirt is stretchy. 
illinois: LOLWUT
If you've been following Big Ten sports since (pick any year ever) you know that Illinois rarely wins anything.  Along those lines, 2011 marks the 20th anniversary of the Illini's most recent home win against Ohio State which makes an OVERRATED shirt fashioned out of Ohio State's block O in Champaign an odd choice.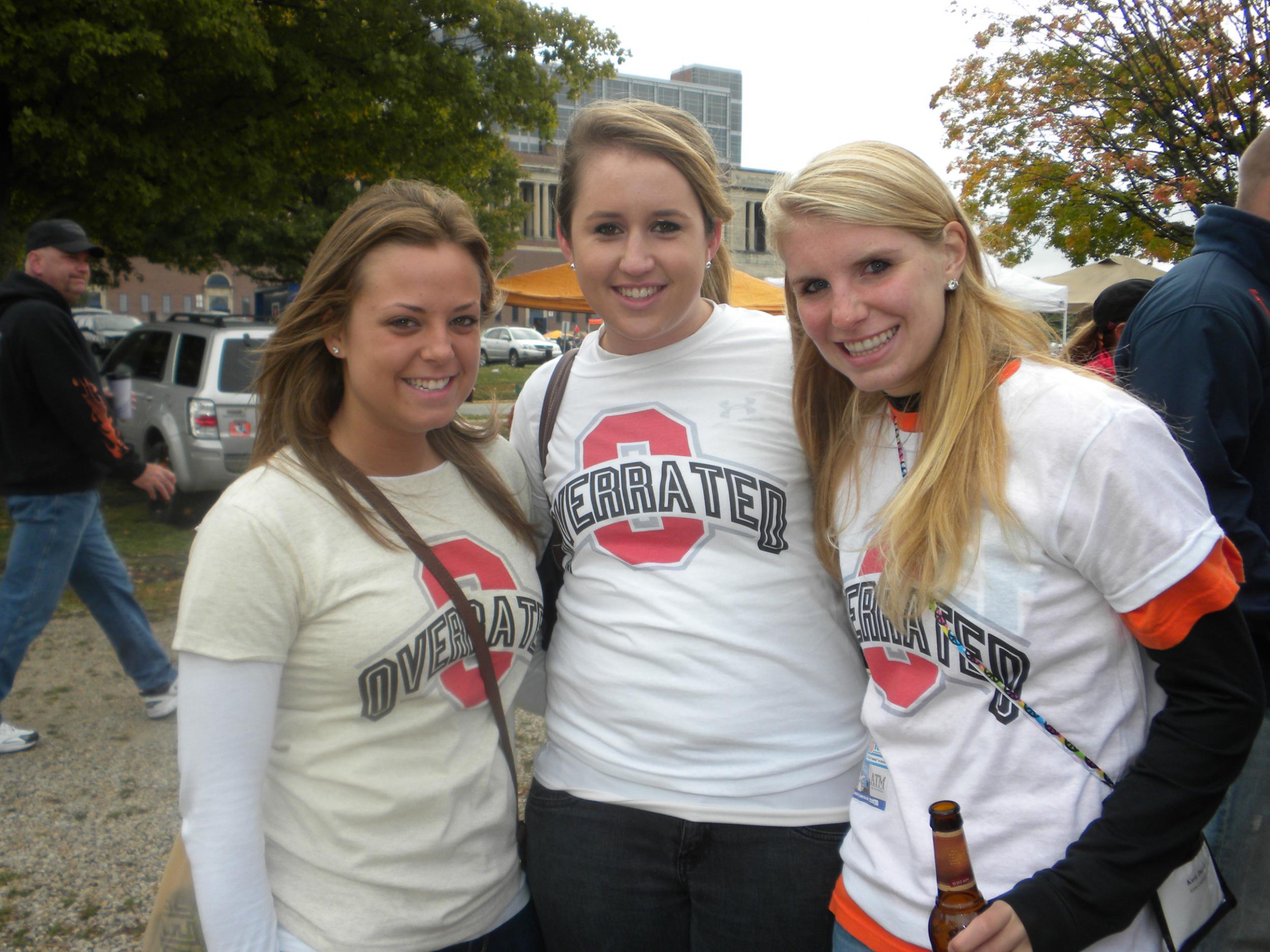 Sure, Illinois has beaten the Buckeyes along various avenues - most notably of the galactic upset variety in Columbus back when Crank Dat was still in heavy rotation.  The Illini have but two wins against Ohio State this century (yes, tied with Michigan) with one of those wins coming in Tressel's first season.  That shirt might make sense on a few campuses, all of which reside decidedly south and east of Champaign-Urbana.  Come to think of it, the last time any SEC team beat the Buckeyes, so did Illinois.  Damn it, maybe that shirt does make sense.
iowa: self-deprecating ironic corn joke goes here
Having lived in Iowa City for five years, I have a fair bit of experience in this line of research: Shirts about Iowa almost exclusively make fun of Iowa in manner designed to trigger this response: "Oh geez, Iowa!"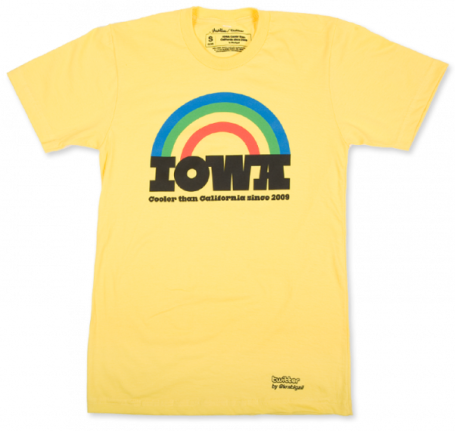 Few states can match Iowa for super-smart people density, strength of community or love for collegiate athletics - they have that trifecta nailed, at least in Iowa City.  But the self-deprecation that permeates Iowa is sickening; yes, it's in the middle of the flyover states.  Yes, it gets cold in winter.  No, there's no beach.  Yes, meth is a food group.  Yes, the movie Footloose could happen in most towns here on any given day RIGHT NOW. 
It does not get much better in collegiate athletics than the Hawkeye logo, and from a mascot standpoint Herky demonstrates the imitable combination of both happy and angry, where depending on what angle you have of him he's either smiling at you lovingly or marking you for death (in contrast, Brutus and Goldy are jovial while the rest of the B1G's mascots only have violence in their eyes).  Just about any Iowa shirt without the Hawkeye logo, the glorious words to In Heaven There is No Beer or not designed by Black Heart Gold Pants basically says, "Yes, I realize that I am fat."  Oh geez, Iowa.
michigan: stunned that the hillbilly experiment failed
Now that Michigan has ceased poaching West Virginia's coaches for the time being, stopped the bleeding with its basketball futility and once again made a determined effort to play the brand of football that doesn't get pointed and laughed at, our window for shameless mockery at its expense is narrowing, possibly quickly.  It was fun while it lasted, but it's going to be good for everyone to have pain-in-the-ass Michigan back.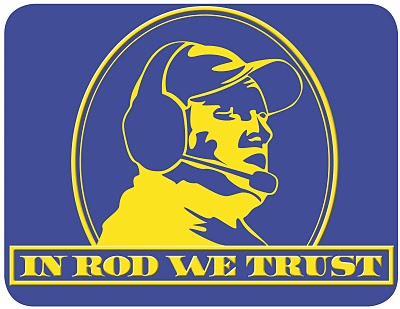 Trusting Rich Rodriguez was more than a play on words.  He deliberately flushed the roster of players better-suited for a traditional Michigan offense in favor of his successful system at West Virginia, and then completely rid the team of anyone who could play defense.  Trust was the only option; if Rodriguez were to fail then Michigan would have to unbake the cake he spent three years mixing.  In related news, Brady Hoke is now in the process of trying to take Michigan back to 2007, a time when power football led Michigan to a 6-2 conference record and Soulja Boy had a hit song you might have heard on the radio in Minneapolis recently.
As with the Crean & Crimson theme, hitching your t-shirt to what could eventually become unintentional comedy or sorrow can be a dicey proposition.  We here at Eleven Warriors actually have some experience with that, and as the owner of a now unwearable "LeBron in Cleats" t-shirt, I'll be back at the 11w t-shirt store to replace it before kickoff.  Maybe we can work with TAPOUT to get something with a tattoo theme.  If you're not in the present you're in the past.
penn state: A terrelle Cryer story
Perhaps the most epic case of t-shirt ass-bitery occurred in 2009 when the Penn State Marketing Association took a shot at Terrelle Pryor for its latest "white-out" shirt.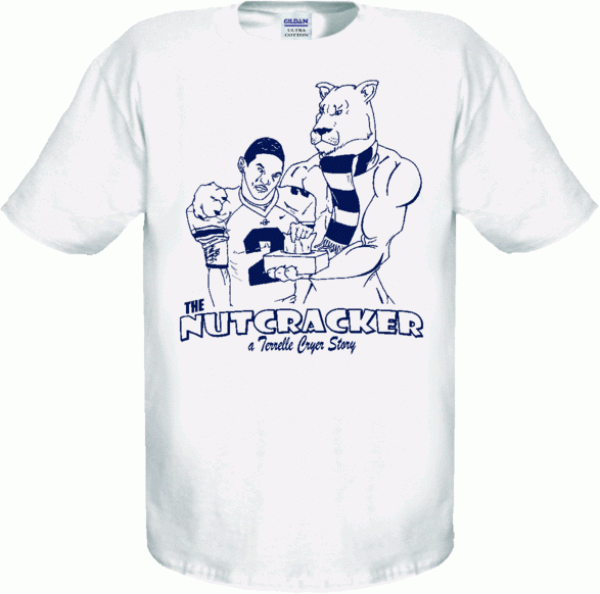 Upon learning of the shirt, which portrayed him in tears while being consoled by a heroic lion, Pryor expressed his desire to acquire one and wear it during warm-ups (he could have traded some trophies for it! HA HA HA DERP) Eventually the shirts were pulled, Pryor played his best game of the season, the Buckeyes pounded the Nittany Lions in Happy Valley and Penn State fans took their collective, seething scorned-lover rage seeded in Pryor's mis-recruitment to another level of agitation and self-loathing.
From a design standpoint, a 7'5" lion in a scarf handing a forlorn Pryor a box of tissues is absolutely heartwarming.  Animals and humans should show that much empathy toward each other.  Imagine a world where despondent people could be comforted by four-legged creatures carrying Kleenex.  We tried this with St. Bernards and little casks of liquor in their collars generations ago, but dogs are notoriously easy to distract and St. Bernards are rife with health problems and only good for enormous veterinary bills these days.  Maybe we simply need to reboot this practice but with cats instead of dogs.  If only that shirt didn't have the vengeful context that it carries, it could have been the feel-good shirt of the year.
wisconsin: The one b1G school that can do no wrong
In a land where sports of all types are revered, visitors look emaciated when huddled at the bar amongst the portly locals, beer is both a condiment and a nutritional requirement, cheese is served with sides of dipping cheese to slather on the original cheese and virtually every conceivable organism has been slaughtered and stuffed in its own intestinal casing for sausage, there can only be perfection.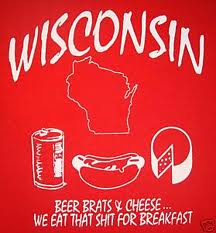 Wisconsin, for those who have been fortunate enough to visit, is the perfect state.  It has everything Ohio has with the added bonuses of the Central Time Zone for television programming superiority, proximity to Chicago for big city dalliances and dramatically superior cuisine.  There is no such thing as a sub-par Wisconsin shirt.  The fact that the smallest adult size is XXL and looks like a nightgown on you only means that you haven't been eating hard enough.  You've simply got to get better.
The shirt on the left looks like it's an exaggerated gag, but in reality that is original state motto before we as a country got too goddamn puritanical and the Federal government held interstate highway funding ransom in exchange for toning down Wisconsin's reality.  You cannot go wrong with tones of red and white either.  Even the word 'Bucky' on UW gear sort of looks like Buckeye.
Back in January some hooligan fan spit on Jared Sullinger on the Kohl Center floor.  Assuming the spitter was a native of Wisconsin, that lugie probably tasted like ranch dressing.  Hell, it might have actually been ranch dressing.  For the 115th consecutive year, since joining the conference, Wisconsin is your B1G fashion trendsetter - like a Lane Bryant for sophisticated bros who planned in advance where they're going to eat after the postgame meal, but would prefer to wait and decide where to go drinking until after the aftermeal cocktails.  A solid foundation with a little spontaneity frosting, wrapped up in stylish fashion: It's delicious.