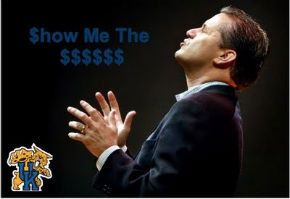 Good morning Buckeye fans and welcome to this edition of Thursday Skull Session. The Fighting John "Slimeball" Calipari's are upon us, as we are now less than 48 hours until tip-off at the Prudential Center, a.ka. "The Rock", in Newark, New Jersey. I'd like to think that such a great state that served as home to yours truly would be able to produce some good karma for the Buckeyes tomorrow night (garbage dump jokes dismissed-that's Staten Island!), but right now it's hard not to fear the potential let down against a surging hot UK team.
Either way, I am sure we will see everything we have out of a Buckeye team that is hungry for a championship and lead by three seniors who want to go out with a bang. Unlike last year's squad that relied on one player to bring it to the promised land, this year's squad is leaving me much more confident that they'll bring their "A" game when the season is on the line. Couple in the fact that this could be both Jared Sullinger and William Buford's last college game, and you have the recipe to create an intangible that Kentucky may not be able to overcome, even if the Bucks aren't hitting their shots at the usual rate.
Touching on that last point, Buford has "indicated he will return", but many writers and fans still think he will go after what is turning into a very stellar tournament run. Jared Sullinger on the other hand, has been the subject of rumors that he too will return, passing up millions as lock to be selected in the top five picks of June's NBA Draft. His brother JJ may have confirmed that the younger Sully will be coming back to Columbus for year two, though, spoiling the element of surprise. H/T to JakeBuckeye for finding this note on Dave Biddle's twitter, as when asked if Jared will be returning, JJ said:
 "I'll say this, I'll be going to a lot of OSU games next year."
On that good piece of information, it's time to roll into this morning's Skull Session. Sit back, relax, and let the 11W ride take you on a journey to start this great Thursday morning off after the jump.
 Uh, let's do that again. After brackets all over America were busted last weekend, the experts have decided to make some revised picks now that the Sweet 16 is all set. The good news is that four out of six SI.com experts have now selected OSU to win it all (other two have Kansas) and five out of six have OSU in the Final Four (still don't like you Mandel), but the bad news is that most of these guys didn't pick right from the start. If you want a little more than just the basic flip of a coin picks, Andy Glockner breaks down the remaining teams and players in the East region, and after some analysis, comes to the conclusion Thad will be cutting down some net in early April. Make you any less nervous about tomorrow's game vs Kentucky? Not me.
 Comparing apples to oranges. Many people across the nation are talking about how if Bruce Pearl was fired, then Jim Tressel should be fired. Ohio State fans have tried to defend Gene Smith not giving Tress the pink slip, but with little factual/rational evidence to back-up their arguments. Enter our own Ramzy, who not only published a great article on 11W yesterday, but also produced this gem over at Bucknuts' new home at the 247 Network, comparing the Pearl and Tressel situation. If you haven't read the article yet, please do, as it is pure genius and by far the best, fair, and most rational defense of this situation I have seen yet.
 espTEN. Yes, you read that right. Usually, seeing the WWL's name spoofed to ESECPN, I found myself in udder shock to see the college football front page of the site blocked out in Big Ten talk yesterday. Included in their content was a podcast, a story linking Iowa's workout routine to the muscle disorder multiple players have been diagnosed with, projections of where the conference's draft eligible players will be selected, a link to the Big Ten Blog by Adam Rittenberg, and more. The best part about this was that there was very little mention of the Tressel situation. Did ESPN think April Fools Day came a week early?
Kecman moving on. With Thad Matta bringing in another five players to next year's basketball team, nine players scheduled to return (assuming nobody jumps to the NBA), and only 12 scholarships available to the program, the question has entered many minds on how in the world OSU would fit in all the players that signed NLOIs with the school back in the fall. The assumption was the Buford or Sullinger (or both) would move on to the league next season, but another answer has emerged. While WB and Sully still may make a leap to the pros, it will be former JuCo transfer, Nikola Kecman, who will forego his senior season after suffering kneww injuries in back to back years. Despite the possibility of never being able to play basketball again, the player once known as the "Serbian Ivan Harris" has earned a degree from The Ohio State University and was a part of the graduation ceremony held at Quicken Loans Arena before last Sunday's game. It's a shame that Kecman never really got to show OSU fans what he could do on the court, but as the article shows it appears that he certainly played a role off the court that is helping the Buckeyes chase their first national title since 1960.
Big Ten Bits. An interesting look at what the future holds for OSU basketball, in regards to that 2011 recruiting class joining the team next year. The Penn State spring football roster is finally out and Bob Flounders breaks it down. Tom Mulhern breaks down Wisconsin's football team by position as spring ball approaches. There are plenty of questions regarding the Iowa Hawkeyes on the gridiron this upcoming year. Here's a Q&A session with Michigan State signal caller, Kirk Cousins.