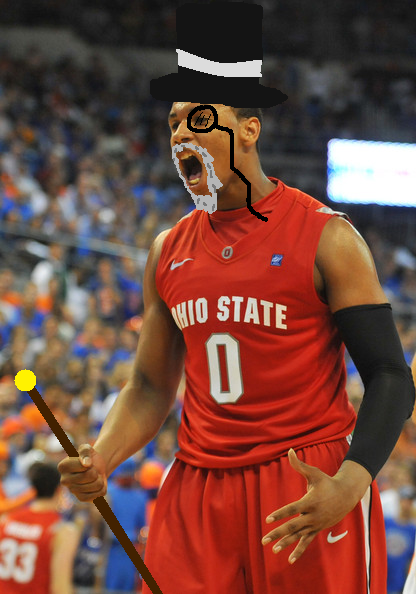 Jared Sullinger had a rough day yesterday. He attended the funeral visitation of one of his most beloved relatives, and agonized over the decision to miss valuable game prep time to do so. In the end though, it turned out that Sully was able to do his Uncle Brief proud by playing through the hurt and putting up a truly historic night for the Ohio State Buckeyes. It has been mentioned several times that his 40 points are a record for a freshman, but a deeper look reveals that Sullinger's feat is actually even more astonishing than that: he now is one of just seven players in the history of Ohio State basketball to ever score 40 or more points in a single game.
Furthermore, he's the first player to pull this off since Dennis Hopson in 1985. That's right, Jared Sullinger wasn't even born the last time this happened. In the time since then OSU basketball has seen some very prolific scorers walk into campus, including Michael Redd, Evan Turner, and the like, but not one of them was able to reach 40 points in a game.
All of this is great, but what really gets me excited is that we have seen hints from Sully that he might be the throwbackiest of throwbacks; a player whose inside scoring and presence could remind us of some of the big men from the golden period of Ohio State basketball, men who he now stands side by side with on that list of seven players who set the net on fire.
Today I want to take a short look at two of these guys, Centers Jerry Lucas and Gary Bradds. Maybe, like me, you'll see some of the same qualities that they had reflected in young Mr. Sullinger.
Jerry Lucas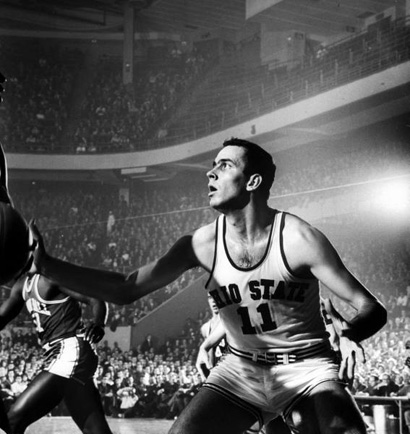 When Jerry Lucas was in high school during the 1950's, he was generally considered the best basketball player in the state of Ohio, if not the entire country. He set record after record playing for the Middletown Middies, and when he chose Ohio State to attend college, he spearheaded a recruiting class that included John Havlicek, Bobby Knight, and Mel Nowell. That group would go on to make the NCAA finals in three consecutive years, winning in 1960. Always an excellent student, he got his Bachelor degree in three years and completed post secondary work while still an undergrad. Lucas would go on the have an incredible NBA career, and is rightfully a member of the NBA Hall of Fame.
Lucas was a fairly big man for his time, at 6 feet 8 inches, but he was an excellent shooter from anywhere on the court. What really made him such a force, however, was his rebounding. During the 1959-60 season he averaged 17 rebounds a game, and was a very physical inside presence when the game called for it. TV commentators have praised Sully for having a knack for getting to the ball, and if he can develop his inside/outside game in the same way that Lucas did, he could become as unstoppable every night as he was on Thursday.
Gary Bradds
I'm 25. People from my generation or younger who are in to OSU basketball probably have at least a passing knowledge of Havlicek, Lucas, Knight, and so on. But one guy who I would assume most of us know very little about is Gary Bradds. Which is unfortunate, because the guy was a beast. Born in Jamestown, Ohio, Bradds took over Lucas' position when he graduated, and proved to be just as tough and valuable as his predecessor. Not the most powerful guy at only 180 pounds, Bradds' stat lines still look absolutely absurd even today: averaged over 30 points per game as a senior. Six straight 40+ point games. School record (that still stands today) 49 points against Illinois. Averaged over 13 rebounds per game as a junior and senior. In 1963 and 1964 he was the Big Ten MVP and an All-American.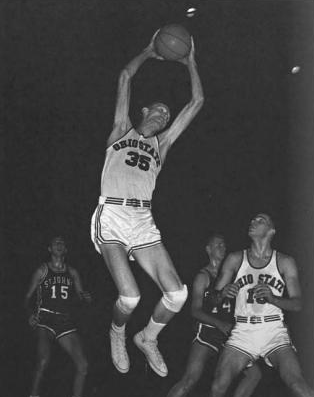 Bradds did most of his damage at the top of the key, but his huge rebound total attests to his toughness. What I find interesting is that while many might have been dismissive of Bradds because of his lack of size, Jared Sullinger was accused of being soft from some outlets before the season began for having too much size. I am a huge fan of watching players turn expectations from others on their ear, and I think I would've gotten just as big a kick watching Bradds tough it out inside as I do watching Sully.
Of course, it would be some pretty gnarly hyperbole to say that Jared Sullinger is even in the same ballpark as Lucas and Bradds at this point in his very young career. In fact, given that it's almost certain he'll depart for the NBA after this season, it's hard to say if he'll ever be mentioned in the same breath as two players who had several years to dazzle Columbus basketball fans. But what Sully did last night forces a comparison between himself and those other players because of the truly historical nature of scoring 40 points in an Ohio State uniform. Time will tell if the big man from Northland can keep it up, but for now I hope he can take some time to sit back and consider just how cool it is to even be in the same conversation as two guys who have their numbers hanging from the rafters in the Schott.