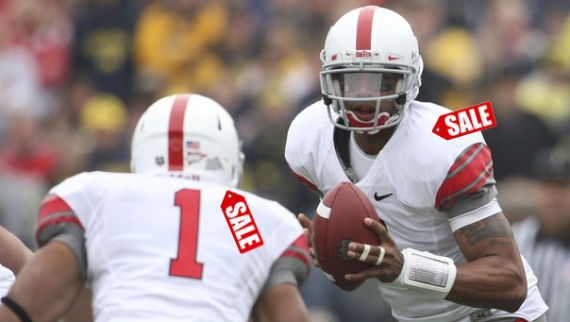 Now that everyone has had a chance to vent over "Tatgate", it's time to discuss the event's effect on the upcoming Sugar Bowl. Whether you believe the players should be eligible to play on January 4 or not, the fact remains that they will be playing in the game (unless Jim Tressel decides otherwise), and will have a heavy impact on the outcome, being that four of the six accused are starters. 
There are two ways to view this situation. The scandal can either hurt the Buckeyes in the bowl game by remaining a distraction, or it can serve to unite the team closer together in pursuit of ending 0-9. Nobody knows for sure how this will play out, not even the team, as the Buckeyes take the field for their final practices in the Woody Hayes Athletic Center before heading down to the Big Easy this week. It's time to take a look at both sides of the situation, and come to a verdict of what will happen on January 4 in regards to "The Tatgate Effect".
Tatgate Will Bring the Buckeyes Down
I can certainly see the argument here. The starting quarterback, running back, wide receiver, and left tackle all have done something wrong. They have not only done something wrong, but something sacrilegious in the opinion of many Ohio State players, coaches, administrators, and fans, by selling Big Ten championship rings and Gold Pants earned through the team's efforts.
There are sure to be current players on the rosters angry that these players took winning and tradition for granted and made this poor decision, as well as others angry that these players leave the team in a tough spot to start the new year. Do you know how many people would give their right arm just for a chance to play for Ohio State, let alone win a Big Ten championship or a pair of Gold Pants for beating Michigan? Those items are foundations of what Woody Hayes built the Ohio State program on and are the foundation of everything Jim Tressel preaches as head man in Columbus to this day. The players who violated everything Ohio State stands for have now lost the respect of all those around them, whether the coaches and players want to admit it or not, and this will certainly be something difficult to overcome during preparations for Arkansas. 
Then, there are those that will be angry about the NFL talk surrounding the impending penalty. There is certainly a good chance Boom Herron, DeVier Posey, Terrelle Pryor, and Mike Adams all could jump ship with a five-game suspension looming, as all four will certainly get a good look from every team in the league. Herron, being a fourth year player, is already rumored to have one foot out the door, while Adams could easily be a second or third round pick based on a solid 2010 campaign and an expected out-of-this-world combine. Posey didn't have as good of a year as he would have liked, and without suspension would likely be back, but he has the potential to be picked in the middle rounds based on great size and potential to develop in an NFL offense. Finally, Pryor likely would be also selected in the middle rounds as an "athlete", but as a quarterback, he has a long way to go. Whether any of the four starters decide to jump ship after the Sugar Bowl is up in the air as of now, but the media attention surrounding their decisions during bowl week will certainly stand to have an effect on "The Big Four", as well as the rest of the team.
Finally, we must remember that while we often put these players on a pedestal, they are human. They have feelings and no matter your opinion on what they did with the money, their sincerity of regret, or how they view themselves and their futures, this will certainly effect each and every player involved. Jim Tressel already said he saw a little difference in the way the guilty players practiced right before the announcement broke, and I'm sure the players are not "all business" as they come back from Christmas break. Having to hear this all over TV, the internet, the radio, and from reporters leading up to the Sugar Bowl will not help, and unless all of a sudden these 21-22 year old kids become statues that can block out the noise, this will have an effect on them. Can this be a positive and motivate the players? Sure, but chances of that are unlikely and I think this will be difficult to overcome.
Tatgate Will Raise The Buckeyes Up
While there is a lot pointing to a negative outcome from Tatgate, there are also some positives that can come out of this unfortunate situation.
If you haven't heard yet, there was a team meeting last night that featured the six guilty parties apologizing in front of the team. Afterwards, many players tweeted that they "love their team", adding to the support we saw from players like Brian Rolle, Chimdi Chekwa, Mike Brewster, and Travis Howard the day of the announcement. You know leaders like B-Rolle and Chimdi do not want to go out losers, and are going to do everything they can to keep this team together. While they may have their opinions and anger about what went down last week, these guys are going to try and use an "us against the world" mentality to bring the team closer together and show trust and faith in their guilty teammates to lead them to victory against Arkansas. This method could certainly be just what Pryor and company need in overcoming the distraction that Tagate will present.
While the talk of the NFL jump could hurt the team, it could also help. If any of the players plan on leaving for "the league", this will be their last chance to showcase their talents to scouts and coaches of the 32 teams. They will certainly bring their A++ game if they even think there is a chance of not returning to Columbus next year, which could end up helping the Buckeyes on January 4th. While we all want Pryor back next year to quarterback another Big Ten championship team, I might take a 2009 Rose Bowl-esque performance and guaranteed win over Arkansas if it means he doesn't come back to OSU after the Sugar Bowl.
What Will Happen
There are both positives and negatives that can come out of the current situation Ohio State finds itself in. The players can get whisked away in the distraction around them, or they can use it to their advantage and unite as one Scarlet and Gray monster with a focus to break down the Razorbacks high-octane offensive attack.
When January 4th rolls around I think you will see the latter. The defense will take it upon themselves to bring their game to a higher level knowing the offense faces the brunt of the scandal. Terrelle Pryor will come out running and gunning. Mike Adams will pave the path for Boom Herron's physical style of running. DeVier Posey will show why everyone thought he may be a first round draft pick one day. Jim Tressel will lead this team out of the gutter and bring them to captivate an audience across the nation and finally break the streak of losing to the SEC in bowl games.
Next week, all will be well in Buckeye land. A band-aid will be placed on the wound that the NCAA inflicted on Ohio State last week, even if it won't permanently fix the situation. What happens after that is not important, because for one Tuesday night in the beginning of January, the bleeding will stop, and OSU fans everywhere will be able to enjoy watching their team just get down to playing football.