It's difficult not to throw around cliches during bye weeks. Some people despise them and think they interrupt the flow of the season. Others love the week off because it provides an opportunity to conduct deeper self-assesment and heal the walking wounded. Count me in as being in the later category, especially as it relates to the injury front.
Jim Tressel didn't meet with the media on Tuesday but he did conduct his weekly Quarterback Club luncheon which is attended by only a select group. One such person who was lucky enough to be present posted the cliff notes on the OZone Forum (link time sensitive) and the best news relates to player availability:
Even though there was no Presser today, JT met with us....
Said that Homan and Bell should be back.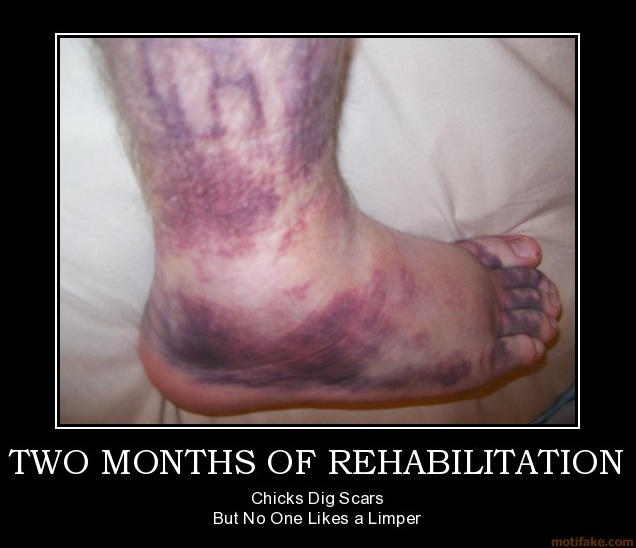 Naturally, this is great news being it comes from the top but also because Homan is one of our best and Bell will provide much needed help to the coverage units. Each should be back by Penn State. Still, others who haven't necessarily missed much time but have been greatly aggravated by nagging injuries will use this two weeks to rest up and recharge. Those players would include:
Terrelle Pryor - Our top dog has been carrying around dead weight in the way of left quad (omg,rehab photo!). For the first time since injuring it, he ran relatively free of limp or drag against the Gophers. I would suspect he'll be at or near 100% against Iowa which is welcome.
Devon Torrence - Kneed in the head against Minnesota and hip problem earlier in the year. Returned to action but the time off should help him with any lingering soreness.
Brian Rolle - Exited stage left in Minneapolis with a left foot/ankle issue. Like Torrence, Rolle also returned but with a slight limp.  Perfect time to get fully healed again.
JB Shugarts - He has had foot problems and will likely play with pain all year. However, the extra time should help relieve some tenderness and put him in better position to match up with Iowa's defensive line including occasional tussles with Megatron Adrian Clayborn.
Jake Stoneburner - First reported has high ankle sprain that wasn't going to be much of a problem but here we are a month later and Stoneburner hasn't been himself since the injury.   
Travis Howard - Unclear of the nature of his injury but was caught wincing in pain at least twice against the Gophers.   Considering the way our secondary has been riddled with injury, Howard may be needed down the line more than we know.
This list is only from players on the two deep and omits guys who are unlikely to return all year like CJ Barnett, Tyler Moeller and Christian Bryant (although there is a chance Bryant may be available for the bowl game).  It's probably safe to say, even after the bye week, no one will be completely pain free. That's just the nature of major college football this late in the year. However, I can't help but think this year's bye week is a great thing.