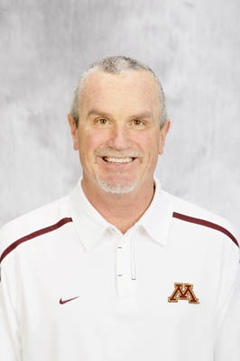 Can't you just feel the energy surrounding this one?
The Buckeyes will face the Minnesota Golden Gophers in their second primetime road matchup in the last three weeks, but unlike the trip to Madison two weeks ago, the Gophers are not playing good football.  Actually that's an understatement.  The Gophers are playing 1-7, we-just-canned-our-coach-midseason football and there's likely nothing I can say in this preview to get you excited for this game.
What's that you say?  It's a night game? Why, yes, it is a night game and perhaps that will add a little something to the matchup, but despite the loss, this is still a pretty talented Ohio State team and they'll be going up against one of the worst Big Ten teams in recent memory.  But don't just take our words for it.  Here's the Daily Gopher:
Ok, so Ohio State is going to kill us Saturday. Hopefully the weather is decent and the tailgating is great, because I'm not sure there's going to much of a game. The only thing to wonder about inside TCF Bank stadium will be if there'll be more Ohio State fans than Gopher fans, and if the Buckeyes can cover a massive 25 point spread.
Excited yet?
Opponent
After rallying for a 24-17 win over Middle Tennessee in a Thursday night home opener, the Gophers then proceeded to lose seven-straight, highlighted by losses to South Dakota (FCS) and Northern Illinois, both at home. After falling to Purdue by two scores in mid-October to run the skid to six, Minnesota athletic director Joel Maturi took action and fired head coach Tim Brewster. Offensive coordinator Jeff Horton, best known for tutoring Brooks Bollinger at Wisconsin, was elevated to interim coach, but nothing changed as the Gophers lost his debut to a middling Penn State team last weekend.  After getting the Buckeyes this weekend, Horton will finish his maiden voyage with trips to East Lansing, Champaign and a home tilt against the Hawkeyes.  Welcome to the show, coach.
Offensively, the Gophers will attempt to throw the ball against the banged-up Buckeye secondary.  Senior quarterback Adam Weber (#8), once thought to be a sure-fire NFL draft selection, has struggled a bit this year, posting decent numbers due to the need to pass while behind, but not delivering the consistency most fans thought they'd get.  He did become just the fifth member of the Big Ten's 10,000 yard club last weekend, but it's going to take more than lifetime achievement awards to get the job done Saturday night.
His two primary options will be junior wideout Da'Jon McKnight (#6) and quarterback-turned-receiver Marquis Gray (#5), a sophomore.  McKnight, in particular, has come on strong recently, hauling in 14 receptions for 226 yards and four touchdowns in his last two outings as the Gophers slung the ball in an attempt to come back against Purdue and Penn State.  At 6-3/205, he has the size to give the depleted Buckeye secondary problems, if Weber can be consistent getting him the ball.  Junior Eric Lair (#85) is one of the better tight ends in the conference and should be targeted a half dozen times as well.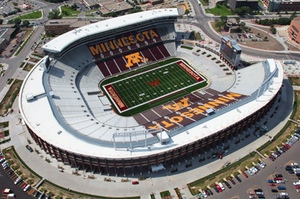 Minnesota will feature a two-headed, mostly impotent monster at running back, featuring juniors Duane Bennett (#22) and DeLeon Eskridge (#25).  Eskridge blew up as a freshman, rushing for 678 yards in 2008, but the numbers were dampened with just a 3.7 yard average that year. Though the two will split carries, Eskridge does seem to be pulling away and finished with a nice game against the Nittany Lions last week: 26 carries for 111 yards.  He's not much of a threat catching passes out of the backfield, with just three receptions on the year, but mate Bennett does have 17 receptions and will be used in that capacity as a third down back.
The Gopher line does a good job of protecting Weber and the team is solid if not spectacular in the red zone, holding onto the football, and converting third downs, so the offense will provide a challenge at times for the Buckeye defense.  The Minnesota defense, on the other hand...
Where do I start? The Minnesota rush defense is the worst in the Big Ten, surrendering an average of 194.1 yards on the ground per outing.  Not to be outdone, the Gopher pass defense is currently 118th in the nation with regards to pass efficiency and enter having recorded just three sacks on the year, good for 120th, or dead-last.  I could link to the "standouts" in the group, but that would be a disservice to the word "standout" and a waste of your time.  Just know that this Gopher defense has been terrible and against a not-so-great schedule.
The Gopher special teams, not wanting to be left ouf of all of the suck, is pretty awful as well. Kicker Eric Ellestad (#37), a senior, is shaky, having missed a few field goals and an extra point on the season, while redshirt freshman punter Dan Orseske (#41) is averaging just over 36 yards per punt.  Minnesota ranks in the bottom half of the nation in both punt returns and kick returns, so if ever there was a week to exhale while a kick is in the air, this is the one.
Buckeye Breakdown
Jim Tressel attempted to downplay it earlier in the week, but the Buckeyes have played two road games this season and haven't looked all that hot in either of them (though the Illinois game looks better with each passing week). With a big road game in Iowa City coming up, it's imperative the Bucks get some traction in hostile environments.  Again, not to say TCF will be all that hostile, but you get my point.
Offensively, you can expect to see much of what you saw last week against Purdue, with the Buckeyes operating in a pro-style offense, running and passing depending on what the defense will give them.  Boom Herron should continue his solid play as the running game attempts to duplicate last year's late season success rushing the ball. He's yet to post a 100-yard game in his career at Ohio State, but there's a good chance that will change Saturday.
In the passing game, I'll be looking for Philly Brown to solidify his hold on the third receiver spot and if he continues to make acrobatic snags like the one he scored on last week, he'll have no problem doing so.  Dane has been solid, dependable and durable all season, so expect more of the same from him, but it would be nice to get a huge game out of Posey as he's taken a little bit of heat from the fanbase lately for underperforming play.
On the line, Shugarts will again start for the Buckeyes at right tackle, despite lingering foot pain.  He was worked over pretty well by Purdue's Kerrigan last weekend, but will get a great chance to bounce back against the underwhelming Gopher front.  If he can't go the entire game, Andrew Norwell will continue to pick up valuable game experience that will pay dividends down the road.
Weber does a good job of getting passes away quickly (despite their accuracy) and he's mobile in the pocket, so the sack numbers might not be what we'd want this week, but expect Ohio State to be in his face all night and figure Heacock to rotate his pups, getting youngsters into the game early.
All eyes on defense will be on Etienne Sabino.  Rumors of the staff burning his redshirt surfaced earlier in the week, and Tressel acknowledged discussing it because of injuries suffered at linebacker, but on Thursday he said Sabino is not likely to play and will keep his redshirt.  Which is good news for Sabino's future.  With Homan still out, expect to see a lot of Sweat (who played really well against Purdue) and Newsome.  Again, the upside to all of the injuries is the valuable experience being picked up.  With a unit replacing seven guys next year, that's huge.
The secondary, the MASH unit that it is, will be tested this week, but should be up to the task. Chekwa and Torrence should be able to hold McKnight and Gray in check, while Gant and Johnson showed enough last week to ease some concerns heading into Saturday's matchup.  I do like Ramzy's idea of putting Hines in the Popemobile, so nothing happens to him prior to kickoff, but I'm not sure there's an extra one in Columbus.
Prediction
Is this the mother of all trap games?  A night game in a newish stadium, with a Gopher squad playing with nothing to lose?  Don't count on it.
Ohio State 41, Minnesota 10