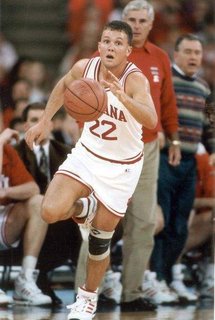 There is one place in the country where the sky falls when the hometown team is undefeated and ranked No. 2 in the nation: Columbus, Ohio. 
That is exactly what is happening in the aftermath of Ohio State's 24-13 win over Illinois. People are worried about injuries (Tyler Moeller, Terrelle Pryor), play-calling, running backs, defense, etc. Some concerns are valid. Most, however, are not.
Injuries are certainly mounting, especially in the secondary, and with Ben Chappel, the nation's third-highest passer invading Ohio Stadium, the Buckeyes must defend the pass well. An upset at the hand of the Hoosiers would derail any national title aspirations Ohio State has. 
The running backs, Brandon Saine in particular, have been lackluster. I don't think it's anything to be overly concerned about, though. When needed, they'll perform. Saturday was evidence of that. Also, Jordan Hall and Jaamal Berry will get more reps. I know fans are reluctant to believe that because he's being saying it all year, but as the season progresses they will become more involved with the offensive game plan. 
I'm not even going to address the defense. They are fine. 
Now, the hottest topic among OSU supporters, as it is almost every season, the play-calling. Personally, I felt it was adequate Saturday. The wind was howling. I was in the press box for much of the game, but when I went down to the field for the fourth quarter, it was clearly a factor. Ohio State was playing with a quarterback on one leg and the wind made passing difficult. Why not run it down their throats? Would you rather score 50 points a game, go 10-2, lose to Michigan every year and win a bowl game half the time? Probably not. That is what the Buckeyes had before Tressel was hired. I just don't see how the play-calling for Saturday's game can be questioned. Yes, they were overly conservative, but they did what they needed to win the ballgame.
Sometimes fans don't realize what they have. Jim Tressel is good as they come. There are two or three games where his style has actually cost the team a win. There are countless others where it has won them games, including a national championship.  
At his weekly press luncheon, Tressel was asked about all the things I just mentioned. His answers shed light on several things. 
The main question: How is Terrelle Pryor?
COACH TRESSEL: Sunday we did a little bit of drills and weight lifting and all that, so we didn't really test it, per se. Yesterday was our day off and he was in doing his film study and his rehab and all. I would expect every day he'll get closer to 100%. I don't know who's 100% after five games that has as much wear and tear as a guy that has his hands on the ball, but I think he'll be fine.

REPORTER: Is it a strain or what's the nature of it?

COACH TRESSEL: That would be as good a word as anything. I don't really even know.
It is definitely a Tressel Speak answer, but I share the same opinion. Quad strains can be nagging injuries, much like ankles. Pryor's seemed to be minor, though. He was a virtual non-factor in the mobility department after his return, but his movements off the field seemed to indicate he wasn't that injured. Not to mention, the trainers, doctors and facilities Pryor will use in his rehab will help a tremendous amount.
I wouldn't panic yet, Buckeye fans. Wait and see how he performs Saturday. Obviously, they'll take it easy with him. He will be running a whole lot less and you'd think he'll be taken out of the game as soon as it looks like the lead is insurmountable. If he is still shaky going into the Wisconsin game, you have every right to be worried. 
Tressel on Tyler Moeller's season-ending (possibly career)  injury:
It's really disappointing because he had the similar injury sometime before his head injury, and then unfortunately during the time he was rehabbing with his head injury, he could not work on anything that would raise his heartbeat and all that, so in essence, he probably spent seven or eight months doing nothing, which did not allow him to rehab, and so he got back and he was giving us 30 plays a game and that type of thing and just caught a guy the wrong way and that not-all-the-way-rehabbed injury just couldn't handle that and you just feel terrible about it. And from his standpoint specifically, we're going to appeal for a hardship, and all that takes time and paperwork and documentation and so forth, but you just feel sick for him because you saw the pain he was in last year not being able to help his teammates and now he was, and now he was having fun. So, yeah, it's very disappointing and obviously it hurts us.
Huge loss for several reasons. No. 1, Ohio State already lost C.J. Barnett to an injury. Another player from the secondary being knocked out is a big blow. Two, Moeller is a leader. You only have so many guys on a team that players respond to and he was one of them. Sure, he'll still be on the sidelines and in the locker room, but it is different when you aren't on the field. Lastly, I just feel bad for the guy. Everyone knows about his situation last season. To battle back and make an impact like he was making this year; it's a tough blow to take. Hopefully the NCAA grants him a sixth-year of eligibility. You'd think they would, but no answer will surprise me. 
REPORTER: Is Christian Bryant now full speed ahead? How have you approached that aspect?

COACH TRESSEL: Well, the only way we could, which was in the game he was full speed ahead and I thought he did a solid job. He's got to get better, he knows that. But he really loves football. Without having sat and talked about it yet because we go out this afternoon and everyone gets the reps, but in my mind the three things that can happen, the most logical one is Christian will step in and do a good job. The other thing you always have the opportunity to do is move Jermale back there, because he played nickel there for multiple years, put someone else in at safety, and then the other thing is we get Nate Oliver back, who has been playing that nickel position and he's been out for a couple weeks and we hope he's back 100%, we think so, but we need to see it.
Bryant is a good player. There was a reason OSU recruited him. That being said, he'll get burned a few times this season. He did OK Saturday, especially being thrust into the game the way he did. No question, though, he needs to improve. Moving Hines to nickel is interesting. He has been playing well, but a move to nickel might utilize his athleticism more. 
Tressel spicing up Brandon Saine's season:
I think his performance has been solid. He's gotten four or five touchdowns, does a good job out of the back field. He hasn't had the running yards. I'm not sure who would have in the situations he just happened to be in, but Brandon Saine adds a dimension of speed and versatility that we have to absolutely use. So have we figured out exactly how to maximize that? Probably not. But that's what you do during the course of a season, you know, who's available, who's healthy, what do they do, how can we -- what's some good match-ups, so I'm sure it will change every week.
Saine has definitely been a disappointment in the running department. His receiving skills are solid, though. As far as hands go, I think he and Dane Sanzenbacher have the best on the team. The Buckeyes have a stable of running backs, so if Saine can't run effectively someone will pick up the slack. The question is: Who will it be? I think it will be interesting to see which tailback emerges during the Big Ten season.  
Tressel when asked about Jordan Hall:
COACH TRESSEL: Well, let's go back to, let's say three weeks ago. We've got a lot of receivers we like to get the football to. We've got a quarterback we'd like to run seven to 10 times, and a couple tailbacks who we think are very good. So there just aren't that many balls left and I guess we could take all those balls this season that we've thrown to tight ends and give them to Jordan, then we'd be having the opposite discussion. Are you ever going to -- could it change this week that we're going to give the tight end the ball?

I have one million percent faith in Jordan Hall. He's going to make a difference this season, he already has. Gosh, his punt and kickoff returns. He is a good runner. I wish we had more balls. That sounds terrible. Man, I am getting old. But you know what I'm saying. I wish we had more carries available, but you're going to see Jordan Hall.
The ball reference = Gold. Hopefully the video goes viral. Easily the funniest thing I've heard/seen out of Tressel. The room erupting in laughter. 
As for question and answer, I think a big reason we aren't seeing Hall as much people would like is loyalty (Saine is a senior, Herron a junior). Tressel is as loyal to upper-classmen as any coach in the country. Another reason is mistakes. Young players tend to make them (fumbles in a RBs case) and Tressel despises turnovers.  
On Michigan quarterback Denard Robinson:
He's a good player. If he gets a sliver, he's gone. He's got great quickness and because he rushed for so many yards leading up to that game they were so loaded with folks making sure that they had an eye on him that people -- they got people behind him. And I'm sure if they went back and had to redo that one, they would have stayed a little bit back and given him his 10-yard gains and not let a couple of those -- they had like a 70-yarder because they were -- and you do. That's tough duty he's a good player and he can change the field real fast.
Sorry, Buckeye Nation, but Denard Robinson is really good and has a great shot at winning the Heisman. Even if the Wolverines go 8-4, he can win it. His stats have been out of this world. Obviously, Michigan State, Wisconsin, Iowa, Penn State and Ohio State can change those statistics.  This week will go a long way in determining how well Robinson is in Big Ten play. If the Spartan defense contains him, I'd think the other four I mentioned would, too. 
The "and so forth" count: Six. I think Tress is getting back on track after a few down weeks.