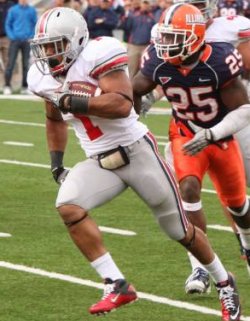 Dan "Effective plod" Herron
After a 1st half in which he ran for six yards on four carries, I don't think many fans expected Dan Herron to help key 4th quarter drives that helped the Buckeyes remain unbeaten in a windy slugfest on the road in Champaign.
Nursing a 14-10 lead without Terrelle Pryor for about five minutes of the 3rd quarter and a greatly diminished Pryor for the final 22 minutes of the game, Herron got his grind on chewing up 89 2nd half yards on 19 carries including 51 in the 4th quarter alone. The yeoman's effort saw Herron log seven carries (18 yards) on a 13 play drive that took a precious 7:52 off the clock overlapping the 3rd and 4th quarters resulting in a 32 yard Barclay FG giving OSU a 17-10 lead with 8:27 left in the game. The yards weren't many, but they were necessary with Pryor limited in his return to the field and in need of an offensive sidekick. 
For an encore, Herron put on a much more impressive display as OSU took possession at their own 47 yard line holding a slim 17-13 lead after Illinois kicked a FG with 4:36 left on the clock. With Pryor serving more as a figurehead than a main contributor, Tressel dialed up seven straight running plays and Herron responded with 41 yards and a TD. The drive got off to a decent start with Boom running for six yards on 1st down and three more on 2nd down setting up a 3rd and 1 at the Illini 44. The line failed to create a lane and Boom was stopped for no gain but, praise be to Woody, the Illini came through with one of their nine penalties, this time jumping offsides, giving the Buckeyes 1st and 10 at the Illini 39. Looking to capitalize on the new life, Herron would gain just two yards on 1st down setting up his most impressive run of the game. OSU lined up with eight linemen (extra TE to the right) and Boren at FB in a Power I formation as Herron took a straight ahead handoff to the left against nine Illini in the box with two more defenders standing up on each edge outside the box. The play looked doomed as a mass of bodies converged at the point of attack behind LG Boren but just as Herron hit the pile, he picked both feet up high (gasp!) and made a nifty and nimble bounce to the left in which he shed an arm tackle and hurdled FB Boren all in the same motion. The impressive move sprung Herron free and he raced up the left sideline for a 13 yard gain and a drama-ending 1st down as the clock read 2:26 to play with OSU now at the Illini 24 yard line. Whether or not you feel Herron should be the starter, or frankly, is good enough to be the starter on a title winning team, this was indeed a run that deserved your appreciation. Not satisfied with the 1st down, Boom took a handoff around right tackle on the next snap and rushed for 11 more yards, firmly stiff arming Nate Bussey on the final four yards, prompting Bussey to grab Herron's facemask for the eleventy billionth Illini penalty of the day. With half the distance enforced on the penalty, the ball was pushed to the six, where Boom would put the finishing touches on his invaluable effort using effective lead blocks from FB Boren and extra LT Andy Miller, who bookended Mike Adams as an extra blocker, to dart around left end untouched into the endzone. The TD put OSU in front 24-13 with 1:49 to play, securing the win while likely vaulting himself into the starting role at tailback next week.
Again, it wasn't a record breaking day but Ohio State needed every bit of Boom's 95 yards on 23 carries (4.1) and considering the defense stacked the box for virtually all of those yards with Pryor either out or a physical sorta-factor, it was a much needed effort helping OSU remain unbeaten. Looking at the stats, Boom milked the clock carrying the ball on 12 of OSU's 19 plays in the 4th quarter keeping a defense that had the game well in hand, fresh to feast on the Illini offense.
Typical Tresselball - defense allows it to thrive
Speaking of the defense, they were obviously most responsible for the win despite suffering a probable season ending injury to Tyler Moeller. Facing an offense with a decent tailback but a not so decent QB, the Bullets stymied the Illini attack for much of the game, specifically the 2nd half, holding Zook's boys to 121 total yards on four 1st downs. The Illini possessed the ball six times in the final 30 minutes with the drives unfolding as such:
3 and out
3 and out (INT)
3 and out
3 and out
FG (8 plays, 67 yards)
Clock (8 plays, 25 yards in final 1:49)
Nathan Williams was an absolute beast recording nine stops, 2 TFL, 1.5 sacks and a pass breakup. For whatever reason, I find myself keying on him during both the live game and my rewatch and he continues to impress. With teams scheming to keep Cam locked down, Williams is taking full advantage. The high-motored Williams keyed some of those three and outs making a tackle on the first series holding Illy to 3rd and medium, notching a stop on the 2nd series preceding the Jermale Hines pick, and coming up with a huge 1st and 10 sack resulting in a 12 yard loss and then a nice play in which he chased down Leshoure from the opposite side of the field setting up a 3rd and 15 that Illinois couldn't convert on their 4th series.
Brian Rolle also had what I'd call a bounce back game after repeatedly getting sucked up on play action a week ago, he led the way with a season high 10 tackles and a pass breakup while nearly coming up with an INT on the Illini's final possession. Fellow LB Ross Homan, who had the same problems as Rolle last week, responded with seven tackles, 1.5 TFL, and a sack. Christian Bryant came in for the injured Moeller and showed a nose for the ball recording five solo tackles. Going back to fall camp, Bryant was the other young guy besides Barnett that truly looked ready to contribute and it looks like he's off an running with that opportunity. I continue to like what I see from Bryant, though he's rightfully not yet at the level of Moeller. Yet.
Collectively, the D ended Mikel Leshoure's streak of five straight games over 100 yards rushing and after surrendering 95 yards of offense and five 1st downs in the 1st quarter, the Bullets allowed just 156 yards and six 1st downs over the final three quarters. Illinois was also held to 2/13 on 3rd down. Good stuff from a group that Tressel will continue to lean on if Pryor's injury nags like a typical quad strain has a propensity to do.
The Pryor effect
I realize it's obvious just how much Terrelle Pryor means to this offense but how tough was it to watch them not knowing if Pryor would return? Though he wasn't having his greatest game up to the injury, he was still 6/12 passing for 48 yards with 2 TD and a terrible INT to go along with a huge field-flipping rushing effort of 10 carries for 102 yards. Plus, if Posey wasn't playing as if he was on the take (easy, I still love him) dropping two balls, one with an apparent case of alligator arms over the middle, Pryor's passing numbers would've been more like 8/12 for 80 yards to that point.
Though Pryor's run gave the Bucks a 1st down at their own 29, his injury instantaneously took the wind out of the OSU offense's sails as they went three and out right after on one yard and no gain rushes from Saine before Bauserman's one yard hookup with Boren forcing OSU to punt. The next "drive" lasted all of two plays as Joe B hoisted a turd-grenade intended for, nevermind, I have no idea who he was throwing to, resulting in a gravy interception for Trulon Henry. More on that whole debacle in a minute. Pryor would return on the third play of the next possession as Boom gained 12 yards on two carries preceding TP's trot back to the huddle. So, the Pryor-less offense ran seven plays generating 15 yards and a turnover with nine of those yards coming on one play. It's simply amazing how much impact the best player can have on a college team, especially if that player is the quarterback.
Upon his return, Pryor's offense was looking to do nothing but run on the possession so the coaches could feel out his limitations and keep the clock ticking, then an illegal block penalty on Posey put OSU in a 1st and 22 at their own 29. With Pryor banged to the point where he could hardly drop back, let alone scramble/run with impact, Tresselball continued to be the right move and OSU was eventually forced to punt after two runs from Herron.  However, on his first full possession following the injury with OSU still nursing a 14-10 lead, Pryor did what we needed him to do - make big plays down the stretch. Combined with Boom's aforementioned tough running, Pryor went 3/4 through the air including a crucial 15 yard hookup with Posey on 3rd and 9 at the Illini 43 before another important connection with Posey, a five yarder on 2nd and 7. The completion put OSU in 3rd and short at the Illini 20 which Boom eventually turned into a gigantic 4th and 1 conversion. Finally, Pryor hit Reid Fragel with a 5 yard toss on 3rd and 15 giving Barclay a shorter 32 yard FG attempt which he converted into a 17-10 OSU lead with 8:27 left.
Pryor's ability to answer adversity has been on display all year and while not as sexy an example as some of his other exploits, his ability to focus through the injury helped put points on the board giving the defense a seven point cushion that certainly seemed (and was) good enough to secure the W. Speaking of those other exploits, Pryor has made a habit of following up opponent scores with a scoring drive of his own and that, my friends, is an important trait that's sometimes hard to notice during the flow of a game but hugely important when you consider momentum's impact on the college game. Some examples of his "answer skills" this season (level of competition duly noted) include:
Following Marshall's blocked FG for a TD cutting OSU's lead to 14-7, Pryor took two plays to score on the ensuing possession connecting with Dane on a 65 yard TD strike.
After a sloppy 3 and out gave Miami the ball at the OSU 49, which they parlayed into a 51 yard FG and a 10-7 lead, Pryor took two plays to score on the ensuing possession hitting Posey with a perfectly thrown 62 yard teardrop before tossing another gem for an 18 yard TD to Brandon Saine. Tie game.
Pryor answered all three EMU scores with points hitting Dane for a 9 yard TD after EMU's first score, connecting with Dane again for an 8 yard TD on the first full drive (halftime) after EMU's 2nd score then catching a 20 yard TD pass from Jordan Hall following EMU's final score.
The Backup Plan
I heard and read comments on the various topics that came about with how the offense performed with Pryor injured. Most of that obviously centered on the QB position and how Tressel has handled "the backup plan" this season coupled with the usual digs about inconsistency from the hogs and the lack of a true gamebreaking running back. The noise in the aftermath of Bauserman's performance focused on (1) Tressel not getting the backup QB's in early enough in the three lopsided games and (2) Guiton not getting enough reps in general, and definitely not enough reps in which he was called upon to pass.
The first argument noted is a little hard for me to buy into for one major reason. I don't mean to be harsh but Bauserman is nothing but an extremely rusty QB who isn't good enough to start for Ohio State to begin with. I don't care if he played all 60 minutes against Marshall, Ohio and Eastern Michigan, he still wouldn't be efficient enough for the defense to overcome if Pryor were to ever miss a month or more. I like the guy - that's just the cold reality. Throw in the fact the rushing game would be further diminished by no Pryor, the lack of a truly legit #1 running back and an offensive line that would be overmatched as defenses stacked the box and there's no way the Silver Bullets could make up for the offensive deficiency over the long haul. Heacock's crew would be on the field for 40-45 minutes per game and would eventually run out of steam. Now, if Pryor were out for one or two games, depending on the opponents, the Buckeyes might be able to survive on the back of the defense.
The second argument is by far more meaningful for a cluster of reasons. First, the majority of us have already rightfully concluded that Bauserman's ceiling isn't good enough if forced into extended action for various reasons not limited to simply his ability but also the units around him. Second, Guiton wasn't really given much a chance to improve on his two main deficiencies, which are game experience and decision making in the passing game. In fact, Guiton hasn't even attempted a pass in three short stints this year. Now, in Tressel's defense, I can see why even if Guiton had played more liberally in three games that The Vest still probably wouldn't have been comfortable enough to put him in there. Despite the lack of reps, however, I still get the feeling Guiton has a better chance of moving the offense since he has shown a running ability that would let him create something out of nothing. Further, with teams stacking the box daring OSU to throw, the line's effectiveness would be further exploited and Bauserman's lack of mobility in comparison to Guiton would seemingly create numerous sacks and the potential for Bauserman to be mangled.
Bottom line, this team obviously goes nowhere significant without Pryor for an extended period no matter who Tressel sticks under center but if it's ever a one or two game scenario, Tressel's decisions to this point mean Bauserman is probably the only option so deal with it and keep your Nitroglycerin tablets handy.
discipline, anyone?
As Jason briefly touched on during the game preview, Ron Zook should be thankful that the university is rolling pennies to pay the bills and Saturday's display likely did nothing to improve his standing within the school despite the closer than expected final score. Stupid penalties absolutely crushed the Illini cause. They racked up nine, good for 74 yards in total, though six in particular stood out:
Already facing 3rd and 10 early in the 2nd quarter with the game tied 7-7, a false start penalty made it 3rd and 15 at the OSU 26. Knowing the OSU defense wouldn't allow time to throw, QB Nathan Scheelhaase settled for a 2 yard completion to Leshoure setting up a 41 yard FGA in windy conditions which was on line but fell just short of going over the crossbar.
Trailing 14-10 midway through the 3rd, the Illini D held Boom for no gain on 1st and 10 at the OSU 26 but a facemask penalty pushed the Buckeyes out to their own 41 yard line. The Buckeyes would eventually be forced to punt thanks to Posey's illegal block penalty but they still chewed up 3:39 of game time.
Early in the 4th quarter, Illinois would again stop Boom for no gain, this time on 2nd and 5, but another facemask penalty (admittedly a sketchy call) gave the Buckeyes a 1st down at the Illinois 43 yard line. Eleven plays later, the drive was still alive as Barclay hit a 32 yard FG giving OSU a 17-10 lead with 8:27 to play.
On the kickoff after Illinois cut the lead to 17-13 with under five minutes to play, Jack Ramsey kept with tradition and committed a facemask during Jordan Hall's return moving the ball all the way out to the OSU 47 yard line. It would prove costly.
Having already given the gift of terrific field position, the Illini weren't done yet. Facing 3rd and 1 from the Illini 44, Boom was stopped for no gain but, like a canary in the night, another flag appeared as Illinois jumped offside turning what was a successful 3rd down hold into an automatic 1st down.
Now facing the grim realization that the game was virtually over following Boom's 13 monster yard run for a 1st down to the Illini 24, the boys in blue had one more facemask in them as Boom gained 11 yards on an off tackle run toward the right sideline. Boom would score on the next play.
I can't even imagine what it must feel like to be a fan of a team coached by this guy.