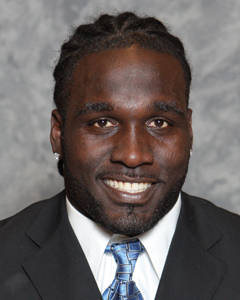 For several years now, Brian Rolle has been one of my favorite Ohio State players, because he epitomizes the kind of football player that I really enjoy watching: undersized, tough, smart, and a nonstop motor powered by pure rock fury. Even when I was just a regular commentator on Eleven Warriors, I had always thought that it would be really fun to do a profile on the guy (and more specifically, his recruitment and early career). And as other people have begun pointing out, Brian has strong ties to southern Florida, so this week is as good a time as any for a short and at times very strange biography of the man who currently wears number 36 for the Scarlet and Gray.
Our story begins in the summer of 2006, where a senior at Immokalee High School who plays both linebacker and fullback will lead his team in a rampage through their schedule, going undefeated as he racks up huge numbers on the ground and on defense. He is a fast, small, and tenacious one man wrecking crew, and though the Indians will finish 10-0 that year, for Brian Rolle and his teammates, that's it. They will have outscored their opponents 399-36, but they won't get a chance to repeat their championship season of 2004. Because Immokalee fielded an ineligible player, kicker Blandel Jean who had appeared in four games the previous year, the Indians are banned from postseason play. So what did Blandel do? Was he an ineligible transfer? Were his grades bad? Did he take money somehow?
Nope, nope, and nope. Brian and his teammates will be banned from the playoffs because Blandel was 30 years old.
Fast forward to the end of the season. In a few days Immokalee will win their last game and Brian Rolle will have played the last game of his high school career. But instead of pouting or mourning the end of a season unfulfilled, Brian does the exact opposite of that. He makes it rain.
The hip-hop sounds of Fat Joe and Lil' Wayne pumped through a pair of mini speakers in the tight Immokalee locker room following Wednesday night's practice. Indians captain Brian Rolle, standing center stage in the middle of the room, busted out the chorus. And his teammates followed on cue.

Grab an umbrella. I make it rain. I make it rain
Not surprisingly, during this time period Brian is attracting quite a bit of attention on the recruiting front, primarily from Ohio State, Wisconsin, and Florida (in a weird quirk, or at least it seems weird now, Rolle will also be recruited by LSU as a tailback). A Miami fan growing up, understandable since Immaokalee is only about 40 miles away (bienvenido a Miami), Rolle will wait for an offer from the Hurricanes that will never come. Instead he will lean toward Ohio State, and make a verbal commitment to the Buckeyes in December. Sadly, that decision will be made in the aftermath of a horrible event: the death of Rolle's girlfriend, Joylisa, in an auto accident.
I really can't imagine what kind of month December of 2006 was like for Brian Rolle. In the middle of making one of the most important decisions of his life, he now has to handle one of the worst experiences of his life. I don't know how Brian dealt with it, but I can tell you how I would've: not well. So given the circumstances it is completely understandable that reports started to come in about Brian wavering on this commitment, with various people saying Wisconsin or Florida was now his destination. A lot of Buckeye fans are understandably worried, or at least until this post originating from Immokalee High School shows up on the BuckeyePlanet forums: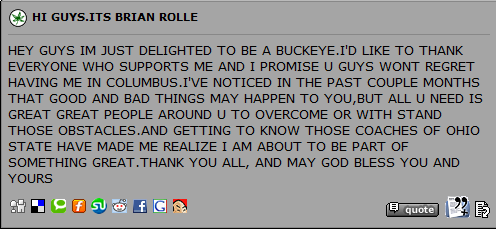 And that's that.
...
Special teams is, on many teams (including Ohio State), often seen as a proving ground for younger players. When Brian Rolle arrived on campus he already had a reputation as a hard hitter with a nonstop motor, but Ohio State isn't a place where someone can get by on high school reputation alone. Which brings me to September 22nd, 2007, which is probably the date most of us first heard about Brian Rolle. Playing on special teams against Northwestern, Rolle was a holy terror, knocking Northwestern players silly on two huge highlight reel worthy hits. Here's one of them.
This particular hit actually knocked the player out of the game, and Brian would later say that it was the biggest hit of his life. As a fan in the stands watching the hit, I can tell you that it was definitely the highlight of an otherwise boring afternoon of football. In any case, to paraphrase LL Cool J, after September 22nd OSU fans knew what to expect out of this guy on the football field; destruction, terror, and mayhem.
We all know what happens next. Brian eventually fights his way to the top of the depth chart, and proves his worth by finishing second on the team in tackles in 2009 and making big play after big play, including saving our bacon against Navy in the opener. He is then voted as one of the captains for the 2010 season, and as the MLB, is the quarterback of the defense. So to wrap this up, I want to close with some excerpts from an article Ken Gordon wrote in the Dispatch about Brian shortly after his commitment. It does him and his story way more justice than I can, and gives a pretty good summation about what this guy is about:
... Carolyn Hines (everyone called her "Joylisa") died in a single-car crash Dec. 4. She and Rolle had been dating for about six months, and she was a light in Rolle's life. Her obituary described Hines as, "Vibrant, bright, vivacious, energetic!"

"I'm still not over it," Rolle said. "I've got to accept the fact, but it's hard when you're used to something and all of a sudden it's gone. How do you adapt to that?"

...

Rolle [recently told a class of fifth graders that] he once was headed down the wrong path in life. Growing up poor, one of seven children, he described himself as a "menace" in middle school. A menace?

"Probably more than that," he admits. "I got into a crowd with the wrong bunch of kids and just followed them."

His juvenile antics landed him in an "alternative" middle school. Around that time, his older brother William accepted a football scholarship to Illinois State, the first person in the family to go to college. Brian took notice. "That made me think," he said. "We both grew up the same, and I said, 'I'm smarter than he was, so if my brother can do it, anybody can."

Immokalee coach John Weber said when Brian got to high school, "He just totally turned his whole personality around, became an 'A' student and is a 'Yes sir, no sir' kind of guy."

...

"I feel I need to get away," he said. "I know a lot of my friends who go to (college in) Florida, and it's easy for them to just jump in the car and be home if something happens. Being so far away, I'm not going to be able to drive home if something goes wrong. It will make me stronger to deal with it on my own."

And he won't consider himself entirely alone, anyway. The memory of Joylisa remains very real.

"When I fly up (to Ohio State), I should just buy two plane tickets," Rolle told the Fort Myers (Fla.) News-Press, "because she's coming with me."
So that's Brian Rolle. Since this guy walked into high school he has been destined to be a leader and a force on the football field. He is a guy who willed himself to become a better student and person, who is a vocal and passionate football player, who had to overcome great adversity to reach Ohio State, and is one of the most important members of one of the best collegiate defenses in the country. Rolle works hard, hits hard, and is exactly the kind of guy you want on your team as a captain.
NFL take notice, haters get out, opponents beware. Brian Rolle is awesome, and will never give you up, or let you down. The end.