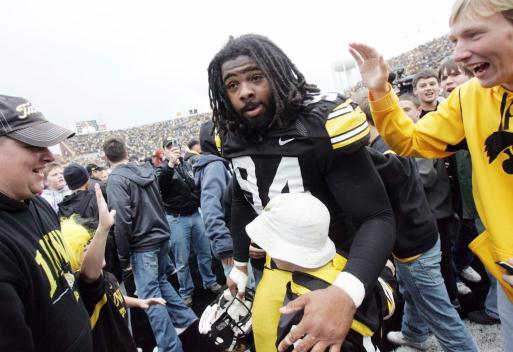 Star Trek: Nemesis was a terrible film, but it did highlight the important concept that having a nemesis to oppose your plans is generally a bad thing. And during this upcoming seasons we will face several opponents who could easily be called our own person flies in the ointment, monkeys in the wrench, or pains in the ass. All 11 men on this list have the potential to cause us not small amount of grief and frustration should they be allowed to do their thing unchecked, and so without further ado (and film related non-sequiturs) here they are:
11. Tandon Doss, WR, Indiana
Who?!? Tandon Doss is probably one of the more underrated players in the Big Ten purely because of the team he plays for. If he had been given the opportunity to showcase his talents elsewhere, you might be talking about Tandon Doss, All American, in hushed and reverent tones while before staring at your lifesize poster of number 2 as motivation before your biochem test. Okay, that might be stretching it a tad, but this kid is legit. Last year he was a 1st team All Big Ten selection with 77 catches for 962 yards, including 96 yards against Ohio State. He is a threat for well over 1000 yards in receptions, and if Indiana ends up fielding a sneakily dangerous offense, it will be in no small part due to Tandon.
10. Evan Royster, RB, Penn State
Okay, hear me out. I secretly believe that there are, in fact, two Evan Roysters. One Evan Royster plays like absolute crap against opponents with a pulse. This is the Evan Royster that has frustrated Penn State fans to no end, and probably the one I like the best. There is also a second Evan Royster who runs rampant over teams like Temple and Minnesota and puts that teeny sliver of doubt in our heads that says maybe one day he'll put it together against a good team and scare the hell out of us. He also makes us put the both of them on lists.
9. Ricky Stanzi, QB, Iowa
I was conflicted as to whether or not to include the Manzi on this list. True, his numbers are not terrific when compared against a lot of his peers, including Cousins and Tolzien. And he also, as the excellent Iowa blog Black Heart Gold Pants has put it, has the weird ability to keep his team both in and out of games at the same time by means of some terrible interceptions followed up by some incredibly clutch play under pressure to bail the Hawkeyes out of the ramifications of said interceptions. With that said, Stanzi is coming off of a  killer performance in the Orange Bowl, and as we all know, a vote against him is a vote against America. I will not vote against America.
8. Tate Forcier, QB, Michigan
"Wait, really?" No.
8. Allen Bailey, DE, Miami
The Miami Hurricanes should have an excellent defensive line this year, and it is led by Allen Bailey, possibly Miami's best NFL prospect and a bullrusher par excellence. He led Miami last year with 7 sacks, and was generally a holy terror on the outside of the line. He is athletic and very fast, and the matchup between him and whoever has the unenviable task of having to block him on September 11th should be an interesting one. With that said, this guy is more or less only a bullrush lineman, and unless he's learned some new moves in the offseason he's going to stay relatively low on this list.
7. Ryan Kerrigan, DE, Purdue
I was watching the Purdue game last year in Japan on a crappy, barely watchable feed in the middle of the night, but even then I could still could tell that Ryan Kerrigan was kicking our butts up and down the field. He absolutely shredded our offensive line that game, with 9 tackles (4 for a loss), 3 sacks, and 2 forced fumbles. At the end of the year he would end up leading the Big Ten in sacks with 13, and firmly establish himself as one of the top 3 defensive linemen in the conference. Watch out for this guy.
6. Keith Smith, WR, Purdue
Maybe I'm being paranoid. I mean, come on. Yeah, the Boliermakers laid the wood to us last year, and yes, you can never overlook a game in the Big Ten (and yes, I'm only saying that because of Purdue Harbor), but Keith Smith can catch them footballs with the best of them. Nevermind the damage he did against us (12 catches for 12 yards), he had 6 games of over 100 yards receiving en route to a 91 catch, 1100 yard 2009 campaign. Basketball on grass or not, those are impressive numbers and he should easily be the number one offensive threat for the Boilermakers when they roll into town on October 23rd.
5. Scott Tolzien, QB, Wisconsin
Don't know why this guy doesn't get more love. Tolzien was forced to throw much more than he's accustomed to against the Buckeyes and his game suffered for it, but when he's only asked to be a supplement to John Clay, he can be a very tough opponent. Case in point: in the Champs Sports Bowl against Miami. While Clay was rumblin and stumblin through the Miami backfield, Tolzien was also completing over 73% of his passes for 260 yards. If he can stay that consistent throughout the year for Wisconsin, their offense could end up being a real handful.
4. Tyler Sash, S, Iowa
The Ruler of the Universe is one of the best ball hawks in the Big Ten. Last year he had 5 interceptions and generally dispensed the kind of chaos we are used to seeing out of one Brian Rolle. Sash is a fast, tenacious defender, and honestly in my estimation could convert to cornerback with little to no drop off. A quarterback who does not take what he's doing into consideration does so at  their own risk.
3. Jacory Harris, QB, Miami
Jacory is a difficult guy to pin down. There is no disputing his immense raw talent, as the guy passed for over 250 yards in a game last year 7 times, finishing the year with over 3300 yards in passing. He is fast and very athletic and will not likely be intimidated by the crowd at Ohio Stadium. With that said, his decision making has got to get better if Miami wants to have the kind of season they and their fans think they're capable of having. Last year Harris had 17 interceptions, including 3 in a loss to a Clemson team they should've beaten. Jacory has the potential to be a game breaking weapon for the Hurricanes, but he has got to keep his head on straight.
2. John Clay, RB, Wisconsin
420 run over dudes every day. John Clay is about as prototypical an RB as they come at Wisconsin. 6 foot 1, 250ish pounds, this guy has one mission: find the hole, run through it for about 5 yards, get tackled, repeat. Over and over and over. In the two biggest Big Ten games for Wisconsin last year, he didn't get it done, but unlike Evan Royster, I do not expect this to be a trend. When the other team knows that you are coming, and you still manage to average 5.3 yards per carry for 1517 yards, you're a threat no matter who you play. I feel that Ohio State can get a handle on this guy, and the prospect of  him having a breakout game against us doesn't worry me quite as much as some other players, but it would be foolish to dismiss him because of how he played last year in Columbus.
1. Adrian Clayborn, DE, Iowa
No real surprise here.  Probably the most NFL-ready player in the Big Ten, he had the kind of season last year that we all hope that Cam Heyward has for us this year. 11.5 sacks, 20 tackles for a loss, 4 forced fumbles and big play after big play after big play. Iowa would've had a decent defensive line even without him, as Karl Klug in the middle is no slouch himself, but Clayborn moves that unit into elite territory. One of the things that makes him so hard to deal with is his size; at 6 foot 4 and 285 pounds, he is a load and a half, and for being as fast as he is, he can be a very very difficult person to handle. Given some of our past problems with elite DE's in the past, it should come as no surprise whatsoever to see Adrian at the top of this list. Plus, those dreds.