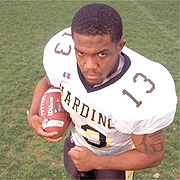 Abandoned neighborhoods. Dilapidated remnants of what was once municipal sprawl now reduced to pockets of urban blight. Such is Youngstown, Ohio, particularly the not-so-fertile grounds responsible for rearing Maurice Clarett.
June 19th, 2010 just after 1 AM – Two years removed from a sophomore year that saw him record 23 sacks, Jamel Turner is watching TV with a 17-year-old female sharing in the responsibility of babysitting several younger children. In a fraction of a second, their fates are forever intertwined in the worst manner conceivable; the young woman is struck by open gunfire from a scorn lover killed instantly while Turner is the victim of seven gunshot wounds, forced to spend the next 96 hours of his life on bated breath fighting for his very survival. This almost 2 months to the day a car driven by a family friend giving Turner a ride is run up on resulting in Turner being shot twice.
While Maurice Clarett's arc from destined to anti-hero failed to undergo near the same rugged departure that Turner's did, make no mistake about it, the two are all but cut from the same cloth. The earlier's biography could've very well been the latter's and vice-versa.
Having survived 18 years in the post-Industrial Katrina world of Youngstown, Ohio mostly unscathed, Clarett parlayed a heralded senior season at Warren Harding and an invitation to the U.S. Army All-American Game into an early Winter Quarter enrollee scholarship attendee of The Ohio State University. After eight plus months of immersion in the Ohio State program, Maurice Clarett entered the season a prohibitive favorite to play a significant role after being named the first true freshman ever to start in an opener. However, few even in the home locker room would've envisioned the 175 yard 3 TD debutante ball Clarett would go onto have that Saturday against Texas Tech. Particularly impressive were the two break away touchdowns of 59 and 45 yards respectively.
The ensuing contest against Kent State would see Clarett somewhat return to earth, though he still went on to lead the team with 64 yards on 12 carries, 1 rushing touchdown, along with 2 catches for 16 including a touchdown through the air. The lukewarm "stage freight" act would acquiesce after one off game, as the ensuing week would see Clarett explode for 230 yards on 31 carries against 10th ranked Washington State. The performance could've culminated with Clarett surpassing Archie Griffin's freshman school record 239 yards in a single game but for the first loose mortar in the Clarett mythology: an injured right knee. Clarett had arthroscopic surgery on the knee that following Tuesday and would miss the next week's contest with Cincinnati.
Less than two calendar weeks removed from an intrusive knee procedure, Clarett sparsely missed a beat against Indiana, gaining 106 yards on 21 touches scoring three times in the process. The hail-dent deep chinks in the armor, however, became painstakingly visible for the first time the following week when Ohio State traveled to Evanston to take on Northwestern. Despite accounting for his fourth straight 100-yard afternoon, Clarett coughed the ball up three times, was captured on camera screaming at running backs coach Tim Spencer, and ultimately was depicted on-air crying. The late Randy Walker's group fought Ohio State to a closer than the score appeared 27-16 loss, but Clarett looked every bit the immature 18-year old he was for the first time on a national platform. Had YouTube been en vogue at the time, there's no doubting Tom Hanks/Clarett montages and an assortment of varied other MoC No More Tears memes would've quickly reached the saturation point. San Jose State the following week provided the platform for another box score busting stat aggregation afternoon for Clarett. The freshman would finish the game with 132 yards on 18 carries scoring three times including a continued display of his exceptional hands with Clarett finding himself on the receiving end of a touchdown. The next road test would go onto define the final third of Clarett's lone season in Columbus.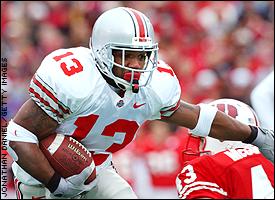 Heading into Madison on a chilly afternoon which saw temperatures barely in the 40's at kickoff, Clarett started things the same way against Wisconsin he finished against San Jose State breaking the game's first carry for a 25 yard run. An ambitious Clarett run late in the first quarter would later help lead directly to points in the form of a Mike Nugent field goal. A Clarett first down would also setup the game's deciding score when Craig Krenzel found Ben Hartsock on a short touchdown throw. The tone shifted late as a strictly Tresselean drive in the final 4 minutes of the game to put the contest on ice would come at a cost. On his final carry of the game, Clarett would plow into a wall of Wisconsin defenders, suffering a pinched nerve in his shoulder that would take him out of the next week's contest against #17 Penn State, a home tilt versus #19 Minnesota that followed, and the ensuing road tests against Purdue and Illinois.
Clarett returned from his longstanding absence with Ohio State still on the precipice of greatness with but rival Michigan standing in the way of a surefire national championship game berth. His impact would be felt early as a 29-yard first down would ultimately lead to Clarett punching in a short score to put OSU up 7-3. Flashing forward to the waning moments of the fourth, you'd find the freshman in name only at that point bring in an extremely clutch 20+ yard reception to help setup Maurice Hall for the decisive score. Clarett finished the afternoon with 122 yards on 20 carries. Tempe and USC before ESPN anointed them as such, the Miami Hurricanes, now remained the lone obstacles between Ohio State, Clarett, and true immortality. Ohio State's trip to the desert would begin as ordinary as one could expect from 80 plus young men getting ready to play a football game some 20,000,000 eyes would behold to go, until the weekend prior to the Friday, January 3rd national title game. Maurice Clarett received word from friends and family back home that childhood friend Juan Bell had been shot and killed. Clarett began to demand Ohio State fly him home immediately, and ultimately became convinced the school was giving him the run around in lieu of their unwillingness to foot the expense and dismiss him from team related obligations. Clarett would tell the Associated Press:
"I guess football's more important than a person's life to them," he said. "That's why I'm ready to get this game over and go back home."
The conflict between Clarett and the school would become a recurring theme in the year to follow, though this was the first blatant sign of strife since the verbal altercation with Spencer some two plus months prior. Ultimately Clarett made peace with the situation and against the trepidation of many observers of the program found a way for it not to be a distraction in the contest itself. For many, Ohio State fan, Miami fan, or just enthusiasts of great theater alike store the events of the 2003 Fiesta Bowl in a rarefied air in their consciousness perhaps reserved only for the likes of the 2006 Rose Bowl and the 2007 Fiesta Bowl. More particular, it's the moments that linger, indelibly painted on the ceiling of the architecture internally for youdr minds eye to admire from now until your dying breath. Looking at box scores becomes an exercise in futility for games of that magnitude, instead only done justice by looking back at those goosebump soliciting still lifes that echo eternally like a timeless folk song. And yet it's difficult to dismiss that the artist in question of some of the most unforgettable frames was none other than the very same Maurice Clarett Ohio State fans were second guessing (and worse) not even seven days prior. Clarett's run down of the late Sean Taylor from behind culminating in him literally stealing possession of the ball to undo a Craig Krenzel mental gaffe lingers up there with George Teague's strip and some of the great hustle plays in the last two decades of collegiate football. The play directly lead to three points that perhaps could've been the margin of a Miami victory when Todd Sievers field goal split the uprights as time expired. It's also worth mentioning that it's rather easy to forget the specifics that it was Clarett's lunge from seemingly 15 feet out that gave Ohio State the decisive 31-24 lead in the second overtime. Ohio State would win their first national championship since 1968, and it remains impossible to think it ever would've happened without the aid of Maurice Clarett.
Jump ahead seven years and you'd see a now 27-year-old man who'd lived multiple lifetimes in that span. The frustrated young man who if he'd had the resources may have walked out on his teammates a week before the biggest moment in their season would betray the program that helped get him out and himself alike by taking illicit benefits from a local car dealership, lofting accusations of improprieties towards the school's own assistant coaches in the process. After being suspended for the entire 2003 football season, Clarett would successfully sue the National Football League for early admission to their 2004 annual first year player's draft. Clarett's post Broncos selection spiral would include time in Los Angeles living on minor celebrity's dime, alienating teammates by drinking in the team weight room, accepting an entirely provision based contract that would leave him penniless, and ultimately, dismissal from the very dream he'd spent the last two years crafting as a result of immaturity, insecurity, and a sudden infatuation with cutting corners and skirting hard work. The same Maurice Clarett that'd done everything his power to escape Youngstown had become a caricature of the man he needed to be to finish the evolution.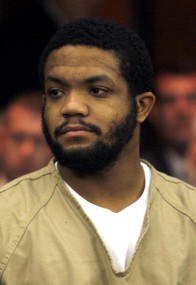 The heartbreaking freefall would reach a fever pitch in the months to follow. After a failed Arena2 stint (the Junior Varsity answer to the Arena League), Clarett would face assault and attempted robbery charges, and ultimately an anxiety, paranoia, and Grey Goose fueled OJ moment that would culminate in his arrest and seven-year prison sentence. The story overall isn't anything new, but perhaps the net result can be. Clarett was released from prison early on good behavior three months ago, and this past week raised headlines when the university confirmed he was now attending classes again. Some were vocal in stating they felt it was encouraging the very behavior that led to Clarett's downfall in the first place or that the university shouldn't owe someone of Clarett's character for the light he painted them in, while others were encouraged that having faced the consequence of his actions he was getting that final chance that perhaps lost good will prevents so many others in his shoes before him from being afforded. But maybe that isn't the right way to look at the situation in the first place. Perhaps that Jim Tressel, the same coach who's staff Clarett fingered in the wrongdoing that led to his expedited departure from the school, making it no secret that he's pulling for Clarett and has been a central cog in the gears that needed to be turned in order to make this last ditch effort for a man to resurrect his life a reality, says all we need to know about the grace being offered Clarett and the attitude merited for someone playing their last and final hand. Maybe it's more fitting to just go to the source on where he's coming from:
Above all, I shall continue to cruise along on this dry land doing whatever my heart desires. My effort in anything I've ever done has never been in question. It has just been my aim. I personally believe that I've been aiming too low. A body and mind full of endless possibilities that I cannot and will not waste it back here. I'm Youngstown's own.
There's never been any question about where Clarett was coming from. Now the only question remaining is where he's going. Welcome back, Maurice. Godspeed and good luck.