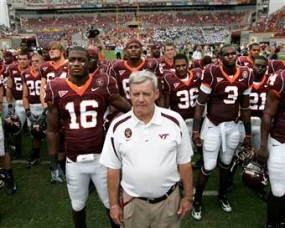 It's hard to imagine Virginia Tech without Frank Beamer. Prior to his arrival in 1987 (!), the Hokies won more than 8 games in a season just twice in the entire twentieth century. Since 1999, they have finished with 10 or more victories nine times, dominated the (admittedly maligned, and perhaps fairly so) Atlantic Coast Conference, and set up the sort of program-wide consistency most of the college football world wishes it had. Beamer and Jim Tressel are kindred spirits, if not mirror images. Shocker of shockers, their teams are rather similar too: both feature mobile quarterbacks, talent and depth at the running back position, an experienced set of WRs, an iffy-but-stable offensive line, and defenses that, while perhaps not among the school's greatest in history, figure to be top-15 units in rushing, passing and total D to finish the year. Any game featuring these two teams would likely be decided by 10 points or less. While they might not be the big SEC bull Ohio State needs to wrangle to get back in the media's good graces, Tech looks formidable in 2010.
Offense
Frank Beamer is so adept at ripping off Jim Tressel's schtick that he even has his own much maligned offensive coordinator in Brian Stinespring. Take it away,
Dr. Saturday
:
[Stinespring] seems perfectly content to grind away with one of the most pedestrian attacks in the country as long as the defense holds up its end of the bargain – see 2007 and 2008, in particular, back-to-back ACC championship seasons for the Hokies despite offenses that ranked 100th and 103rd, respectively, in total yards.
As DocSat ably explains in that piece, there's a good chance this is Virginia Tech's most stacked offense talent-wise since the heady days of Michael Vick in 1999.  Tech is blessed with two great running backs: Darren Evans was a 1,200 yard rusher in 2008, but injury forced him to sit out the 2009 season. In comes redshirt freshman Ryan Williams, who didn't break a sweat in rushing for
1,600
yards, setting all sorts of freshman records for the Hokies on his way to 
21
touchdowns. Tyrod Taylor has come along as a passer since a miserable sophomore season, but he has roughly as much - if not more - to prove than Terrelle Pryor in his last season as a Hokie. If he can become a consistent passer, Tech goes from probable ACC champ to serious title contender, right alongside the Buckeyes and the Tide.
Defense
Things are actually a tad shaky for Tech on defense heading into 2010: they lose leading tackler Cody Grimm, sack leader Nekos Brown, and multi-year starter Kam Chancellor. Two key players return, however: solid ILB Barquell Rivers and Rashad Carmichael, who snatched six interceptions in 2009. Given that Tech has finished in the top-15 in total defense in each of the last six years, it's doubtful that such attrition will mean much in the long run.
How do they match up with the Buckeyes?
Offensively, they're strong where we're strong, and weak where we're weak. Unless Taylor turns the corner as a passer, Tech's passing game should leave the relatively-vulnerable Ohio State secondary untested, but containing Williams, Evans and Taylor on the ground will be a challenge for any defense. Offensively, Ohio State might have enough talent at wide receiver to give Tech's secondary and linebackers difficulty from spread looks, but the run blocking would have to come up big - far bigger than it did in the Rose Bowl - for Ohio State to establish any consistency on offense.
The Schedule
| Date | Opponent |
| --- | --- |
| September 6th | Boise State |
| September 11th | James Madison |
| September 18th | East Carolina |
| September 25th | @ Boston College |
| October 2nd | @ NC State |
| October 9th | Central Michigan |
| October 21th | Wake Forest |
| October 30th | Duke |
| November 4th | Georgia Tech |
| November 13th | @ UNC |
| November 20th | @ Miami |
| December 4th | Virginia |
As I said, it's relatively rough, even with cupcake James Madison in the second week. The game against Boise State might be a home game, but I'm bullish on the Broncos, as you all know. East Carolina, of course,
actually beat the Hokies
just two years ago. Still, things don't get really tricky again until the game at Boston College, and after that, it's essentially a month-long break until murderer's row:  Georgia Tech at home, then UNC and Miami on the road. The Yellow Jackets beat Tech at home last year, while UNC pulled off a miracle in Blacksburg, so neither game would be a particularly surprising loss. Miami is a top-15 outfit this year as well. So in the end, Tech is also a mirror image in terms of its schedule: a big non-conference outing followed by a few games against patsies, one big conference game as we approach the middle of the season (Wisconsin for us, BC for VT) and a solid set of teams to end the season (for Ohio State: PSU, Iowa and Michigan).
Can it happen?
If it happens, it'll have to be in the title game. With the new tie-in agreements, the Big Ten has no postseason
sparring contests with the ACC
(gotta save all that pent-up energy for The Challenge, amirite?). Thus, both teams will have to run the table. I don't consider this particularly likely. I think Virginia Tech will drop one before the season is over. Of course it
could
happen, but it might be the least likely title game scenario involving Ohio State outside of perhaps their opening week foes from Boise.
Why am I excited?
Because, as I have already shown, these teams have a lot in common. Beamer and Tressel have had a lot of success, but still aren't always recognized as top-5 college coaches for their relatively minor failures. One would have another failure to add to his list if he loses a game likes this sure, but a clash of two teams so alike in nature usually results in an instant classic.
Why am I not enthused?
Because Tech, like Oklahoma and Ohio State, has a nagging reputation for big game flops. While I doubt we'll care if we win, the win would likely be downplayed as best it could be nationally (as would also likely happen for a win over Boise State, as many of you aptly pointed out). Still, a MNC's a MNC, and there are few teams in the country that would make as great a foil for the Buckeyes as Virginia Tech would.