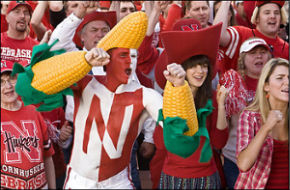 UPDATE (5:40PM): It's now officially official:
Park Ridge, Ill.— The Big Ten Council of Presidents/Chancellors (COP/C) announced unanimous approval today for the University of Nebraska-Lincoln (UNL) to join the Big Ten Conference effective July 1, 2011, with competition to begin in all sports for the 2011-12 academic year. UNL will also seek admission into the Committee on Institutional Cooperation (CIC), which can occur on or before July 1, 2011.
---
Making it finally somewhat official, Nebraska chancellor Harvey Perlman just informed assembled media that he had asked university regents for authorization to move from the Big 12 to the Big Ten. After receiving the go-ahead, the Cornhuskers would still technically have to apply for membership in the Big Ten, but you don't go telling the press these things unless that part of the process is a slam dunk.
So, like, welcome, Nebraska!
Other nuggets:
The Big 12 wanted a commitment from the Cornhuskers through the 2016 season, but Perlman and Tom Osborne did not think that did much for the long-term viability of the conference.
Nebraska hopes it will be able to begin competing athletically in 2011, though the university would like to begin taking advantage of the Big Ten's CIC perks as soon as their application is approved.
Perlman rejected the notion that the Cornhusker's move was going to cause the fall of the Big 12, saying "One school leaving a conference does not break up a conference."
Osborne said he twice asked coaches and administrators what their preference would be and on both occasions, the vote went unanimously to the Big Ten.
Nebraska will hold a more formal press conference with Perlman and Osborne at 5:00pm (CT) and it will be covered live on the Big Ten Network.
Regardless of how many other teams the Big Ten ultimately ends up adding, it's looking like a conference championship will take place after the 2011 season. Where do you want to see it? Soldier Field, Lucas Oil Stadium, and Ford Field are early venues being floated.