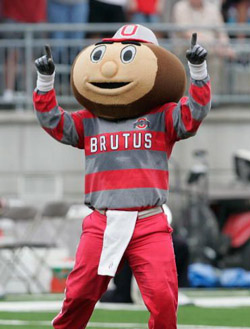 Much chest-thumping has occurred around these parts after the Buckeyes wrapped up their third Big Ten Triple Crown1 in the past five years. And rightfully so -- no Big Ten program had ever won football, men's and women's basketball championships in the same school year and the good guys (and gals) have now managed to do it in three of the past five years.
The teams have amassed an amazing 172-42 record over that span with Jim Tressel (36-4) and Jim Foster (75-13) looking to add their sixth-straight conference crowns when the new school year begins in the fall. In the three most-attended sports in the conference, the Buckeyes have been nothing short of dominating since 2005.
One thing that's been out of their collective reach, however, has been a Big Ten flush full house, so to speak. That is, winning the regular season conference crowns in the three sports while also tacking on league tournament titles for the two hoops teams.
In 2005-06 and 2006-07, the program came tantalizingly close, taking four of the five crowns. In 2006, the three teams won regular season championships with the women going on to win the Big Ten tourney, but the men losing to Iowa in the tournament championship game. The next year, it was flipped: Matta's team, powered by Oden and Conley won the tournament, but Foster's crew lost in the finals after compiling a 15-1 regular season mark.
Will this be the year?
We'll get the turn card today when the Lady Bucks take on Iowa (4:30PM ET/ESPN2) in a bid to repeat as tournament champions. If things go according to plan, we'll have something a little more than a potential one seed to cheer for when the men hit the court in Indy Friday to take on the 8/9 winner.