Though they might play second fiddle to their all-decade offensive and defensive football brethren, our All-Aughts Basketball Buckeyes squad is still a highly impressive group. Following suit with Matta's recruiting style, our roster is perimeter heavy but with a couple big time shot blockers in the paint, we think they stack up well with anyone.
As with Tressel's crew, it was difficult to shave the roster down to 12, with two alternates, so we're expecting some debate but at the same time, there are plenty of obvious selections that separated themselves from the pack.
Starting Five
To us, the starting lineup was a virtual slam dunk especially since we tried to run five out there in their natural positions. These dudes can ball:
PG Mike Conley (2006-07) I'm still amazed that some readers here undervalue Conley's contributions to a team that lost to Florida in the national title game. Conley was the ultimate distributor that could also look for and create his own shot enough to keep opposing defenses honest. He led the Big Ten in assists (6.1) in his one and done season and came up absolutely huge in both the conference and NCAA tourneys.
He keyed the Big Ten championship win over Wisconsin and while Ron Lewis will rightfully be forever remembered for his dagger against Xavier, it was Conley who kept OSU in the game. He scored 21 points, including 11 in overtime while throwing in three blocked shots taboot in a masterful performance against Drew Lavender. He's also the school leader in single season assists (238) and steals (87).
SG Michael Redd (1997-98 - 1999-00) A silky smooth lefty slasher, Redd hadn't quite honed the sharpshooting skills he now shows off in the pros but that didn't stop him from lighting up the scoreboard in Columbus. Redd averaged 21, 19 and 17 points per game for the Bucks and helped lead them to the Final Four as a sophomore. His prolific scoring is good enough for 5th on the OSU career points list (1,879) and he's got a shiny Gold medal thanks to his contributions on Team USA's Redeem Team in 2008.
SF Evan Turner (2007-08 - Current) Though the junior's time hasn't yet expired in Columbus, the Villain is a first team lock especially at his natural small forward spot. Turner showed glimpses of the scoring and versatility to come as a freshman averaging over 27 minutes, eight minutes and four boards before taking it to another level as a sophomore. Falling just short of conference POY honors, Turner led the league in scoring (17.3), placed 3rd in rebounds (7.1), 4th in steals (58) and 8th in assists (131) while leading OSU in every statistical category you can think of including points, rebounds, steals, assists, field goals and free throws made and defensive boards.
Before getting injured against Eastern Michigan, Turner had already racked up two triple-doubles and was averaging 18.5 points and 11.4 boards per night. Without question, the Blue Ribbon Magazine preseason All-American would do crazy damage from the wing with this group.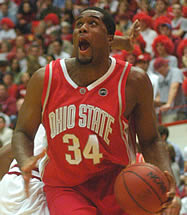 PF Terence Dials (2001-02 - 2005-06)
A true back to the basket power forward, Dials overcame a back injury that forced him to medically redshirt six games into his sophomore season by scoring 10.4, 15.9 and 15.3 points per game over his final three years in Columbus. His 1,566 points are good for 12th on the OSU career list.
The Big Ten POY as voted by both coaches and media following his senior season, Dials was a legit glass eater and his 876 boards are good for 5th in school history. His dominating senior campaign saw him reach double figures 26 times, going for over 20 on seven occasions thanks to excellent footwork and a smooth baseline stroke.
C Greg Oden (2006-07) In a wicked hint of foreshadowing, the big fella made his collegiate debut featuring a brace on a right wrist that required surgery in the summer leading up to his one and only season in Columbus but it wouldn't stop him as he recorded 14 points and 10 rebounds in 23 minutes of action. Restricted for much of the season, Oden even shot lefty free throws on his way to 15.9 points, 9.6 boards and 3.3 blocks per game.
A humble, easy to root for guy, Oden started to find his healthy stride late in the season posting four straight dub-dubs including 17/19 on Purdue to clinch a spot in the B10 tourney finals followed up by 12/10 in the slugfest of a championship game. He would face foul trouble during the run to the finals limiting him to just nine points and three boards in 18 minutes in the amazing comeback win over Tennessee before a 17/9 showing in a blowout of well-spoken Joey Dorsey and Memphis. More foul trouble stapled Oden to the pine for half of the 67-60 win over Georgetown but he would finally blow up in the championship game loss to Florida. The big man dominated inside with 25 points, 12 boards and four blocks but the Gators depth and experience overwhelmed the Buckeyes. Still, it was great to see Oden finally put it together in his farewell to Ohio State.
The Bench
We kicked around over a dozen names as we tried to whittle the bench down to seven players. I'm sure there will be much more argument over these guys compared to the starters. Here's a look at the reserves:
Scoonie Penn (1998-99 - 1999-00) One could easily make a case for Scoonie as a starting PG considering all he did leading his team to the Final Four. Penn was an extension of O'Brien on the floor and his will to win was contagious. He averaged 16.9 points per game in year one then another 15.9 per game in year two earning 3rd team All-American honors both years. Dude had a crazy quick release and we particularly loved his penchant for draining pull up threes on the break.
Jamar Butler (2004-05 - 2007-08) While some remember him for less fondly for blowing up at his teammates a few times in his final season, there's no denying Butler a spot on this squad. He scored 1,313 career points and holds the career (242) and single season (104) record for three pointers made. Not just a scorer, he's also the school's career leader in assists and ranks second with 219 assists in a single season.
Ron Lewis (2005-06 - 2006-07) Statistically speaking, Lewis may not be as viable a candidate as some others but he makes our team thanks to his explosive scoring ability (12.7) during the 2007 Final Four season. He went for 30 in an Oden-less loss to UNC in the midst of reaching double figures in nine of OSU's first 10 games then closed the regular season scoring at least 10 points in six of seven. Of course, he's most remembered for his exploits in the NCAA tournament in which he went for 22 in the stomping of Memphis, 25 in the Defibrillator inducing charge over Tennessee and 27 in the overtime comeback against Xavier in which he scored 10 of OSU's final 14 points in regulation including the famous rise and fire triple from the top of the key to force overtime.
Brent Darby (1999-00 - 2002-03) Another deep threat, Darby averaged 12.8 points per game as a junior before blowing up for 18.3 ppg as a senior and ranks 3rd in school history with 153 made three pointers. He reached double figures in 30 of 32 games during his senior campaign and went for at least 20 in twelve games including 35 in a loss to Duke.
Brian Brown (1998-99 -2001-02) A more perimeter oriented version of current glue-guy David Lighty, Brown improved each year after coming in hyped as a defensive whiz out of Brooklyn with fellow Buckeye Will Dudley and even started in the NCAA tournament in place of Jon Sanderson. In the following years, he would improve his scoring from 8.9 as a sophomore to 14.5 as a junior and finally 16.3 as a senior. He also averaged four boards from the guard spot three straight years. Brown ranks 8th in career assists.
David Lighty (2006-07 - Current) We were torn between George Reese and Lighty as our backup kinda-power-forward but finally gave the nod to D-Light. His value is dramatically impacted by extreme versatility at the defensive end and we love the way he takes the ball to the rim even if he struggles from the stripe when hacked in the act. Lighty has stepped up huge in the wake of Turner's injury and finds himself averaging 14.4 points 5.5 boards, 3.1 assists and nearly two steals per contest after missing 26 games last year with a broken foot.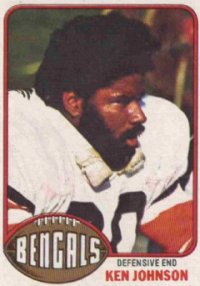 Ken Johnson (1997-98 - 2000-01)
Adding some much needed front line depth, Ken Johnson rounds out the roster providing insanely prolific shot blocking ability. The slender center remains OSU's career shot block leader (444) thanks largely to the two best single season swat totals (161, 125) in school history.
Amazingly, Johnson averaged 5.4 blocks per game in 2000 and boasts single game totals of 11 blocks (twice), nine once and eight in a game four times. Little known fact: The Ohio House of Reps passed a law during Johnson's tenure requiring fans in the first 10 rows to wear helmets as a safety precaution against swats entering the crowd.
Johnson was another guy O'Brien got the most out of as KJ grew into a decent scorer (12.5 ppg) as a senior after coming to OSU with virtually zero offensive game.
Alternates (AKA this team needs a few token white dudes as Co-Captains)
In the spirit of equality, we feel compelled to expand our roster to 14 and with that, two extremely obvious names come to mind. Not only are these two alternates but we've decided to go ahead and name them co-captains of this All-Aughts crew.
Matt Terwilliger (2004-05 - 2007-08) Twigs, Turdwiggler, Air Terwilliger, The Wiggler. Call him what you will, just don't say he didn't have a mean midrange baseline jumper. I'm not sure how it all shook out once his career was finished but I know that through December 31, 2007, Ohio State was 26-0 in games Matt scored at least four points. If that isn't All-Aught material then I don't know what is.
Mark The Shark Titus (2006-07 - Current)
An obvious selection, there's no way you amass an All-Aught squad without Titus at the end of the bench. Ever consistent, Titus is rocking a .20 per game average in points, boards, dimes and personal fouls this season and his
assist/turnover ratio
is off the charts. Admittedly, he's been a little disappointing with only one trillion but the season is young.
Full disclosure, we added Titus with the hopes his wife, Erin Andrews-Titus would attend all the games so we have something to chub over during TV timeouts.
Honorable Mention
Depending on our mood, we could've made a strong case for numerous other Buckeyes, most notably George Reese, Othello Hunter, Ivan Harris, Je'Kel Foster and J.J. Sullinger. Reese was an underrated beast at the four and Hunter was a favorite thanks to his freakish athleticism. J.J. was also hyper athletic and Foster's leadership and hard nosed style was more than we could've hoped for from a juco. So where'd we miss the boat? And don't even start with the Fuss-Cheatham, Boban Savovic or the only 6'8" non-white guy OSU ever had that couldn't dunk, Zach Williams.