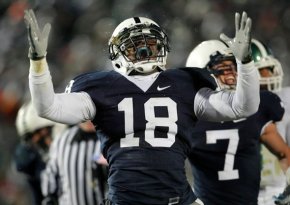 After running down the recruiting misses in the classes of 2007 and 2008, we bring you the third installment of this four part series as we take a look at the players in the class of 2006 that chose not to become Buckeyes.
The class of 2006 was not filled with star-studded names on this missed list for the Buckeyes as most of the players they targeted ended up making it to Columbus. Because of this, the "glad we passed" category in this week's post is a tad longer than the previous two segments of this series and the "wish you were mine" category is a little on the shorter side.
With that in mind, here is the rundown of the recruiting misses of the class of 2006:
The Full List Of Culprits Juice Williams (Illinois), Demetrius Jones (ND-UC), James Aldridge (ND), Kylan Robinson (Miami), Dorin Dickerson (Pitt), David Ausberry (USC), Josh Chichester (Louisville), Chris Slaughter (Auburn), Andrey Baskin (Prep School), Anthony Bowman (Iowa), Wes Lyons (WVU), Sean Gottschalk (UVA), Justin Boren (Michigan-OSU), Joe Thomas (Pitt), Kiante Tripp (UGA), Aaron Brown (Va. Tech), Jason Pinkston (Pitt), Kyle Sheehan (Purdue-S. Dakota St.), Ben Alexander (Texas), Corey Peters (Kentucky), Alex Dekle (Miss. St.-JuCo), Johnnie Troutman (PSU), Jason Adjepong Worilds (Va Tech), McKenzie Matthews (Pitt), Bryant Miller (Auburn), Steven Wesley (Miami), Alex Albright (Boston College), Akeem Hebron (UGA), A.J. Jones (Floria), Navarro Bowman (PSU), Cobrani Mixon (Michigan-Kent State), Colin McCarthy (Miami), Bani Gbudyu (PSU), Elijah Fields (Pitt), Bryan Thomas (Florida), T.J. Porter (Pitt), Ryan Hill (Miami), A.J. Wallace (PSU), Ashton Henderson (Michigan St.)
The Ones That Got Away This list only includes six players from the class of 2006 that received Buckeye offers and ended up playing elsewhere.
Josh Chichester was originally committed to the Buckeyes in the class of 2005, but off the field troubles coupled by academic issues lead this two-star athlete to continue his football and basketball careers at prep school. He ended up at Louisville and has contributed early on the gridiron for the Cardinals.
Joe Thomas of St. Edwards in Cleveland has been a three year player for Pitt and the Bucks sure could have used the versatile lineman at guard this past season. Thomas will play right tackle in his senior season for the Panthers and certainly could have competed at a number of positions on the offensive line if he chose to be a Buckeye.
Aaron Brown is another offensive lineman who turned down the Buckeyes and chose to play at Virginia Tech. The Cincinnati native has been plagued with injuries throughout his Hokies career and it seems like he may have been buried on the OSU depth chart anyway.
Alex Albright is another Cincinatti native who chose to go out of state to play his college football. Albright plays for Boston College, but missed the 2008 season due to injury despite showing some promise in 2007.
Cobrani Mixon chose to head to "the school up north" from Colerain High School, but things didn't work out and the linebacker now suits up for Kent State. It seems the Buckeyes made a wise choice by not recruiting Mixon too hard.
Finally, everyone's favorite, Justin Boren, decided to keep the maize and blue in the family and head to Ann Arbor, but we all know how that turned out. I can't wait to see Justin take it to his old teammates in the Big House this November.
Wish You Were Mine Ohio players aside, this list is compromised of David Ausberry, Corey Peters, Jason Adjepong Worilds, Navarro Bowman, and A.J. Wallace.
Ausberry may not put up the gaudy numbers you expect from a USC receiver, but expect him to do big things in Ohio Stadium for the Trojans this year. The 6-4 receiver is just what the Buckeyes need after the loss of the Brians and could play immediately at OSU.
Peters chose to stay in-state and attend Kentucky over making the jump one state east. He tallied 35 tackles (9 for loss) and 4 sacks last season at defensive tackle for the Wildcats and depending on what Dexter Larrimore does this season, Peters may have been a better get in the '06 class.
Worilds, who changed his name legally from Adjepong, lead the Hokies with 8 sacks last season. He is expected to be one of the top defensive linemen in the nation next year and although OSU has a very good group of ends, Adjepong is a guy you want on your side.
Bowman was one of the tougher players to put on this list because he is so good on the field, but has had some trouble off of it. There's no doubt I want his talent and athleticism, but do we really want players of his character in Columbus?
Finally, A.J. Wallace will be Penn State's number one corner back this season and will continue to contribute in the return game. The Bucks can use a boost at both positions and if you remember correctly Wallace was the one who returned the kick (although the game was out of hand) at the end of the OSU-PSU game in Happy Valley two seasons ago.
Glad We Passed This list is a little bit bigger than the previous two and includes Demetrius Jones, Kylan Robinson, Dorin Dickerson, Andrey Baskin, Sean Gottschalk, Wes Lyons, Kyle Sheehan, Alex Dekle, and Akeem Hebron. There are some players in this class that are lucky I spared them, but this group makes me happy with Ray Small's production.
Everyone knows Demetrius Jones as the quarterback who couldn't hack it at 3-9 Notre Dame and transferred to Cincinnati. Well word is that Jones couldn't even learn the UC playbook and now has been moved to linebacker for the 2009 season. Who knows what would have happened if the Buckeyes landed Jones, but I'm certainly more content with LiC.
Robinson was a star high school running back who became a linebacker for the Canes. He hasn't lived up to the bill and has totaled 3 career tackles since making his way on campus in fall of 2006.
Dickerson was a top 5 rated receiver coming out of high school and has only grabbed 14 passes for 179 yards and 2 touchdowns during his time in Pittsburgh. Shows how much we should value the star-rating system.
Baskin was a Syracuse commit a wide out but never played for the Orange after he didn't qualify, not once, but twice, after attending prep school in 2007. Not The Vest's type of player I can tell you that.
Gottschalk was moved from tight end to defensive end by Virginia and he is not second coming of Chris Long. Four career tackles just doesn't do it for me and I'm glad we landed Jake Ballard over him to play tight end.
Lyons, the brother of former Buckeye Devin Lyons, was offered late in the process and chose West Virginia where he has caught 22 passes for 254 yards and 0 (yes, zero) touchdowns in three season of play. I have a feeling Wes's career would have been very similar to Devin's had he come to Columbus.
Sheehan was a top defensive line prospect from Minnesota who couldn't even make it one full season at Purdue. He transferred to South Dakota State and the rest is history. Here's one player that certainly justifies offering Larrimore a scholarship.
Alex Dekle is in the same boat as Sheehan, although he lasted at least through one season at Mississippi State before transferring to Junior College. Dekle has the physical tools to play Division I football, but his mental toughness has been brought into question on many MSU message boards.
Hebron attended Military School for a year before joining the Bulldogs and now that he has landed in Athens, he has not been able to stay healthy. Once a highly rated linebacker, Hebron would have a hard time making the cut in Scarlet and Gray.