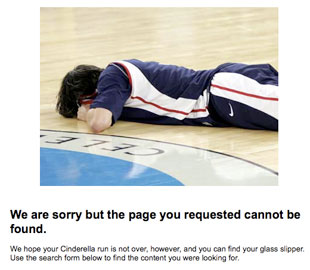 Sticking with today's theme of technical troubles, I ran across this 404 page on NCAA.com of all places.
For those not wearing pocket protectors or just finding their way to the internet, 404 is of course the error code returned when a page (or image or other asset) cannot be found on the server. The pages sites use to handle this can be informative, clever, funny or just downright strange -- there are even galleries of some of the finer examples out there.
And here is the staid NCAA with Adam Morrison on their 404 page.
On the ground.
Most likely crying.
Awesome.