Despite the SC game, the Buckeyes have only the 5th-toughest nonconference schedule in the Big Ten. This according to Matt Hayes of the Sporting News, who thinks the Michigan State has the toughest series with a game at Cal and home tilts against Notre Dame and Florida Atlantic, the reigning Sun Belt champ.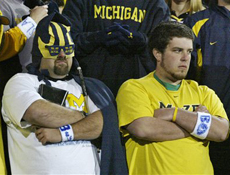 Though you can make an argument that going on the road to play the Trojans is worth about five trips to Berkeley -- ewoks aside -- OU and Youngstown State sit here staring at us like 2-7 unsuited. So give Hayes that, but what really struck me are his thoughts on Utah's upcoming visit to the Big House:
I don't know about you, but that Utah game at Ann Arbor in Michigan's season opener has upset written all over it. New system, new quarterback, new uniforms, first time in front of 100,000-plus with the new coach, etc. And Utah is pretty damn good -- No. 5 in the nation in scoring defense last year, and a ton of experience returning. One more thing: the Utes have a streaky, dual-threat quarterback (Brian Johnson) who can get hot.
Upset written all over it? How about that game will be darn near a pick-em when it goes off? Both squads should start the season in the "others receiving votes" camp and most importantly, the bot has Utah as his 14th-best team. No doubt due to all of their returning talent. Rodriguez Year One won't be the complete disaster some Buckeye fans are praying for, but this Utes team would probably be able to give a good Carr squad a run. Michigan blogs do seem to have taken notice of this threat, so it won't be the sneak attack we saw in last year's opener, but I don't think you can call a potential Utah win an "upset".
---
While we're talking nonconference schedules, have you seen LSU's slate? Appalachian State, a late addition, is the marquee game. The other three games are against Troy, North Texas and Tulane. I know, I know. They play in the SEC, which is like, three times as difficult as playing in the AFC. Or something.
---
If the Big Ten is looking for a 12th team, which I believe it should be, they can probably officially cross Notre Dame off of their list. Despite sagging ratings, the Irish have inked an eight year extension with NBC, effectively ensuring independent status through 2015. You hear Rutgers and Pitt and UC, but who would be your choice to become the conference's 12th member?
---
And finally, this is just brilliant.