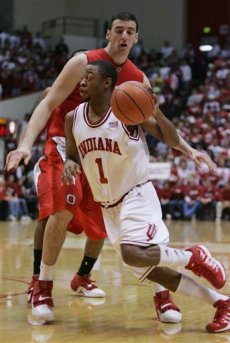 In a game that followed an all too familiar blueprint, Ohio State started slow before fighting back only to shoot themselves in the foot with bad turnovers and poor shooting down the stretch in a 72-69 defeat at Indiana.
Fighting for their tournament lives, the Buckeyes have now lost three straight and five of the last seven.
Stage one of the blueprint, the slow start, came in the form of a 10-0 Indiana run capped by an Eric Gordon three right before the first TV timeout after a Kosta Koufos triple gave OSU a 3-0 lead.
Following 3 points from some kid named David Lighty, the Hoosiers went on an 8-1 run featuring two monster dunks from DJ White and another from Jordan Crawford as the Buckeyes hemorraghed offensive rebounds. Shortly thereafter, Armon Bassett scored 10 straight points pushing Indiana in front by 13 at 30-17 with 2:36 left setting up stage two.
Evan Turner parlayed a steal into a dunk and Jamar Butler hit a short jumper to cut the deficit to 30-21 at intermission in spite of the Buckeyes shooting just 8% from deep (1/12) while giving up 12 offensive boards.
Inspired by the late mini-surge, Kosta Koufos took over in the second half scoring 9 points in an 11-4 run that saw Indiana's lead shrink to 34-32 with 15 minutes to go.
After a another dunk from DJ White gave IU a 41-35 lead Koufos responded with 6 straight Buckeye points sandwiched between a White free throw to draw Ohio State to within one (42-41) at the 10:59 mark moving us to the next stage in the blueprint.
Stage three started innocently enough as OSU raced down court on a 3-1 fastbreak but a Butler pass went off Turner's hands and out of bounds blowing a sure layup with OSU trailing 49-46. On cue, Indiana got a lefty leaner from Jamarcus Ellis pushing the lead to 51-46 in what I believe was the most decisive sequence in the game. Turner did respond with a conventional three point play cutting the lead to 51-49 at 5:09 but the damage was done.
The Buckeyes were held scoreless the next two minutes behind a miss from Othello Hunter and crushing turnover from Koufos allowing IU to score 7 straight points to go up 58-49. After fighting back to 61-56 Koufos again doomed the cause throwing the ball out of bounds following a rebound of a Butler miss. As good teams do, Indiana promptly buried 9/10 free throws in the final minute to claim the W.
---
Props to the Buckeyes for showing a little passion on the road following the home loss to Wisconsin as I truly thought they'd mail it in. That said, the game will only be remembered as another missed opportunity in a mediocre season that does not yet have a quality win. Sure, they beat Syracuse and Florida but neither of those teams were any good at the time.
It's a shame Kosta made a few mistakes late because he had a monster second half against the best player on arguably the best team in the conference. His 18 points on 7/12 shooting kept OSU in the game after a poor first half in which he shot a flimsy 1/6. Overall Koufos netted 21 points, 6 rebounds, 4 blocks and 2 steals to offset the 3 big turnovers.
Evan Turner's game had the same flavor as he tallied 13 points, 7 boards, 4 assists and 2 steals but amassed a staggering 5 turnovers including 3 crucial second half miscues. I'm still super high on Turner but the turnovers give me heart palpitations.
Butler and Hunter each scored 12 points while Jon Diebler took a step back shooting just 1/6 with 3 turnovers. Hunter was effective inside adding 6 rebounds in addition to the 6/9 shooting.
OSU will look to end their slide this Saturday against the Gophers. Feel good about that one? Neither do I and it just might be the best chance to get a win before the conference tourney.
What a difference a year makes.