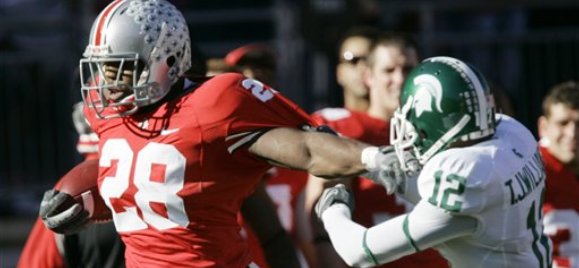 Beanie Wells has taken his share of shots this year regarding his toughness. Either everyone was wrong, or that criticism has made him stronger as evidenced by today's 31 carry, 221 yard, 1 TD performance in a 7 point win against the Spartans. The 9th best rushing effort in OSU history got an early start as Beanie led long scoring drives on Ohio State's first two posessions with runs of 48 and 35 yards leading to a 10-0 cushion with 4 minutes left in the opening quarter. The lead would increase to 17-0 on Beanie's 5 yard TD run on the heels of Doug Worthington's interception giving OSU the ball at the Spartan 29 yard line.
The 17-0 halftime lead appeared to be more than enough to move OSU to 8-0 considering the dominance of the Buckeye defense but there was also the sense that Tressel buttoned up the offense a little early giving MSU an opportunity to hang around. That point not withstanding, the Buckeye offense still had enough to muster a 3 play, 70 yard drive midway through the 3rd quarter giving OSU a 24-0 lead before the offense slipped into the fifth dimension.
QB Todd Boeckman stained what was an otherwise solid performance tossing a 54 yard INT for a TD then promptly fumbled on the ensuing possession giving up another TD trimming the OSU lead to 24-14 with 3 minutes left in the 3rd quarter. It wasn't all Boeckman's fault as the line failed to pick up blitzes and guard Ben Person racked up 3 false starts in another sporadic performance by the offense but in a season where survival is truly what counts, Beanie took over in the 4th quarter. The man carried the ball on 13 of OSU's final 15 plays (two drives) chewing up 59 yards and 9 of the final 12 minutes to secure the win. It was simply a dominant performance and seems to have gone a little underappreciated, at least in the initial game summaries I've seen.
Not to be outdone, the Silver Bullets again brought the heat holding the supposedly explosive Spartan offense to 3 points on just 185 total yards including only 59 on the ground. The defense was so dominant that MSU ran just 3 plays in OSU territory through the first 3 and a half quarters and only 8 plays for the entire game. That, my friends, is domination. The pundits likely won't see it that way and will again attack the Buckeyes for their schedule but the fact is that this game was another complete mismatch if you subtract two plays from the equation.
---
OFFENSE:
As usual, the offense got off to another quick start behind Beanie's big runs and Todd Boeckman's early marksmanship but sputtered for most of the 2nd half. Am I being too critical or does it appear this team lacks a killer instinct sometimes triggered by the tendency to become over conservative with the playcalling? After taking the 17-0 lead in the 2nd quarter and before the final two drives where Beanie took over, the Buckeyes either punted or turned the ball over on 5 of 7 possessions and committed numerous unforced penalties. I can only hope this was part of Jedi Tressel's master plan to ensure a focused week of practice before heading to Happy Valley, the site of OSU's last conference loss back in 2005.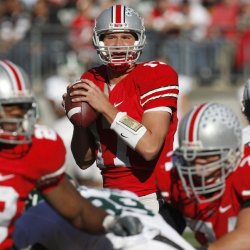 Getting back on the postive tip, Boeckman showed what he's capable of early, connecting on his first 10 passes including a 14 yard TD strike on a nice grab by TE Jake Ballard and later a 50 yard TD pass to Brian Robiskie giving OSU a 24-0 halfway through the 3rd quarter. Boeckman appeared in total control hitting 7 different receivers and tying a school record with 12 straight completions before making two poor decisions in the face of the blitz. The real issue to ponder is whether or not Boeckman can avoid the big turnover in tight spots as the Buckeyes hit the meat of the schedule. On paper, the PSU game is a mismatch but the Bucks have shown they're no stranger to struggling in Beaver Stadium and a couple turnovers could prove fatal to what could be a magical season.
The up and down performance by the offense certainly drew the ire of Kirk Barton as he's been around long enough to realize the Buckeye offense is playing with fire:
"When your foot is on that jugular, you have to kill that fool,'' offensive tackle Kirk Barton said. ''You don't just back off, let him stand up and punch you a couple of times and then knock him back down.''
One last thought before we move to the defense - Is there any reason Brandon Saine seems to be morphing into a wideout? I know he's got hands and Tressel loves Mo Wells, but Saine loses that double-threat effect on a defense if he's constantly split out or going in motion. It's not like Mo was having a great day with 9 carries for 18 yards.
---
DEFENSE: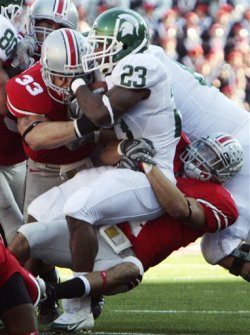 We keep saying it, but you know the Buckeye defense is impressive when it's more exciting to watch them on the field instead of the offense. Today's effort continued the season long dominance of the Silver Bullets as they held the Spartans to 3 points on 10 total possessions allowing just 59 rushing yards to the nation's #9 ranked rush offense coming in at 242 ypg. RB Javon Ringer was held to 49 yards on 18 carries after averaging 178 ypg in conference play. The Spartans didn't fair much better through the air as Brian Hoyer was held to 12/24 for 126 yards including a Doug Worthington interception at the MSU 29 setting up Beanie's 5 yard TD to give OSU a 17-0 lead.
For the game, Jim Heacock's group forced 7 punts including five 3-and-outs led by James Laurinaitis' team high 12 tackles. The five 3-and-outs brought the season total to 49 on 103 possessions equating to an amazing 47% rate. The swarming defense stopped MSU on 10 of 13 third downs and allowed just 4 plays of over 10 yards. Yes, you read correctly. Just 4 plays over 10 yards and two of those occurred on the Spartans final drive. That's why it's more fun to watch the defense this season. They keep their intensity for the full 60.
---
SPECIAL TEAMS:
The special units had an up and down day as Ryan Pretorious nailed a 42 yard FG in a windy Shoe but later had a 37 yarder blocked. The FG unit needs to get it together before next week if Tress is going to play close to the vest in the hostile environment. I'm too lazy to research exactly how many have occurred but blocked or botched FG attempts are getting a little too commonplace for a championship team.
---
NOTES:
The Buckeyes wore #23 decals on their helmets in honor of Ron Springs who is still in a coma down in Dallas... Hoyer's 2nd completion came in the team's 4th possession...The defense didn't allow a TD for the fifth time this season...Ohio State is now 65-9-1 when ranked No. 1 in the country...The offense has scored on the opening drive in 4 straight games and 6 of 8.