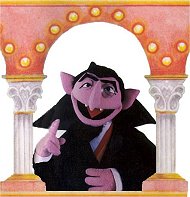 Former Buckeyes Teddy Ginn, Anthony Gonzalez and Troy Smith have decided to honor this blog by wearing number 11 for their rookie seasons in the NFL.
Gonzo, of course, wore 11 during his days as a Buckeye, while Smith's 10 and Ginn's 7 were already taken by "veterans" that beat the two into the league by only one season, prompting the switch. Just goes to show you how low rookies rate on the NFL caste system. First round pick? Doesn't matter. Gibran Hamdan already has your number, Teddy.
Sure, word's floating around that Ginn will switch to 19 to honor his father, but that's assuming he can take it from fellow rookie wide receiver Blazin' Gabe Hatchett. You know who our money is on.