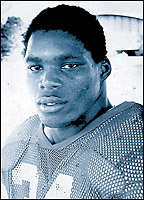 Mark Bradley of the AJC has the story of Georgia's pursuit of Herschel Walker and how it took the game of recruiting to a whole other level. Vince Dooley and staff's efforts to lure the all-galaxy prospect to Georgia wreaked havoc on their marriages with one assistant practically moved into a cabin near Walker's home for the better parts of winter and spring. All this at a time when recruiting meant a few visits and phone calls around the state.
Ultimately, Georgia's efforts paid off:
Herschel is regarded as the Elvis of football recruiting. The chase for Herschel was the flashpoint for the evolution of a low-key ritual into a high-volume mania. Georgia signed Walker and won the national championship eight months later, and that unprecedented cause-and-effect left everyone awaiting the Next Herschel.
The hysteria that surrounds recruiting today is a little much and an argument can be made that we'd still be where we are today with or without Walker's story. What is not up for debate is the fact that if there was ever anyone worthy of kick-starting this masterbatory season we call recruiting, it was Herschel.