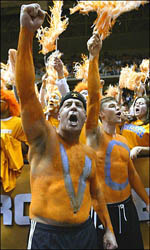 Bruce Pearl has just elevated to rock star status. Always pesky, Pearl showed up at the Lady Vols home game against #1 Duke last night shirtless, with his chest painted orange and a big "V" on it.
Pearl showed up with several of his players, spelling out "GO VOLS" on their painted chests. Coach Pat Summitt appeared to notice Pearl and "gestured enthusiastically" at him -- whatever that means. (We're praying it was an Arsenio Hall style WOOF-WOOF.)
The spirited effort was all for naught, as Duke defeated Tennessee 74-70. The Blue Devils started the season 20-0 for the second straight year and handed the Lady Vols only their 17th loss in Thompson-Boling Arena, which opened in 1987. Ladies hoops fan or not, only 17 home losses since Reagan is pretty darn impressive.