So, Marvin Harrison Jr. looks like he was assembled in a lab.
super marv pt. III #GoBucks pic.twitter.com/jUJN16IAKL

— Ohio State Football (@OhioStateFB) June 14, 2022
Word of the Day: Barbarous.
 15-OH? Finishing a season undefeated ain't easy, but if anybody's going to do it this year, ESPN is giving the Buckeyes the best chance.
Ohio State — 32.5 percent
Georgia — 20.0 percent
Alabama — 16.4 percent
Clemson — 15.0 percent
So, Ohio State's last undefeated season was 2012. The one before that was 2002. If we're gonna keep this cool "every 10 years" thing rolling, we're gonna need a 15-0 year. No pressure.
Also, it would be cool to have undefeated seasons more often than once a decade, but now I'm just being picky.
 TOUGH TO TACKLE TREVEYON. Ohio State's passing game was so absurdly good last season that a true freshman running back came in and had a season that stacks up with some of the best in program history and we likey, barely noticed.
I mean, just look at this stat.
JK Dobbins 301 atts
Ezekiel Elliott 289 atts
TreVeyon Henderson 184 atts https://t.co/224pXtYVjV

— Tony Gerdeman (@TonyGerdeman) June 13, 2022
It was crazy enough before Gerd added that extra context. But with it, it's almost incomprehensible. Henderson had almost as many broken tackles as Ezekiel Elliott did in 2015 on more than 100 fewer attempts!
I'm gonna do the math here so y'all don't have to – J.K. Dobbins averaged a broken tackle every 4.12 rushing attempts, Ezekiel Elliott averaged one every 5.45 attempts, and TreVeyon Henderson averaged a broken tackle every 3.68 rushing attempts. That's absurd.
It's also worth noting that both Dobbins and Elliott posted those numbers in their final college seasons immediately before entering the NFL Draft. Henderson, meanwhile, was a true freshman and has two seasons left before he can even think about the NFL.
Seems unfair. I like it!
 LOOK OUT, GOLF WORLD. No, like literally – look out. Tyvis Powell is dangerous out there.
Warning DONT TRY THIS AT HOME! Watch at your own risk lol @nationwidekids #WoodyHayesCelebrityClassic https://t.co/Kt8gnu40jF pic.twitter.com/ou1iQZ4RT0

— Tyvis Powell (@1Tyvis) June 13, 2022
I'm not going to pretend to be a competent golfer by any stretch of the imagination, but I'm proud to say that at least my ball went further than my club.
Watch out, Tiger. @Kevinish is coming for you. pic.twitter.com/0Zkf6vyFe0

— Colin Hass-Hill (@chasshill) April 14, 2019
I'll eagerly await my invite to this event next season.
 JUST A COUPLE OF STARS. When Jaxon Smith-Njigba makes the NFL in a few years, he won't be the only professional athlete in the family.
His brother Canaan officially got the call up to The Show last night, and Jaxon got to be in attendance.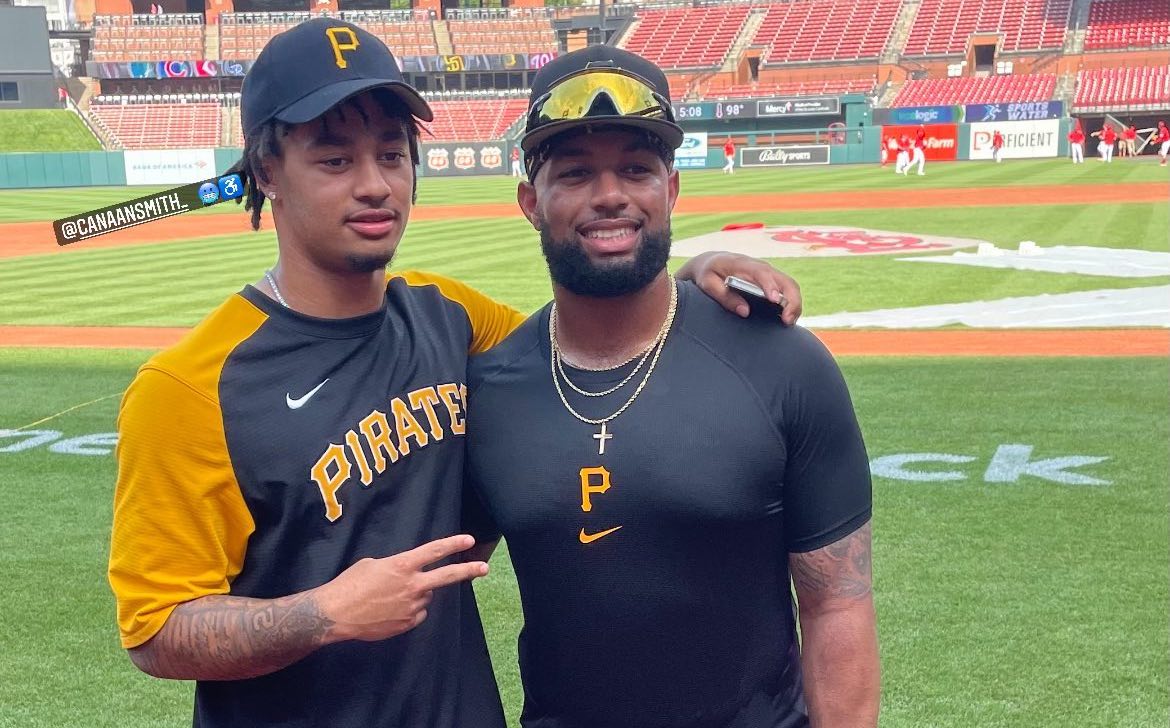 Canaan didn't get to "officially" make his MLB debut, because he was never added to the lineup. But perhaps they could have used him, because they lost to the Cardinals 7-5.
 SONG OF THE DAY. "Hold You Now" by Vampire Weekend.
 NOT STICKING TO SPORTS. The Scottish adventurer who's riding across Europe on horseback... A pest control company will pay you $2,000 to release 100 cockroaches in your home... E.T. taught kids about the power of friendship and saying goodbye... An architect lent his license to a New York City developer to approve buildings he didn't design... How Pixar went from experimental studio to commercial juggernaut...