I greet you this morning with a reminder of who unreasonably good D'Angelo Russell was at Ohio State
DAngelo Russells game was so smooth at Ohio State.

(: @CourtsideFilms) pic.twitter.com/WymdghfqHO

— ThrowbackHoops (@ThrowbackHoops) July 20, 2020
That season still makes very little sense in my brain, but I am sincerely glad I got to witness it.
Word of the Day: Vanguard.
 TAKE YOUR PICK. I remember at this time last year when Clemson fans were losing their damn minds at our audacity to even mention Trevor Lawrence and Justin Fields in the same sentence.
I also remember when the narrative was that Fields was simply the superior athlete, but Lawrence was head and shoulders above him as a passer.
Well, I do concede that Fields is the superior athlete. But, past that...
Here's how Trevor Lawrence, Justin Fields and Trey Lance performed in terms of catchable balls in 2019. Colors are based on quartiles of 80 QBs in my database. Green = top 20, then yellow, orange and red. Personal comps: Lawrence-Roethlisberger, Fields-Wilson, Lance-Mariota pic.twitter.com/PUUtBVsfdY

— Ian Wharton (@NFLFilmStudy) July 20, 2020
If you need assistance in reading the chart, all you really need to know is that green is good, yellow is fine, orange is subpar, red is bad. Take the names away – which quarterback is everybody with a pulse picking?
And Fields' numbers came against eight top-40 defenses – four of which were also top-10 defenses. Lawrence played just one: Ohio State.
Justin Fields is better than Trevor Lawrence.
 "I WANT TO BEAT OHIO STATE BAD." Three-star wide receiver Markus Allen hasn't even made it to Ann Arbor yet and he's already sick of losing to Ohio State.
"Our ultimate goal is to beat Ohio State and win a national championship," Allen said. "I want to beat Ohio State bad. I've already made bets. I told my family that we're going to beat them. Growing up in Ohio, all you hear is Ohio State. Ever since I committed, people have told me that we're not going to beat Ohio State. I just want to beat them."
Markus, buddy, if you're feeling this strongly about losing to the Buckeyes before you even enroll in school, you should seriously reconsider your college plans, because that's the only way you're not going to be disappointed.
 62 MILLION REASONS TO PLAY FOOTBALL. We know you can't base the decision to play college football solely on financial considerations, but let's be real – you also can't not base it on financial considerations at all, especially when an average of $62 million per school is at risk.
According to Washington University in St. Louis professor Patrick Rishe, the Power 5 conferences would lose a collective $4 billion — $62 million per school.

"These losses will likely exceed $4 billion alone this year," he said last month. "I don't see any scenario at present where fans are back this year — not unless teams or leagues invest heavily in testing for fans. And I don't see that happening this year because they already have to exhaust quite an effort to ensure players and staff are tested."

Rische's calculation did not include conference distributions, multimedia deals, donations or corporate sponsorships. This chart shows how Division I football schools fill their coffers.
Put it this way – would you just be fine conceding pretty much your entire annual income without fighting like hell to find every possible way to avoid losing your entire annual income? Cause Power Five conferences are now at the "fight like hell" stage.
If football can't be played, it can't be played. But I guarantee the Power Five conferences want football to happen even more than you or I want football to happen. Because at the end of the day, I'll be upset, but I ain't going to be "lost $62 million" upset.
 BUY RASHOD BERRY'S CLOTHES. If you are roughly the size as a Division I tight end and are interested in purchasing some Ohio State apparel and workout clothes, you're in luck!
In his four years in Columbus, Rashod Berry undoubtedly amassed an un-small collection of workout clothes and team apparel, and he's decided to part ways with a solid chunk of it.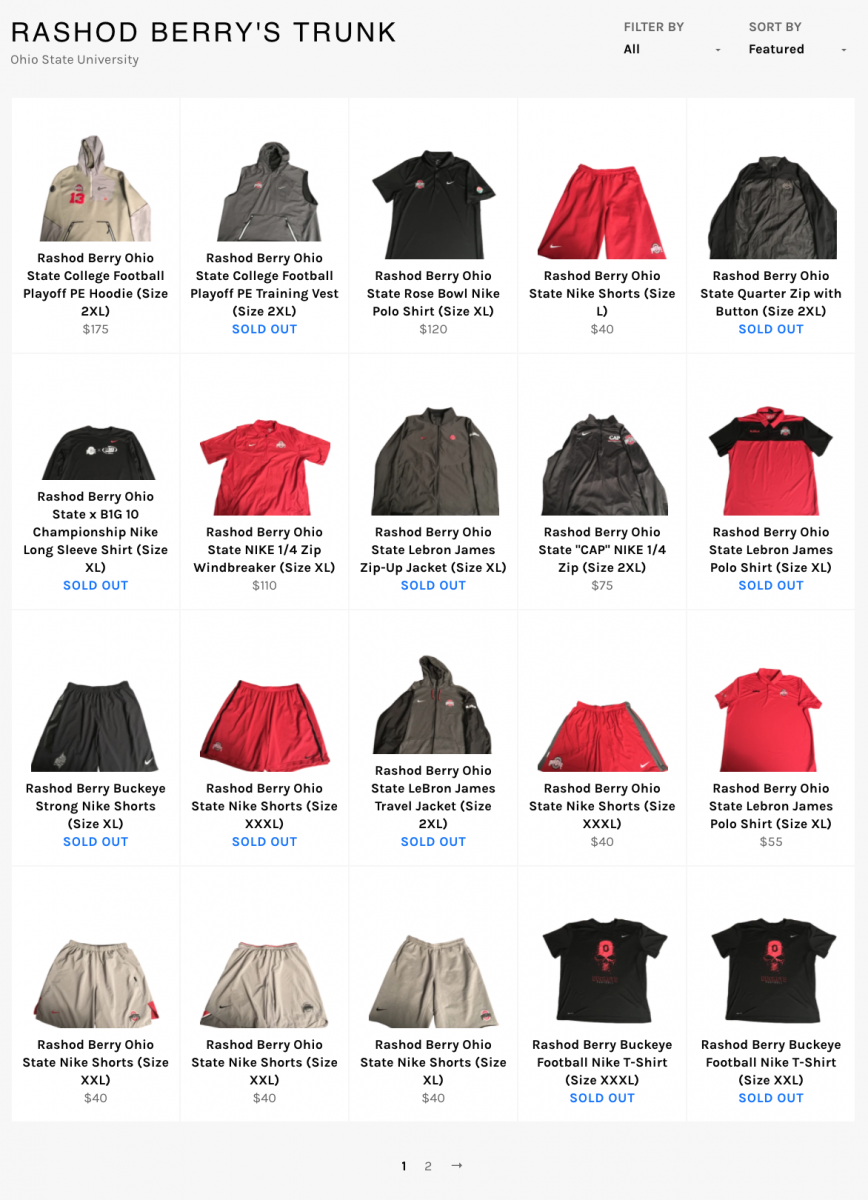 As a whole, this website is nothing short of fascinating, but I don't hate it.
From the player's perspective, you leave college with more team apparel than you'll ever need in real life. And from the fan's perspective, you were probably going to spend $35+ to get Ohio State licensed shorts anyway – you may as well get Rashod Berry's straight from the locker room.
I'm considering opening my own trunk so that y'all can buy back to school clothes for your sixth-grade son from my closet.
 LET'S SEE HOW THIS PLAYS OUT. Folks, baseball could be onto something.
New innovation from Major League Baseball will allow fans to cheer or boo in their app, ballpark staff can then match that up with the volume in the stadium. pic.twitter.com/YxqKTR7lYt

— Darren Rovell (@darrenrovell) July 20, 2020
It is now my most desperate prayer Michigan implements this, because lord knows there are hordes of Buckeye patriots who would dedicate entire Saturday afternoons to repeatedly smashing the "boo" button while the Wolverines play in The Big House.
 SONG OF THE DAY. "Back to Back" by Drake.
 NOT STICKING TO SPORTS. A judge catches a lawyer with no pants during a video court proceeding... Indonesia vows to end the practice of bride kidnapping... Who were the Freedom Riders?... How the murder of Timothy Coggins was finally solved... Cannabis farmers in a poor California town want to go legit, but the raids keep coming...