It's a Ryan Day day.
Follow my good pals Dan, Colin and Zack for updates from the Woody starting at noonish – depending on how late or early the fearless leader decides to be today. 
ICYMI
Word of the Day: Balter.
 SMOKE AND MIRRORS. You probably don't need an anonymous Big Ten coach to tell you that Wisconsin doesn't really have the horses to hang with Ohio State on Saturday, but our cloaked coach has got some #takes anyway.
From Adam Rittenberg of ESPN:
"A different level of talent," a Big Ten coach said.

Upgrades at linebacker and in the secondary under new assistants Greg Mattison, Al Washington and Jeff Hafley continue to propel a transformed Buckeyes defense, which has allowed no more than 10 points in the past six games.

"A lot better on defense," a Big Ten offensive assistant told me. "That Okudah is ridiculous. He's lockdown. So they're going to put him on [Quintez] Cephus and put everybody else on Jonathan Taylor. The matchup of that game will be Wisconsin's defense against Ohio State's offense. If they can make those guys question what they're doing, maybe they can confuse Justin Fields."

...

"He's going to try and confuse Justin," a Big Ten assistant said of (defensive coordinator Jim) Leonhard. "That's his best chance -- pre-snap confusion."
I love that this offense is such a damn buzzsaw that the best chance the nation's top defense has at stopping it is to "maybe confuse" Justin Fields. It's just a fantastic narrative switch from this offseason when every talking point was about a new starter at quarterback, a retooled offensive line and a new crop of receivers.
 "THEY'RE JUST REALLY GOOD." My favorite thing about this offseason has been listening to every coach try to explain how ungodly good this Ohio State team is and break down the unspeakable things it did to their own team.
This week, we have Pat Fitzgerald admitting that they knew exactly what Ohio State wanted to do and just couldn't do anything about it because the Buckeyes were so good.
TL;DR Actually, Im not even mad. Im impressed. Thats amazing. pic.twitter.com/hfvJDIXXRc

— Ramzy Nasrallah (@ramzy) October 19, 2019
The peace and acceptance in his voice gets me. That man just got his ass handed to him in his own house for 60 minutes, and he's walking away with a smile knowing there is literally nothing he could have done to change the outcome.
From Bill Connelly of ESPN:
If it's any condolence, Fitzgerald is but the latest coach to be driven to near insanity by the Ohio State offense this year. The Buckeyes put up 34 points on Michigan State (eighth in defensive SP+), 42 on Cincinnati (31st) and 51 on Indiana (32nd).

Ohio State looks so dominant this year, and it looks so utterly natural, that it's easy to forget just how many questions we had about this unit heading into the season.

A year ago, the Buckeyes' run game ranked a paltry 54th in Rushing SP+ -- 41st in rushing marginal efficiency (one's success rate, adjusted for down, distance and field position) and a baffling 120th in rushing marginal explosiveness. This year, through eight weeks: first in Rushing SP+, 11th in efficiency, third in explosiveness.

With the loss of quarterback Dwayne Haskins and three excellent wide receivers, there was reason to wonder if Ohio State might be looking at another slight decline this season. Instead, the Buckeyes have become college football's most well-rounded team.
Maybe we should just start slipping the opposing team the literal playbook before the game starts to even the score a little bit. Shit, I vote we let Rutgers call our offensive plays for us. Let's make this interesting.
 BACK IN THE 'SHOE. This weekend, Urban Meyer will be back in the 'Shoe for the first time since putting Michigan in a body bag for the seventh-straight time, but he's gonna 
From Teddy Greenstein of the Chicago Tribune:
"When I found out, I was so excited," Meyer told the Tribune on Monday. "It will be an awesome experience because I love our students and love Ohio State. It will be somewhat awkward, but I love coach (Ryan) Day; the relationship is great. It's a 10 out of 10 as far as the relationship."

Meyer said he will not watch the game from the field, preferring to be "out of view."

He wouldn't want people to see him cheer?

"No, I'd want to dive in the middle of the field, call a play or something," he replied. "That would be real awkward."
I think that Ryan Day should run one (1) telegraphed quarterback keeper on third-and-short and point to Meyer in the booth when Justin Fields inevitably moves the chains (let's be honest – the play was money).
 THE CIRCLE OF DEATH. Radar charts are fantastic ways to visually compare teams' strengths and weaknesses. That is, if your team has weaknesses, but that couldn't be my team.
The perfect radar chart is a circle filling the entire plane. And if you notice...
CBTN Strength Profiles for your top 4:#Buckeyes #LSU #Bama #Sooners pic.twitter.com/jjF9AizJ5C

— SportSource Analytics (@SportSourceA) October 21, 2019
In case those photos ain't doing it for you, here is Ohio State's glorious chart, biggified: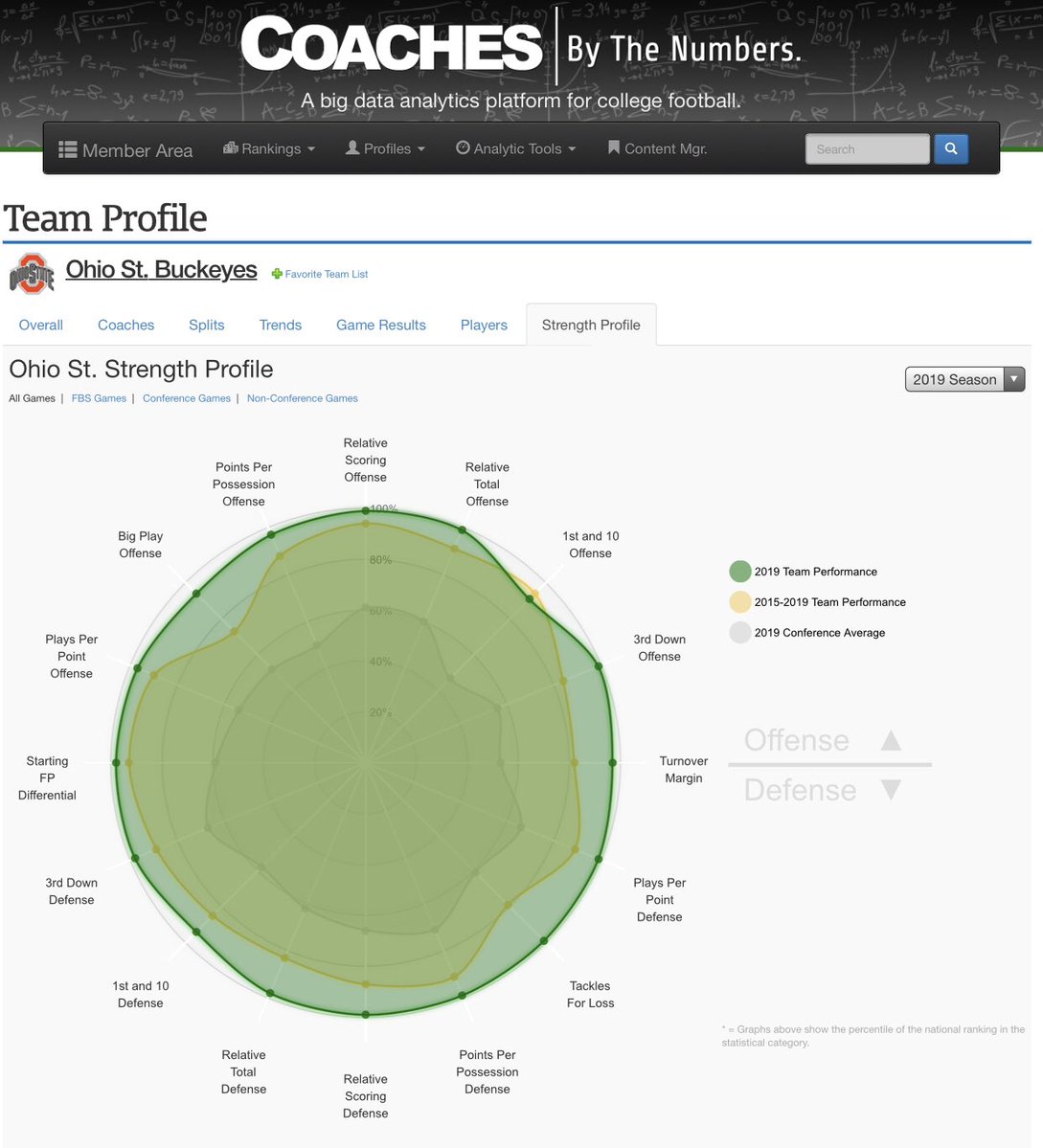 If you need help interpreting, direct your attention to that beautiful green portion. Roundness means that the team is well-rounded (fittingly) and big means that the team is good. As you can see, Ohio State is very much both.
The thing is pretty much as big as it gets (damn near the 100th percentile in all but like, two categories), and I literally could not draw a more perfect circle if my life depended on it. I spent all day trying.
Compare that to the other national title contenders – LSU's speech bubble, Alabama's mushroom and Oklahoma's leprotic Pac-Man – and folks, the Buckeyes are almost video game good.
 PREDICTING A MURDER. Any apocalypse movie worth its salt includes a scene of a spazzy analyst glancing at some numbers before furiously dashing to tell the common folks that he's predicted the end of the world.
When a Vegas oddsmaker begins a Tweet with "Oh my god," that should be the scene playing in your head, because with these numbers, "doomsday" ain't too far off.
Oh my god. I just plugged Ohio State at Rutgers into my sheet. It spit out Buckeyes -50.5 with a total of 53.5

— Matt Lindeman (@lindetrain) October 21, 2019
That's both grotesque and far, far too kind to Rutgers.
Ohio State just dropped 52 on a top-30 defense and this model is predicting Rutgers to hold the Buckeyes to 51? More hilarious than that, it's projecting them to... score?
The Buckeyes could roll out any combination of scholarship players and win this game 63-0. That's not hyperbole. You could list every single starter as "unavailable" on the pregame status report and I would still confidently lay 50.5 points.
 NOT STICKING TO SPORTS. Man whose low-ball offer to buy a home was rejected moves in anyway and starts renovations... An Ohio bride is surprised with a chicken nugget bouquet... A Navy 'Doomsday' plane built to withstand a nuclear attack is grounded after striking a single bird... One man's quest to make a street-legal IndyCar... High school cancels its football season and fires every coach after a suspended player suits up with different identity... Dan Dakich is suspended from ESPN's The Fan for not adhering to 'journalistic principles'... The company where 75% of workers are on the autistic spectrum...