Essentially the purpose of Threat Level: Michigan is for yours truly to pair approximately 500 words of really dumb/mean jokes about Jim Harbaugh and the Wolverines with a C- level photo edit once a week and kind of just coast on that for several months. Usually it works out pretty well for me because Michigan provides a lot (and I mean a lot) of fodder for this kind of thing.
But.
I'm not gonna sit here and make fun of Ronnie Bell. That just sucks, man. Your team plays reasonably well in a hostile environment against a legitimately quality opponent, you get good field position at the end of the game needing a touchdown to tie it up, the offense drives right down to the endzone, and on 4th-and-goal your beleaguered quarterback miraculously hucks a pass right into your breadbasket. And you drop it. And your team loses.
Ronnie Bell is a human being and I feel bad for him. The end.
THREAT LEVEL
Let's get this out of the way: Michigan looked essentially like an above-average team for most of their 28-21 loss to Penn State. Their defense played well enough, and Shea Patterson and company, while not exactly good, were a hair's breadth from pulling off a possible overtime loss in a hostile environment. This is one of those losses where you say "huh, maybe Penn State is kind of decent" instead of "Michigan switched places with Rutgers and thought we wouldn't notice."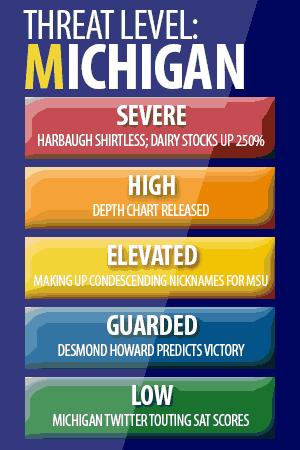 With those caveats out of the way, Michigan should fire Jim Harbaugh immediately.
Like, right now. Before it gets worse. Because it is going to get so, so much worse.
Even things that did go "well," like the Wolverines engineering a nine play, 75 yard touchdown drive to get within seven in the 4th quarter, looked like watching someone pull teeth while hip-deep in molasses. This team makes executing the most simple, basic fundamental rules of football seem like solving string theory on crack, and it's because their coaches are completely wackadoodle bonkers.
Michigan outgained Penn State 417-283, had 26 first downs to the Nittany Lions' 14, and converted twice as many 3rd and 4th down conversions as their opponents did.
And yet they lost. It's not Ronnie Bell's fault that Jim Harbaugh punted on 4th-and-three at the 50 yard line, down by 14 at the end of the 3rd quarter. It's not Ronnie Bell's fault Harbaugh tried for a 58 yard field goal (missed, duh) at the end of the 1st half. It's not Ronnie Bell's fault that Harbaugh and Gattis rammed running backs into the teeth of a Penn State defense 41 times and got only 141 yards for their efforts.
The biggest problem for the Wolverines isn't that they're 5-2, it's that they're 5-2 and still have to play Notre Dame, Michigan State, and Ohio State. I said a few weeks ago that things can get of control for traditionally "elite" teams very, very quickly. Consider that cliff jumped.
The Threat Level is LOW.